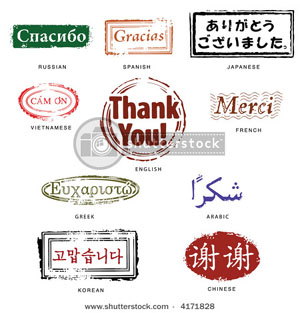 I have a surprise for all of you readers and visitors ….but before anything else, I want to show my gratitude for the many wonderful things that have happened in my life Everyday , I face interruptions, delays, changes and challenges. I have learned an important concept to get me through this stressful time and that is gratitude. I learn to say thank you, for all these problems and feelings. I don't like this experience but Thank You anyway.
As a gesture of my gratitude, I am giving away Thank You gifts to my readers but of course the gifts are limited so here's how I will give it away.
1. five (5) special gifts courtesy of Toblerone. (1 thousand pesos gift certificate and Toblerone Chocolates)
Try to come up with a creative or different way of saying THANK YOU. I am looking for just one-liners. Leave it as a comment in this entry. The five most creative one-liner Thank You entries will receive the special prize.
2. Two (2) concert tickets per visitor
There will be two tickets per comment for the first 150 ORIGINAL comments in this entry. The concert is slated on October 20, 6:00 pm, SM Mall of Asia. Read more on the Toblerone's National Thank You Day Concert with Top Filipino Bands or visit thankyoudayphilippines.com.
The concert tickets can be claimed at:
GeiserMaclang (c/o Alma Buenviaje)
Unit 7C 114 Tuscan Bluiding
V.A. Rufino St.
Legaspi Village, Makati City
Tel: 812.8828/9199, 0917.5344624
Or
at the SM Mall of Asia venue where I will submit your names and email addresses. Look for Alma Buenviaje.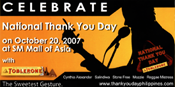 You might ask, so what is Toblerone's role on National Thank You Day?
Toblerone together with the city of Manila is trying to revive the lost art of saying ""thank you" by organizing an innovative campaign specifically designed to encourage Filipinos to express gratitude more often. Through this partnership, a series of events and activities that will culminate in the October 20 Toblerone National Thank You Day to be held at the Mall of Asia. Attendees will be able to participate in a rocking concert by the country's top bands and see their favorite celebrities. It will also serve as the venue wherein winners from the Toblerone thank-you themed contests launched nationwide can claim their prizes. In this endeavor, Toblerone, together with the city of Manila wishes to impart the message to Filipinos to not underestimate the power of the two simple words – THANK YOU.
Read more on Manila Proclaims October 20 as National Thank You Day.
So, let's think of fun, creative, cutesy, funky ways to say THANK YOU.
EDIT (October 20, 2007): To those going to the Thank You Day Concert at MOA today October 20, 2007 , please text alma buenviaje 09175344624 for your tickets and get them by 430PM today.