I woke up this morning to my husband humming the tune to Abba's I have a Dream. You know how it is when a song gets stuck in your head. Mine was the Dancing Queen sequence from the movie,
Mamma Mia we watched last night. I loved the movie! I was 19 years old at the time Dancing Queen became a hit and I remember twirling around and around to the music. I love to dance. I could not contain my excitement when Meryl Streep started jumping up and down on her bed. I wanted to dance right there and then. Holding my husband's hand, I pretended to sashay to and fro on an imaginary dance floor.

Full Dancing Queen Scene – Mamma Mia! The Movie
Butch removed my hand from mine as if embarrassed by my joyous frolic, so I was left singing my heart out to the music.
It was definitely a feel-good movie, a nostalgic trip to my free-spirited and dancing years. I haven't danced in years because my lifetime dancing partner has two left feet.
Even at the height of ABBA's popularity in the seventies, I was not really into their music except for the upbeat Dancing Queen. The rock back-beat in ABBA's music, and the pumping guitar was fine, but in other ways the sound is just weird. Those chippy xylophone notes in Money, Money, Money, and the numerous Liberace-like piano roulades – what are they doing in a pop song? That four-part vocal harmony in Lay All Your Love on Me – doesn't that belong in church? So why have Abba's songs developed a massive reincarnation that puts them among pop's all-time greats?
The harmonic tension in an ABBA song is further whipped up by a rhythmic ingenuity, which throws irregularities against the insistent beat.
At end of the movie when the Abba's I have a Dream was sung, I was not struck by the rhythm but with the lyrics. Maybe it's the reason the song got stuck on my husband's head.
I have a dream, a song to sing
To help me cope with anything
If you see the wonder of a fairy tale
You can take the future even if you fail
I believe in angels
I dream often when I want to cope with anything. My son's death made me realize that I must find new ways to dream.
And honor the things my child enjoyed on earth, his memories to redeem.
And while I will never get over the horrible pain of losing my son, so dear.
I will survive by blending his life and love into my life, and that will keep him near.
Today for instance is the 15th birth anniversary of Luijoe. I feel heartbroken during these times. I often ponder, What does he look today?. In my mind, he will always be my cute 6 years old boy, tugging at my sleeve or begging for a story to be read. I can't help but wonder…Would he still have that impish smile? Would he have tons of girl crushes or would girls be chasing after him? Would he still be devoted to me? So on and so forth.
Then my mind drifts to "I wonder how his classmates or playmates look like now?" I lost touch with his classmates because I misplaced his yearbook and we moved residences in 1998.
Last February 2008, I finally met up with Miej a long time reader of my blog upon her invitation to a Truth and Freedom meeting. As we exchanged notes on our children, she suddenly mentioned that she had a son about the age of Luijoe. I guess it's the reason she felt touched by my blog. Somehow, I had this nagging feeling that Miej and I have some connection. I don't know how the discussion went to the schools. Suddenly, I found myself speechless when Miej told me the name of her son's nursery school "Family Montessori" at Loyola Heights, Quezon City. The nursery graduation in 1998 matched. Even the teacher, Mariel de Jesus (not sure of her surname). I held back my tears of joy. My dream came true.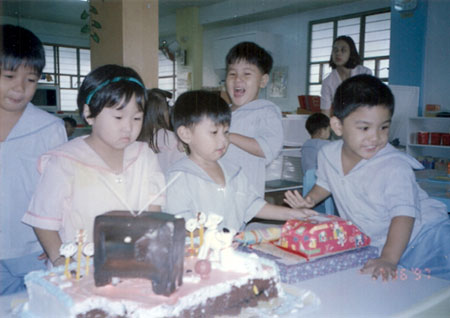 Luijoe's 4th birthday celebration. He's on the far right.
Looking at the photos of Luijoe's classmates is enough to make me happy. Seeing them all grown and healthy is a joy.
I digress. So what was I driving at?
The chirpy, catchy surface sound just drew me in and once I was in, I felt secure because the iron grip of the song's structure led me by the hand.
And this fits so perfectly with the words. It's easy to forget, faced with the smiling, well-scrubbed image of the ABBA band, that the songs often dealt with painful issues like divorce. Smiling Through Tears is often the tone of the words, but the music goes a step further. It can apply to any losses in our lives.
It promises what the words can only gesture at, persuading us – if only for a flicker of a moment – that broken hearts can really be mended.
ABBA's music and the movie, Mamma Mia evokes those warm and feel-good feelings. This is a great movie that'll have you giggling innocently and raring to make you jump up from your seat and dance along with the cast.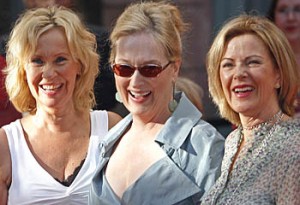 Rare … ABBA members Agnetha Faltskog (L) and Frida Reuss (R) pose with cast member Meryl Streep during the Mamma Mia! Movie premiere

Mamma Mia! Trailer
Have you watched it yet?
New Media Events
I am giving away 3 sets of The Alps movie to be shown in Imax Theater on Monday, August 4, 2008 at 8:30 PM. To join, read details on how to win tickets for , The Alps at Imax Theater SM Mall of Asia