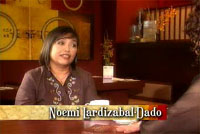 I was quite apprehensive over the production of Ali's Sotto Mother's Day Feature. Ali's talk show was launched late last year and I had never watched a single episode. What will be the focus? Will it sound sensational aka Oprah Show style? Or will they show some heart breaking dramatic effect? I was prepared for the worst.
Surprisingly, the episode was nice, touching and inspiring. The Ali Show featured mothers who have moved on towards a positive resolution of their grief. It's not easy to narrate my grief and the events surrounding Luijoe's death in public but I needed to share , if only to give hope to other bereaved parents. Most importantly, my son's memory is kept alive through The Compassionate Friends which I co-founded with two other parents. (View Screencaps of the show)
* * *
When I woke up this morning, I received a few text messages about the show. The funniest of them all was a text message forwarded by my husband.
Hi Butch . Is Noemi a movie celebrity? I keep seeing her picture on TV. what show does she come out in?
haha, I don't know if our new friend was kidding or not but I think he was referring to the preview of the show.