"I don't consider myself a survivor; that's someone who has gone through something terrible." Geraldine Ferraro
Of course, you know our home suffered the Ondoy Flood Damage. My husband is traumatized about it already that he obsesses on the weather report. Friends ask me how it has been. I feel guilty that we didn't really suffer that much damage, I mean comparing our situation to the Ondoy victims in Marikina and the Pepeng victims of Northern Luzon. I have to give credit to my husband who took a week's leave of absence to clean our house. All I did was call insurance companies, service centers, and internet providers. My husband had to live in our flood damaged home for a week while me and my two daughters had it good in my sister's home in Quezon City.
A week after Ondoy, we finally returned to our Pasig home. Internet connection was back. As a fussy homemaker, let me share you some tips I learned from the damage.
BEFORE before the floodwaters reached waist deep. My husband and two househelp try to save as much as they can to the second floor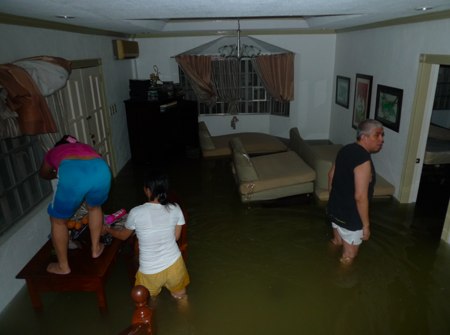 Lessons learned in furniture and home finishings:
1. semi gloss paint on cement wall made it easier to remove mud.
2. Hard wood furniture survived. Our narra antiques made it.
3. Sala set made in Malaysia that has detachable seats survived.
4. Most electric appliances worked after a few days of drying except the La Germania stove which had to have some parts replaced at 4600 pesos.
5. It pays to be a minimalist. We don't have much stuff except for my husband who kept his 20 year paper junk and suffered the worst damage. Good riddance junk.
6. It pays to have your narra flooring laminated with polyurethane for protection.
AFTER– A week after, our living room is back to normal. The narra table survives but needs painting job. The coffee table has slight damage, the powder door is bloated, the piano is a total wreck that it scratched our white floor tiles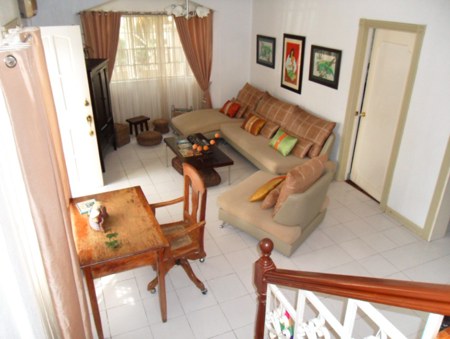 BEFORE three cars are submerged. The white Honda Civic is 2 months old. The black CRV is 7 years old while the silver CRV is 10 years old.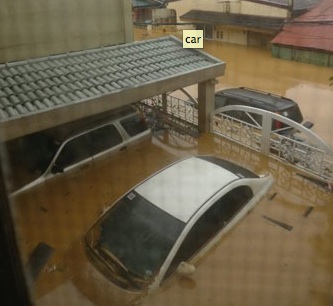 Lessons on Insurance
1. We have a 3 million Fire insurance which includes home protection covering flood, earthquake, lightning damage including contents which costs only 4,900 pesos a year. Adjuster still has to come over.
2. Check the fine print of your car insurance. The white and black car had comprehensive insurance with "Acts of God". The silver (oldest) car had none.
3. Just because the car insurance is cheap doesn't mean it is a good deal. My husband thought my usual MAFPRE insurance was too pricey. He got from Malayan insurance which was 3 thousand pesos cheaper and no wonder, it had no "acts of God".
4. Take note of deadlines to pay insurance policies. Request your agent to nag you often.
AFTER This silver car is still being fixed by a mechanic. Wonder if it will still work.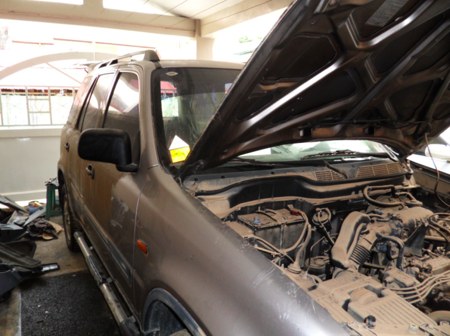 There are blessings too. I was able to get a 3 month moratorium in my bank loan amortization. My sister and hubby's brother lent their spare car. There are many minor details I have to attend to. Repairs on doors, wood works and painting jobs are being planned but it can be done slowly.
We managed but what about other Filipinos? I am glad to see so many bloggers, the Philippine Blog Awards, Filipinos here and abroad doing their own relief efforts. Much as I wanted to be part of relief operations, I believe that Charity begins at home. My family needed me to normalize our home. The least I could do was donate my clothes and the children did the same. Companies like Samsung, Nokia, SMART, and even Globe's Bangon Pinoy are doing their share.
As a loyal Globe cellphone and broadband subscriber, I just had to mention this.
The Philippine Blog Awards has partnered with Globe Telecom in an initiative through Bangon Pinoy to raise funds for Ondoy and Peping victims through the use of twitter:

Use the #BangonPinoy hashtag, Globe and PBA will guarantee P1.00 to be spent for Ondoy and Pepeng victims. After the hashtag, post pictures, videos, quotes and even links to blog posts that will inspire Filipinos around the world to help as well. This happens from Oct 19 to Nov 3, prior the Nov 6 Help day.
My family survived the Ondoy floods. I feel blessed and at the same time guilty that not much was lost. Material possessions can easily be bought but lives, precious lives have been lost in other families.
Filipinos are resilient but rebuilding lives does not end in our homes. We can rise from this tragedy and hopefully press our government to fix the problem. All of us must take it up with our government officials. I like the word Bangon Pinoy. I'd like to use the word a step further. I will make it my business to ask each the presidential, senatorial and congressional candidates their platforms towards climate change and sustainable urban and rural development.
I say Bangon Pinoy. Wake up. Be empowered to rebuild your lives and future of our country.