written by Toni Tiu, as originally published at , "Tita of Manila" Mode: ON!, Philippine Online Chronicles
Being a Tita has never been this "in."
"Tita" is what you call your Mom's sister, your Dad's female co-workers, basically any lady who's a generation above you. But now, Tita is more than just a title or a term of endearment. It's a mindset, a lifestyle, one that's not reserved only for those in their late 30s or early 40s. I recall when being a Tita made you cringe as that meant you were truly much older than most folks in the room. That's why I was surprised seeing my 30-year-old friend brand herself "Tita" on Instagram, sharing a picture of her wine glass as she stayed home Friday night at her condo. "Tita mode. Staying in for the night," she captioned. Being called "Tita" may still make some cringe, but because so many women are embracing being a Tita and loving Titas, the cringe can be accompanied by a little joy. 
The Twitter account "Titas of Manila" hilariously captures Tita-isms and Tita behavior.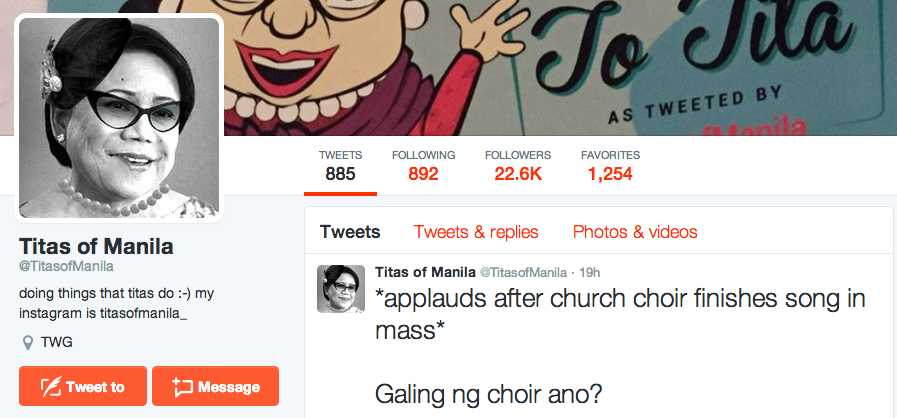 (sees pamangkin wearing makeup) Wow artista!!
* lines up at French Baker in Megamall for 50% discount on bread *
*sees chubby pamangkin * Ay, napabayaan ka sa kusina, no? *kurot sa tiyan*
You know the daughter of your Tita Susan graduated cum laude and she's working in London now tapos ang gwapo pa ng asawa na mabait pa!
This is very much the typical Filipino Tita. From blatantly asking you about your weight gain to repeatedly asking you during family reunions when you will get married, this Twitter account captures the many Tita lines that irritate nieces and nephews everywhere. But it also captures the behavior and quirks that make Titas endearing such as not being able to resist eating butong pakwan or trying to figure out how to spring clean her collection of Fit-Flops. The personification of being a Tita is so endearing and amusing at the same time.
Buzzfeed has even published an article called 20 Signs You're the Tita of Your Group. Funny signs include "You're way too exhausted after a day out with friends." (accompanied by an image of a body part with Salon Pas) and "You have a bag full of things your friends might need in case of emergency." That is SO Tita.
Embracing Tita-ness
I'm in my late 30s, but even then I don't feel like a Tita. However, three moments in the past month made me realize I was very much a Tita.
Incident Number 1. My officemate was complaining about a really bad headache. "You want to drink medicine?," I asked her. "Sige, you have?," she asked. I reached into my kikay kit and pulled out a banig of headache medicine. "O there, you get as much as you want," I advised her. In the past, this behavior would be called being a Girl Scout. Now it's being a Tita.
Incident Number 2. Air-conditioning in the meeting room dies. It is really hot. I reach for my bag and take out my pamaypay and begin fanning myself furiously. I realized I was the only one in the room doing that and slowly put down my fan. Abaniko in my bag? So Tita. But hey, at least I didn't have to suffer the heat in silence.
Incident Number 3. My husband and son got me a present for Mother's Day. Upon opening the box, I saw it was a pashmina. I LOVED it. As I wrapped the beautiful red pashmina around my shoulders, I also realized that I felt very much like a Tita at that moment. (That moment also made me realize that one can't have enough pashminas. I want one in basic black and another in navy blue, please.)
Shawls in all colors? Call your Tita! This can be her happy place!
Being a Tita has never been this "in" because of how social media has helped make Tita-isms endearing. It's a good thing. In Filipino culture, a Tita can be our second Mom or a mentor. Titas may have their irritating moments, but for the most part they're really just looking out for us. When they tease you about your weight gain, they sincerely want you to be more conscious about your health. When they ask about your marriage plans, they sincerely want you to fall in love and find that "forever" of yours. In or not, at the very least, you can always count on the Tita of your group to have food in her bag.