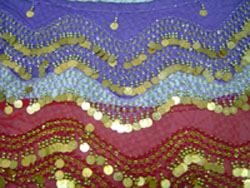 I told my daughter , Lauren " Did you know that [tag]belly dance[/tag] was taught by mothers to their daughters for easy childbirths?" She raised an eyebrow. I added, "At least you're learning it now while still single". Lauren rolled her eyes. She decided to tag along with me last week for belly dancing . Ahh, we had so much fun. After the belly dance session, she went to the "Girl Shoppe" at Market! Market! and bought me red hip scarves with coins while she got the purple for herself. This morning was our second session. The second time around is so much easier . Belly dancing reminds me a bit of the "hula" or "hawaiian dance" which was the craze for pre-teens in the late sixties. I know how to sashay my hips like a graceful hula dancer. But belly dance is different.
The dance's movements teach you to focus on moving one part of the body, and make muscles and limbs toned yet flexible. One learns to control body movements, restricting them either to the upper or lower body. In "shoulder shimmies," for instance, only the shoulders, arms and chest should move, not the waist or hips. Source
The hip scarves (belly belt) with coins are not really needed but it does help because the jingling sound gives you an idea if you are moving your lower body when you shouldn't. So there I was, jiggling, wiggling, bouncing, shaking, twisting and gyrating to my heart's desire. I had to put a lot of focus on the hips, waist, thighs, belly and arms. The hardest is when you have to shake your shoulders in tune with gyrating hips. In time, I will manage that step.
The "pelvic tilt-tuck" is something I didn't learn in my first session. See, you thrust your pelvic forward and backward, then do "Egyptian arms" , where you sway your arms alternately up and down then working out your hips, thighs, butt and arms all together. Talk about multi-tasking! I got the "pelvic tilt-tuck" in my second session. The simple "hip circles" lets you step to the side and sway your hips in a circular motion thus exercising your hips and calves. I exercised my muscles that I never knew existed before.
To really enjoy belly dance, one has to let go of the "shy you". Just allow the playful side of you to emanate. It's so much fun that belly dancing mama and daughter will attend sessions in other Fitness First branches (Currently , belly dancing lessons are in The fort, RST Makati and Manila branches) every week.
The entrepreneurial spirit in my daughter laughed out " if I don't get a job after college, maybe I can teach belly dancing".
Oh yeah, if you want to buy affordable belly dancing skirts and tops, I found one at "Ang Ganda Boutique"244-145 2/F Market! Market!, Global City, Fort Bonifacio. Tops can be as low as 450 pesos and the skirts can cost as much as 650 pesos. The nice thing is you can still haggle the price.
Oh yes.

Arcel Benson is our [tag]belly dance teacher[/tag] at Fitness First. ooh, you should contact her if you ever need private belly dance lessons in Manila. She is excellent. She was trained in Cairo, Egypt for 9 months. Her cellphone is +639263394207