I'm not a party animal but this weekend was something. I attended 3 parties. Two were birthday celebrations while the other was a high school reunion . I feel so bloated with all the food and the yummy desserts which I couldn't resist.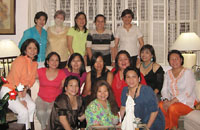 I have never attended a single high school reunion because going to Cebu seemed depressing. Whenever my classmates would hold a Cebu reunion, a family member recently died and I didn't feel like socializing. The thought of a reunion used to bring me anxiety. In the back of my mind, the image of the catty classmate or the popular mestiza
loomed. Those were the days when my inner child issues weren't resolved yet. Healing my inner child addressed my child-self's wounds and freed my adult-self to make decisions based on the present. Good thing I got rid of that emotional baggage.
I looked forward to meeting some of my classmates whom I've never seen since high school graduation in 1974. A number of them flew in from Cebu just to meet up with a balikbayan classmate. Talk about embarassing moment. My house is just 2 blocks away from the party venue and I was late. I lost the address and I ended up driving in circles. It seems like half of my classmates in that reunion didn't age at all. It's like I never left high school. Maybe Cebu is not as stressful as Manila. It was also difficult for me to shift from Tagalog, English to Cebuano. The change of accent is not easy. Time ran so fast and before we knew it , we were yawning. The sign of old age beckoned. Much as we wanted to continue our girl talk, the sleepy brain refused to cooperate.
Congresswoman Neri Soon-Ruiz couldn't make it but sent us lots of bibingka (rice cakes) and budbud (the Cebuano term for suman, gelatinous rice delicacy wrapped in banana leaves)

And just some of the food I devoured over the weekend celebration:

I have so many food photos that I've decided to talk more about these photos at my Pinoy Food Photoblog.