The day after my birthday, Myrna aka Annamanila treated me out to dinner along with Dine alias Sexy Mom and Chato alias Chateau. (oops correction , it was a treat from all of them)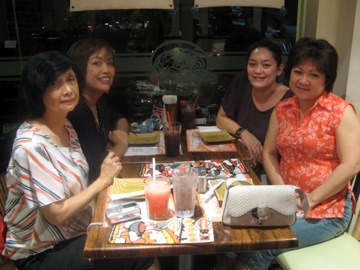 As some might know, AnnaManila used to be a former colleague from my last employment which was err…20 years ago, the week that I was about to deliver M. Imagine I haven't seen her for almost 20 years and we got reunited through my blog. We were not exactly best of friends though. In fact, I feel closer to AnnaManila now that she is a blogger like me. She used to edit my boring research work to pieces and made them exciting to readers. Of course I loved the end-result. I didn't recognize my writing. Haha.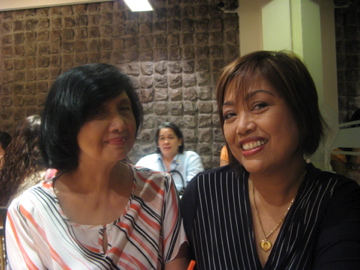 What is truly amazing about blogs is the rediscovery of old friendships like Annamanila and developing new friendships like Chato and Dine. You wouldn't think we just met this year . We laughed and babbled the night away. I really had a blast that friday night.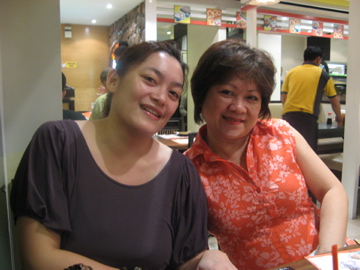 Oh and look what AnnaManila got for me!
A SCRABBLE SET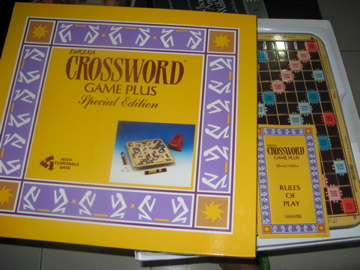 Well , it's not called Scrabble for copyright reasons but the Eureka Crossword Game Plus is a better version than the original scrabble set because of of its turnstile feature. Oh my joy to receive this wonderful gift. Along with retiring from my last employment, my addiction to Scrabble ceased. After all, I had no one to play Scrabble with. My husband refused to play with me because he always lost the game. Sometimes I purposely made him win just so he would continue to play with me. I still don't have someone to play with my new toy at home but thanks to Internet Scrabble Club, one can find players anytime of the day.
Thank you Annamanila, Dine and Chato (the chocolates and coffee too) for the fun time.
The following day, Cathy brought a birthday cake for our regular meeting of the Compassionate Friends. It even had a gold candle.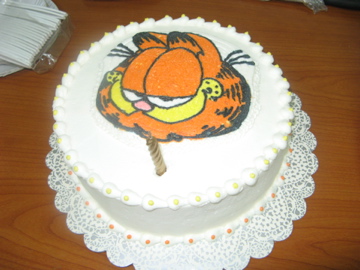 You know when I first met Cathy in December 2005, I was in awe of her presence. I used to be a mere mortal who read her grief recovery articles in the newspapers , her TOWNS award and Reader's Digest award winning Migis Corner and here I was inviting her to be a co-founder of the Compassionate Friends.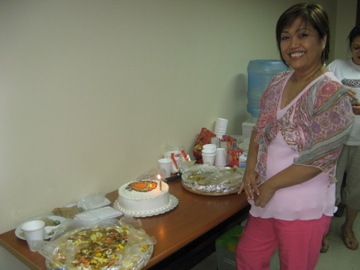 That was the old me easily intimidated and overwhelmed by popular personalities. If I had allowed my insecurities to get in the way, I wouldn't have met such a lovely person like Cathy.
Friends like Cathy, Dine, Annamanila and Chato are a birthday present.
There is a gift for me in each of these friendships that come my way (oh, not just these wonderful friends I have mentioned)
Sometimes the gift is a behavior that I am learning to acquire: self-esteem, or confidence.
Some of these friendships trigger healing in me— healing from issues of the past or an issue I am facing today.
Sometimes I find myself learning the most important lessons from the friends I least expect to help me.
Friendships teach me about loving myself or someone else. Or maybe I learn to let others love me in ways I never imagined myself to be.
So today, I am grateful for all my friendships, old, new and renewed. I will open myself to the lesson and the gift from each of these friends in my life. I also trust that I , too, am a gift in other people's lives.