I think it is because you live and you live well — this is why you can blog. Someday it will be said that blogging is merely the record of 'lives well-lived. by Gang Badoy, One Blogging Nation
Hear ye, you should watch this entertaining video by Vince Golangco from wheninmanila.com which was part of the 3rd Philippine Blog Awards.

Philippine Blog Awards intro "Silent Film" Jose & Andres are Bloggers
It is my third year to attend the Philippine Blog Awards. It is only this year that I am not actively involved in the organizing committee except being a judge for the Personal and Family & Living category and Presentor for two categories. Last year, I was the President of the 2nd Philippine Blog Awards. Before that , I was in charge for food and venue. This year I took a break. I applaud the current officers of the Philippine Blog Awards for the theme of "One Blogging Nation". I know how difficult it is to organize such a huge event and solicit sponsors. Trust me, it is not easy so please give them a big round of applause.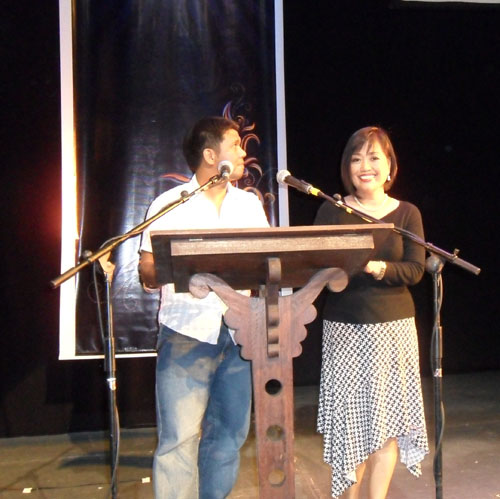 With Ferdz Decena as Presentors for the Winners of Family & Living, Advocacy, Travel, Food
This year's blog awards is unique because it encompasses three regions of the Philippines thus making the theme "One Blogging Nation". The keynote speaker, Gang Badoy says it all so let me share you her speech:

ONE BLOGGING NATION
Keynote Speech for the 2009 Phil Blog Awards
by Ms. Gang Badoy of Rock Ed Philippines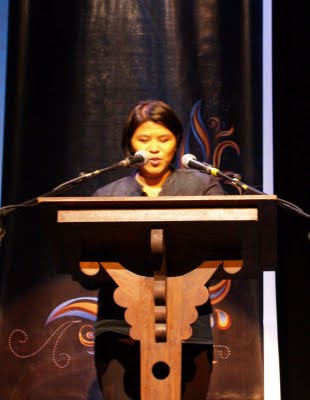 Photo Credit to Dhon Johnson
What an honor and a frustration to be given ten minutes to address, perhaps (arguably) the most eloquent group of people ever gathered in 2009. But here I am, so here I go.
I cannot discuss any other 'angle on blogging' tonight except my gratitude to bloggers. During a crisis- you have kept many of us informed, during darker times – you, blogger have inspired, during births – you spread the joy and during death – many of you have rendered those who have gone before us immortal. There is no single phenomenon that has done all those in such a level. Ang diin ng saad ng blogger sa sugat at balat ng Inang Bayan.
Your personal thoughts, observations, factual research even urgent yet seemingly trivial emotions have contributed greatly to us who read you. Imagine how wide the understanding of the next generation will be of us who have gone before them -because of your blogs. Mas maiintindihan nila kung saan tayo nanggaling. For me the best description of one who loves his country is someone who is interested in where we came from, where we are today – and where we want the country to go. Imagine the advantage the next generation has because they have our blogs to refer to.
Bloggers may have shook mainstream journalism out of its seeming (not apparent) complacency. It has pressured people to decide faster and smarter during emergencies because bloggers, for the most part, cover the many angles of truth. From the ground. I am aware that it is not all positive – lies, panic, confusion, anger, negativity have also stemmed from blogs. Blogs have given us headaches, I know one or two that have – but one thing is for sure – I have never encountered a blog that made me more complacent. And wow- what a gift. What a gift to the country – a country that desperately needs participation, incisive thinking, swift reason, informed suggestions and countless other values.
—-
Whenever the subject of press freedom comes up we always used to hear 'better an abusive press than a suppressed one.' I think bloggers took that one step further. Which is why my contention is this: there may be very few networks as powerful and as influential and as crucial as a responsible, articulate, prolific blogger.
2009 made me realize that a nation is not its government. Thank God. Blogging has relieved me with the fact that the history of the Philippines is no longer solely in the hands of the textbook writer. (Thank God) A history of a nation is really the collection of stories of individual lives. Our individual lives. Yours.
You know, during this recent crisis -one typhoon then the next – I observed that politicians will be 'press-conning A" – networks will be reporting B – and bloggers will be saying C. How lucky we are to have all those views, may we have the resources and smarts to sift through all that. If we do, then we're on our way.
Though divided in opinion I am still grateful to all who blog. Unity was never my premise for us to move and to make great a nation – but unity certainly is the goal. Not the premise — but the goal.
In my wobbly logic I will say that a country is a shared geographic space. It is the assigned square area where people live together. But a nation – wow, a nation is different; a nation is a frame of mind, a general direction, a common rhythm that a group of people share. That's a nation.
—–
I like the title of this year's awards. Three words that I hope to someday re-arrange. Maybe some day we can be just ONE NATION – and we just all happen to blog.
Last thought – blogging is not the ultimate verb here tonight. I know you have caught a lot of flack in the past about the seeming non-active motion bloggers take. For those who think that blogging is a minor verb, I have something to share: One cannot blog unless one goes out there. If you never got your hands dirty or walked streets, helped out, experienced heartbreak, death, birth, victory, defeat, betrayal, pain, sweat- then really- you have nothing to blog. I think it is because you live and you live well — this is why you can blog. Someday it will be said that blogging is merely the record of 'lives well-lived.' Again, for that I am grateful.
Keep on doing what you do, living the lives that you lead. If the country is lucky, you will still continue to blog and (quoting Plato) – your storytelling will be the education of our future's heroes.
Welcome to the Philippines, One Blogging Nation.
Mabuhay tayong lahat.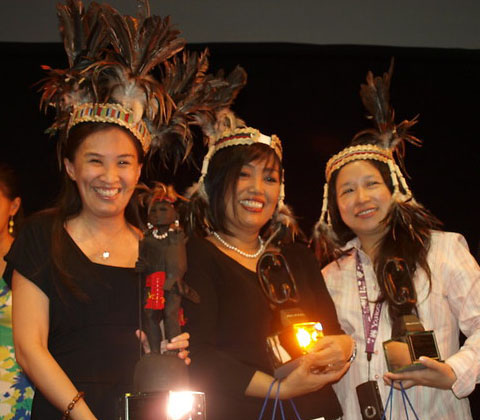 Digital Chief Aileen Apolo, Digital Elders Me and Janette Toral
It's been three years since I started blogging from a simple family and advocacy blog that now branched out to 10 other blog niches such as Filipina Images, Pinoy Food Blog, and coming soon, Blog Watch for Election 2010 coverage. It was a surprise and honor to be recognized by Globe (a sponsor) and the Philippine Blog Awards as one of the Elders of the Globe-PBA Digital Tribe for Luzon. Sharing this recognition is Aileen Apolo, Janette Toral and Manolo Quezon, Anton Diaz (not present). What an honor to be placed alongside top-notch bloggers.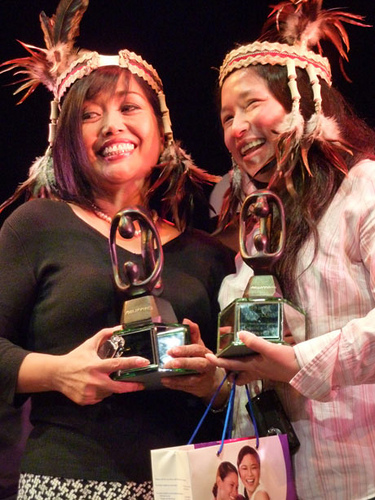 I will continue blogging as always. Many wonderful things have been happening to me since I became a blogger. Sharing the changes in my new normal after the death of a child is one way of reaching out to others. I offer hope that life can still continue on despite the pain and that pain is a wonderful teacher.
My blog's focus is on assisting and participating in advocacy groups that may reap the benefits of blogging. My efforts will not be in vain because these groups will be able to complement their grassroots efforts in advocating social change.
Lastly, I will continue to provide social commentary where I share my opinion on politics and current affairs. It's my hope to contribute to the country's progress through my relevant views and opinions.
Blogging doesn't stop with the written words. I will be able to achieve all of these goals and achieve social impact not only by writing about it in my blog but actually participating in events and activities relevant to the advocacy.
My new blog project is coming soon and hopes to be relevant to the Ondoy and Pepeng victims as well as the upcoming Election 2010.
Let us continue on doing what we do, living the lives that we lead.
Congratulations to the Winners of the 2009 Philippine Blog Awards.
Photo Credits to Arbet Bernardo and Fritz Tentativa to some of the photos.
Photo Albums