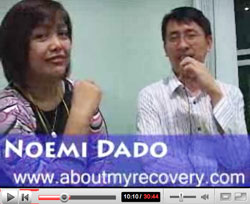 Watch this video interview (Bo's Daily Reality TV show) of Bo Sanchez with bloggers, Jun , Sorsi Aileen Apollo of Google Philippines and myself, during Saturday's Blog Parteeh ([tag]blogparteeh07[/tag]) .

In the video, watch as Jun 's vision for his blog is to spread the Good News of Jesus to just one blogger who in turn will reach out to another blogger. Imagine how Jun has reached out to Sorsi by recommeding the book, "How to Find your One True Love" by Bo Sanchez. Also in the same video, Sorsi tells Bo how the book made her re-examine her life to the point that she resigned from her current job to one with more responsibilities and leadership. Aileen Apollo discusses that her job at Google was God's gift to her.
Bo's site says:
Watch as Bo features some people from the Blog Parteeh, a meeting of famous Filipino bloggers. Be blessed and be inspired!
It's great that Bo is now using a blog to communicate , and inspire others. Not only does he preach and write but he uses web 2.0 tools: video, podcast, blog articles. This is the way to go.
Enjoy the video.