A dream about a late loved one is often a gift. "Don't overanalyze it. Accept it with gratitude." But what happens when a friend dreams about your blog entry? Here is a story which is one for the books.
I apologized to Cathy that I was unable to attend the Grief Share meeting last Saturday. Here are parts of our chat a few hours ago.
Cathy: okay lang. I read it in your blog.
Me: I haven't blogged yet about boracay. Where did you read it? in my blog?
Cathy: yes. about my recovery
Me: No I haven't blogged about it yet. The wi-fi was so slow in the hotel.
Feeling rather surprised, I checked my blog if I accidentally posted an entry. I knew that Abe blogged about it so maybe that's where she found out.
Cathy insisted that she only reads my blog.
Cathy: I saw a photo of you in front of Microtel with Butch and Lauren.

Me:: Only Lauren went with me.
Then Cathy narrated all the photos she saw in the entry I never posted (until now):
Cathy: There's a nice shot of palm trees at dusk. You have a photo with Abe.
I pointed Anton Diaz Boracay Escape with Pinoy Travel Bloggers and Ivan Henares Microtel Boracay in Diniwid Beach entries but Cathy did not read those entries either.
Me:: Maybe you accidentally saw my Boracay Photo Gallery?
Cathy: Ah No. It was a collage of photos. (Cathy takes a look at my gallery) There is that picture in the boat and I thought the man in stripes beside you was Butch
Me: How did you know then? I have not shown my photos yet to my readers because I have 500 photos to upload. Besides I cannot make a collage because my macbook does not have Photoshop.
Cathy: If you didn't post, then how else did I see it? Psychic powers?
Me: then no other way unless you read the 12 other bloggers' entry.
Cathy insisted again that she only reads my blog from the the list of Pinoy Travel bloggers I mentioned.
Cathy: You even wrote thanks to SeAir and Microtel and there was one other sponsor I cannot remember. And you added that you were glad that Lauren was able to join you on the trip.
The sponsorship and Lauren were the clincher. One can conjure dream images of the beach and my travelling companions. But the sponsors? There are a gazillion hotels in Boracay. And airlines? There are around 5 airlines that fly to Boracay. Also, how would she know that Lauren nearly didn't make it to Boracay? Her dream is almost accurate.
How can one explain my blog entry that Cathy read but which I have not posted yet (or still drafting as I write this)?
Cathy: Maybe, Luijoe wanted me to dream about you.
It's been seven and a half years since the time Luijoe died in a beach resort in Mactan Island. Luijoe drowned in the resort's swimming pool, though. ( I cannot give details yet since there is an ongoing civil case against the resort.)
In all those years, I've not set foot in any beach resort. Neither was there a family beach outing. Butch and my daughters visited the beach on their own though. Not that I had a fear of the beach. I love the beach. I grew up in Cebu where my siblings and I hie off to the beach any time of the day. My family even had a beach house in Talisay, Cebu.
I just didn't find any reason to bring my family to the beach again after Luijoe died. Maybe my love for the beach died along with Luijoe.
I can only think of one reason why Cathy dreamt of me in Boracay. You know when someone close to you dies, you remember the last few minutes of that day. An hour before Luijoe died, I was sitting on the lounge chair by the beach as I took this photo.
Luijoe is waving at me.
Come here with me Mom.
I called out to Luijoe "sorry I can't. I have a boil" ( I had a boil in my upper thigh and I feared it would get infected.)
Luijoe let out a sad face. I wish you could stay beside me here in the waters.
This scene keeps replaying in my mind over and over again. Regret. Tears. Regret.. Regret that I didn't get up to sit beside him by the waters to enjoy a brief moment with my son. I often tear when I recall this scene. How I wish…How I wish.
As Cathy related her dream entry, I teared because I understood the significance now.
The past can't be undone, I know. Those last moments are always hard to live with and I carried this burden for many years.
So when Abe told me that I would be part of the Boracay Pinoy Travel Bloggers' Excursion, I didn't believe it at first. I didn't think that Microtel would really keep their promise. I shrugged it off until I got a confirmation that I had a plane ticket just a few days before the departure.
I asked "Is L  invited?" Abe said that L declined but I said no, I think Lauren misunderstood your invite. To make a long story short, L  managed to get a booking despite a second hurdle, a conflict on her class schedules. Now you know why I am glad L was able to join me in this Boracay trip. Yes, I planned to write this part (but Cathy envisioned this sentence before I even blogged about it.)
Lying on the comfortable bed at Microtel Inns & Suites Boracay, I dreamt of Luijoe on my first night. I can't remember the dream now but it was about the beach waters. Maybe Luijoe wants me to enjoy the beach. I resolved to play on the beach on the second day. Alas, the weather was rainy all day. The Puka Beach we went to had huge waves which didn't seem ideal for swimming.

Or I just made excuses to avoid a dip in the water. Diniwid beach waters beckoned to me on my last day in Boracay. I ran out of excuses. The day was bright and sunny. It's the perfect time to swim. After a sumptuous lunch, I took a refreshing dip into crystal blue waters. . As I floated on my back on the cool waters and looking towards the blue skies, I gave a hug (in my mind) to my Luijoe. I said "Here I am…with you now". I felt release. Release from the regret that I didn't play with him in the beach waters. This is the photo of me taken by L in the Boracay beach waters: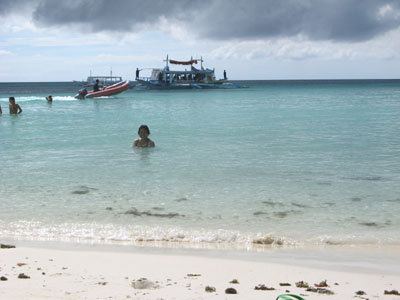 I would not have the energy to travel to the beach if I were not a blogger. See, ever since I became a blogger, the adventurous spirit just came out. So I would like to say a big thank you to the sponsors Microtel, SeaAir and Zuzuni Boracay for this blogger excursion.
Imagine, Cathy even dreamt of the sponsorship. This dream was brought to you by…. . Just kidding.
Seriously now.
We are all going to die and we are all going to lose someone we love. It brings me comfort to know that I can still communicate on a spiritual level with my son and be together with him forever. If we could only know 'for sure' that our loved ones continue to exist in a peaceful realm beyond this earthly one, then the pain of separation would be a lot more bearable." Message dreams are warnings we should all accept, as being from a loving God or the dearly departed.
Cathy's dream was indeed a gift from my son.
Here is a more detailed entry on my Boracay trip, Boracay Vacation with Pinoy Travel Bloggers. You can also browse more Photos
Boracay Excursion with Pinoy Travel Bloggers
Day 1 – Boracay Excursion with Pinoy Travel Bloggers
Day 2 – Boracay Excursion with Pinoy Travel Bloggers
Day 3- Boracay Excursion with Pinoy Travel Bloggers
Ati Atihan in Balabag, Boracay
Diniwid Beach and Puka Beach in Boracay, Aklan
Thank you to all my fellow travel bloggers for the wonderful company.