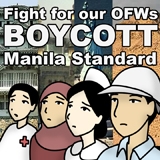 I am joining Nick 's Renewed Boycott Against Manila Standard Today.
Here it is, our stand, because [tag]Manila Standard[/tag] Today has chosen to hide behind their term ""protocol" and issue a pardon to their most beloved columnist for all The Filipinos to see. This is a call to boycott, for the irresponsible behavior of Manila Standard Today, they have chosen to pass up the option of doing the right thing, and essentially show their true colors and the standards they are upholding.
Do not go to their website, do not buy their paper, and anything that they write. Unless it is a declaration of firing [tag]Malu Fernandez[/tag], it will fall on deaf ears.
Incidentally, Daily Inquirer wrote about this latest boycott campaign including Anton de Leon's entry on Malu Fernandez who is based in Dubai. Apparently, the Filipino Channel will interview him today about the renewed boycott campaign and the OFWs sentiments.
Yes I know that we should move on to other important issues like Justice for Cris Mendez but sadly, I still see a lot of hits coming into my blog because of the Malu Fernandez article. The Malu Fernandez issue refuses to die because she was not sincere in her apologies. The mere fact that she is still with Manila Standard speaks for itself.
If you want to participate in this renewed boycott against Manila Standard, just read this entry and grab the badge for the boycott campaign.
Hope you can join us.
Edit – September 6, 2007- ABC 5 Jove Francisco featured some blogs in "Sidetracked"