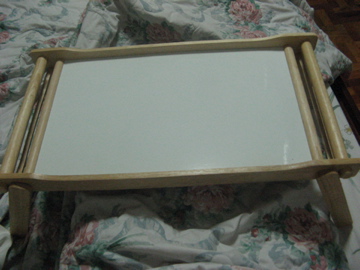 Rubbing my eyes, I thought I saw him hold a breakfast tray . He says "it's my wedding anniversary gift for you, dear" as he plants a kiss on my forehead. I smile and thought "My husband is so sweet , romantic and thoughtful". Then he lays the tray on my lap.
"thank you dear. that's really so sweet. Wait. I need to take a photo for posterity"
I eagerly wait…for the coffee.

Lo and behold. He places the apple macbook on the breakfast tray.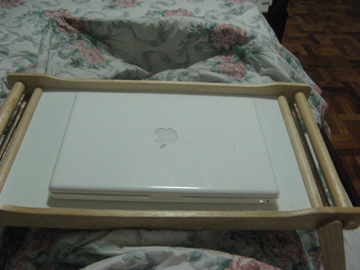 "I know how you like to use your macbook in bed when you wake up so the breakfast tray is really practical"
"Is that it? No real breakfast ?" I whine.
"no, the breakfast tray is for your macbook"
Taking another photo, I teasingly demanded "Coffee!"
He went back to bed and hugged me "I'm sleeping again. It's saturday. We can have coffee later. Happy anniversary"
It's been 22 years of married life with a combined total of 29 years together as a couple. It's been awhile since I received a really romantic present from Butch. I remember in our early years how he would often buy me a ring for every fight he started. The habit stopped when he found out our marital spats became more frequent . Hehe, he got broke. (actually his grandma, the jewelry supplier died). In the recent years, Butch just buys practical gifts.
But it's okay. The romance still rings true in the air. The gift is just a symbol. And definitely the love is forever.
(more later)