by Amihan Euza Mabalay, originally posted at Counting happiness in 100 days , Philippine Online Chronicles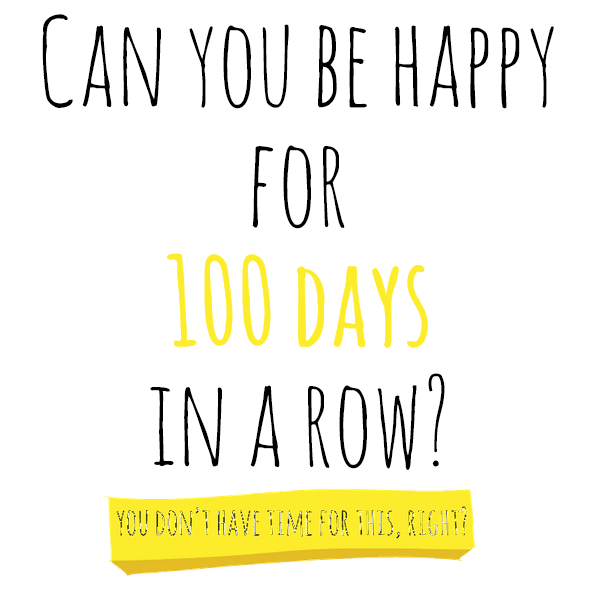 With our fast-paced multi-tasking life, we often get drowned in seemingly never-ending workload, household and parent duties to fulfill. Sometimes we forget to pause and find delight in the moment. Oftentimes, we neglect little things that value the most.
In this age of modern technology wherein popular culture has taken over our lives, social media consumption has been equated to happiness to consumerism. The Philippines was recently dubbed by Time Magazine as the 'selfie' capital of the world, with the cities of Pasig and Makati with the most number of 'selfie' images taken. From the word itself, 'selfie' is done for the benefit of oneself, either for self-exploration or plain narcissism.
Cyber-happines
We just love connecting through social media. The same medium that introduced us to 'selfies,' food porn, memes and other individualized online content prove that it can veer away from materialization of culture.
"Project 100happydays" challenges everyone to find happiness in everyday lives, no matter how small and simple it is. This global social media photo sharing/chronicling challenge aims to make people realize that they can be truly happy. A lot of people have actually joined the challenge, which explains many posts counting days (Day 1 and so on) with hashtag #100days  all around Twitter, Instagram and Facebook. Though we see the 'selfies' as entries, the 100happydays site claims that the project is not to show-off one's possessions to please others or make them envious of one's life or "happiness."
Dmitry Golubnichy, the 27-year-old Swiss behind the project says that "being happy is a choice and everyone can be happy just by appreciating little things in life one has instead of engaging in the constant chase for ever rising internal & external expectations, which leaves no time for being happy."
The campaign is similar to the 2008 project "365 grateful" of Queensland-based Hailey Bartholomew. Bartholomew was then fighting depression from personal, motherhood and marriage problems when she encountered the help of a nun who told her to appreciate at least one thing each day in her life. She started capturing these on Polaroid camera and then posted these on Flickr. Since then, inspired people began to do their own versions. Bartholomew has released a book on the project, co-authored by her husband and is currently making the documentary (film) version.
Real happiness
Apparently,100happydays and other similar photo challenge projects with the themes focused on gratefulness, gratitude, life appreciation and happiness can well serve its purpose if participants can keep themselves and their entries socially sensitive. It would be more substantial and inspirational if people refrain from posting entries glorifying individualist interests (e.g. shoes, pedicured nails, fancy food, "outfit of the day," and more). After all, genuine happiness doesn't come from these trivial material things. Happiness emanates from our self-identification, self-worth and understanding of our role and purpose in this world. It is also hinged on the good, real relationships we have with the people around us.
Cyberspace may have gained us a thousand virtual friends or followers who "like" or "love/heart" our posts. But in reality, our real relationship with people around us is what really counts. If everyone appreciates small and random acts of kindness, then our immediate surroundings – our workplace, school or home can be a better place.
Social media popularized (and also corrupted) the abbreviation YOLO ("You only live once") which makes this apt for the search for happiness of those who have joined and would like to join the 100happydays challenge – we only live once so we must make the most out of it, savor every moment, and appreciate every grain of happiness.
Like any "trending" topic on the Internet, the #100happydays  hype will soon end. But these kind of challenges or projects will always be significant for those who are struggling to find their happiness in the midst of everyday busy and (sometimes, monotonous) life.
Life's true joys are those that don't have price tags, so start sharing your happy days! Carpe diem!
Images Top photo screencaptured from 100happydays.com. Some rights reserved.