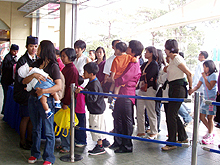 I am not surprised that after the mashing incident in Greenbelt 3, a smiliar incident will happen again. A friend in her mid twenties emailed me about a child abuse incident in Shoemart (SM) Baguio. The father, Angelico Mercader is the Head of Communications at the Office of the Secretary in the Department of Education and a father of three young children. He is advocating against child abuse after that incident:
I'd like to share an incident which happened last Saturday, April 29, 2006 in Baguio City where my two sons, age 6 and 8, were sexually harassed at SM Baguio.

FRISKING MY KIDS' PRIVATE PARTS – NOT FUNNY!

I went to SM Baguio with my two sons and 4 year-old daughter on Saturday afternoon. At the entrance, there was this routine baggage inspection – one line for males and another for females. Upon our entrance, the guard inspected my bag and frisked me. As I was holding
my little girl, my two sons were following right behind me.

After I was inspected, I saw the guard frisking my sons from the waist down to their private parts, one after the other. I freaked out when I saw what the guard did, as I also saw him smiling while my two sons were looking at me helplessly. I reprimanded him and said that he had
just sexually harassed my children. Instead of apologizing, he argued that he was only joking and that he wasn't gay and that my children were boys anyway.
The complete email can also be found here and here. Incidentally, the owners of SM and the security agency, Star Force Security, are one and the same.
The incident angers me because of a similar attitude I got from a fellow mother-chaperone in one of my girls' choir tour in Canada. Another mom whispered to me that one of our kids, a 6 year old girl (let's call her Leila) fondled the private parts of her Filipino-Canadian host' 8 year old child. I was appalled and immediately reported it to the mother-chaperone of Leila. I was even more shocked at her reply:
That's nothing. You know how it is in the Philippines, it's just a joke. you know, you touch it and joke around
I could not believe my ears. I don't find it funny. Sure I have heard of some yaya (caregivers) fondling the penis of their ward to rock them to sleep. Perhaps I might have also heard that this is a (un)common practice. Enlighten me please! Is it a social class thing? Does it happen only in congested households? in barrios? in cities? But at that moment, I firmly told her:
We are in Canada and if you think it's normal , it isn't. We need to tell her that she can't do this to anyone. Canada, Philippines or anywhere else in the world.
Leila could have been abused herself because how else did she learn to do that?
This brings me back to the original sender of this email. She was molested by the driver of her aunt at the age of 12 years old. She didn't speak up because in her mind, adults will think she made up the story.
Mr. Mercader is right.
I make this statement to remind us adults about the kinds of abuses we allow our children to go through, which we may take for granted since they do not complain and they get easily frightened to speak up. Justice for every abused child has to be fought for.

Toilet humor, which in many instances borders to perversion, is not at all funny, especially when our children are involved.
What about the victims of pedophiles? Why are our children the target of pedophiles? Yes , poverty plays a role in enticing these kids to horny perverts. I am just surmising that perhaps it is easier for these innocent children to accept this perverted act because they were subjected to same molestation of their private parts by relatives. Think it is not possible for a child to be sexually abused by his own family?
I agree with Angelico Mercader that "While we trust the state to protect the welfare of our children, it seems that we will not be able stop the abuses against them unless we bring these incidents out in the open and actively seek to punish those who abuse them."
Fight Child Abuse.