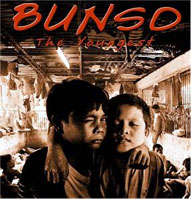 Lauren dragged me to watch a special viewing of Bunso (The Youngest) last saturday. Bunso is a poignant documentary film by Filmmakers Ditsi Carolino and Nana Buxani about three boys – Tony, 13, Diosel and Bunso, 11 – struggling to survive in a crowded Cebu jail alongside adult rapists and murderers. The two streetsmart boys paint us a picture into the surreal world of children caught between extreme poverty and the law.
These boys talked about their hunger and how they resorted to stealing just to survive. One boy stole from a sari-sari store because he could not bear the hunger pangs any longer. The owner did not press charges but the father wanted to teach his son a lesson by sending him to jail.
The boys are in prison for petty theft and robbery. Anthony claimed that he stole huge amounts of money to feed his family when his mother neglected his siblings. Bunso was on the streets because his mother did not "send him to school or care for him". He resorted to begging for money at first, but when he couldn't get any money, he stole. Then he started sniffing glue and needed more money to fund his addiction.
"I'd sniff first then eat," he said in the film.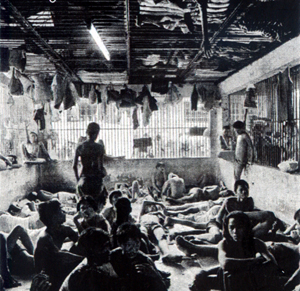 The verbal abuse and angry confrontations between Anthony's parents are a symbol of this film's reality. The kids live in slums at the prison. Their parents have no responsibility of caring for their children and leave them to feed and fend for themselves.
Children as young as 9 years old were sent to jail. The worst thing is that these kids were not segregated from the adult convicts. The jail conditions were horrible. I found out that the documentary was filmed in 2001, when Operation Second Chance, a jail facility in Cebu City for minors, was nearing completion. But for how long did these kids suffer living in these deplorable conditions? Food served to these kids looked worse than what pigs eat.
(Here is a snippet of the Bunso film)
As I watched the boys talk of their jail experience, I wanted to hug them and say that it is alright. You are just kids. You deserve a second chance. But what good are my words?
I was deeply troubled by the documentary that the moment I went home, I searched in the internet to see if anything was done to our children in Philippine Jails.
In May 16, 2006, the President signed into law, Juvenile Justice and Welfare Act of 2006. But are the kids given a second chance?
A year after the law is passed, children are still in jail. The Law enforcers continue to detain minors. Philippine Juvenile Justice Welfare Bill (RA 9344) is not being implemented.
As I watched Bunso, I wonder what their parents were thinking. Did they not feel any love for their kids? It's not the child's duty to provide food for their family. They should be playing, be at their homes or with friends at school.
I felt so helpless and troubled as their story unfolded. Sure, there is a law now but…
The law does not really solve the root cause.
The law does not pave opportunities for our children to grow properly.
The implementing rules and regulations does not eradicate poverty and generation of new jobs for the parents just so the kids don't roam in the streets in search for food,
The Law does not strictly enforce the constitutional right of our children to free and quality education so that our kids will stay away from the streets.
The law does not enforce the value of responsible parenthood among parents.
Do we even need the Juvenile Justice and Welfare Act of 2006 if only these parents valued responsible parenthood?
Inspite of the lack of implementation from our law enforcers and the lack of interest from these parents, there is a glimmer of hope. Father Shay Cullen reports that the Peoples Recovery, Empowerment and Development Assistance Foundation, Inc. (PREDA) continue to save these kids from jail.
Outside they were clothed and fed and they were brought to the Preda Boys Home. Here, they are free to run about play basketball, swim, go to school, take an apprenticeship for trade. They learn right for wrong, grow in spiritual values and start life over. There is no need for walls, fences, gates or guards. The vast majority stays willingly and regains their pride, self-confidence and become good students. This June 2008, twenty-four have been enrolled in high school and another fifteen are taking distance learning. These are the throwaway children of the society, lost sheep whose rights were trampled underfoot but are now found and restored to a life of goodness and dignity.
Children need saving. Jail is no place for a child.
Lets do all we can to help end it once and for all.
Related Stories
Child inmates in Legazpi city jail have been serving more than their sentences
Kids Still Jailed in Manila – PREDA
(Photos from
PREDA
)