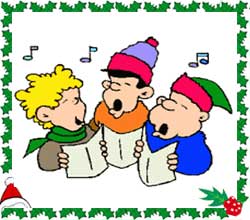 Singing Christmas Carols has been a treasured family tradition. I remember the last Christmas I had with my mom. I was 18 years old then. All the 7 siblings gathered around the Yamaha organ as my late brother, Oscar played festive carols. Sometimes it was mom who accompanied the songs in the piano. Mom was an excellent pianist with a beautiful soprano voice trained at the UP Music conservatory. Each child was required to sing or play a Christmas piece in the piano. I can't remember now if this was an imposition or else Santa Claus won't bring a present. I just remembered it was a fun and festive family time. When I look back to that last Christmas when our family was still complete , a tinge of sadness overcomes me. I had such a loving family. I miss those times. There really is no comfort that I can have except those wonderful memories and the knowledge that I gained so much in the time spent with my siblings and my parents.
I know my mother continues to live in my heart . And as we know, death might have taken our loved ones away but their memories remain alive in our heart. I brought mom's gift of music to my own children. Unfortunately , I don't have the voice . The only musical talent I probably got is an ear for music. I can tell when someone is off-key, pitchy or just tone dead. I can play the piano , guitar and the organ . That's about it. In the seventies, the Yamaha organ was the most groovy way to play music aside from the guitar. I think these days, one calls it the keyboard.
I discovered at an early age that L and M could carry a tune. Their first songs were Christmas carols which I taped and lately converted to CD format . Without sounding like a bragging mom, I think L and M sang beautifully at ages 4 and 3 respectively. I play their Christmas carols during the Christmas season but L begged that I never let anyone listen to it. "It's only for your listening pleasure which should be confined to your bedroom." L begged. I teased L, "But you sing so well at the age of 4 !". Much as I want to let you hear their cute little voices, I'd rather not incur their wrath.
Instead, here are 3 Christmas Carol (in mp3 format) sung by L when she was 12 and M at 11 years old with another girl and 2 boys from the Manila Children Choir. The choir conductor chose only 5 children for this recording but with recent technology, it sounds like they are a big group of kids.
1. Hark The Herald Angel Sing (Click here to download– 2.9 MB) – Charles Wesley/Felix Mendelssohn , adapted by Jack North , Arranged by Jack North/John Wilson
2. Christmas in Our Hearts (Click here to download– 3.0 MB)- Jose Mari Chan , arranged by Carmina R. Cuya
3. Pasko Na Sinta Ko (Click here to download– 4.8 MB)- Aurelio Estanislao/Francis Dandan , Arranged by Bernadette de Leon
Christmas carols and hymns are one aspect of the holiday season that never fail to lift the spirits – and require no baking, no tree stands, and no extension cords. There is something about Christmas carols sang by children. Their innocence and eager spirit shows the true meaning of the Christmas season. It has been said that music can open a window to the soul. To a bereaved person music may either drive a knife into an already festering wound, or it my begin to soothe and bring comfort to a shattered and broken spirit. Christmas Carols sang by my children keeps me happy even if my other child is no longer with us.
I hope my children continue to preserve our family tradition of Christmas carols and hymns.