""Bad officials are elected by good citizens who do not vote." George Jean Nathan
The rooster crowing from afar reminded me that it was time to wake up. What an unholy hour 5:00 AM was, as I grumbled and struggled to get off from bed. I was doing this for my daughter, M as it was her opportunity to register at the barangay center over the weekend since she works during weekdays. The previous saturday, she was unable to register because the barangay cut-off was 500 registrants. The Commissions on Elections (COMELEC) staff advised her to come as early as 7:00 AM to fall in line. I also thought it was time for me to reactivate my voter's registration. My name was delisted because I was out of the country during the past two elections (before the 2007). M and I were pleased with ourselves for arriving at the barangay hall at 6:00 AM but what did we discover?
Two hundred people were ahead of us. I groaned. I learned that the early birds queued as early as 3:30 AM. Why oh why did it have to be this complicated? If I didn't love my country enough, I would have left right there and then. My experience in the barangay voter's registration was truly a test of patience and determination to be a registered voter. Imagine the whole registration process lasted from 6:00 AM till 2:00 PM.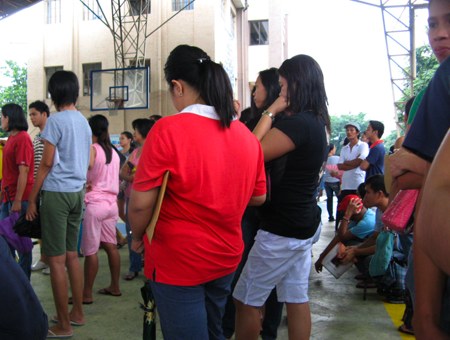 Let's see COMELEC's Registration Procedure and how it applied to me and my daughter's experience.
FIRST STEP A qualified applicant need only to appear personally at the local COMELEC office.
It does not say that you might queue for hours so be ready to bring a small stool (which we did. M went home to get more papers), water and snacks. For the next two hours, I didn't want to remain idle and bored. I voluntarily guarded the queue from latecomers who might insist on cutting in. Filipinos can be so nice to the point that they are abused. A woman pointed me to a man who jumped the queue beside her. I asked the person if it was true but he just ignored me and left the line. It was at that point that I called the barangay workers to moderate the line. The line soon became orderly when the people were told that they shouldn't allow anyone to cut into their line,
Being a responsible citizen starts at simple tasks and good manners like " fall in line and don't cut in".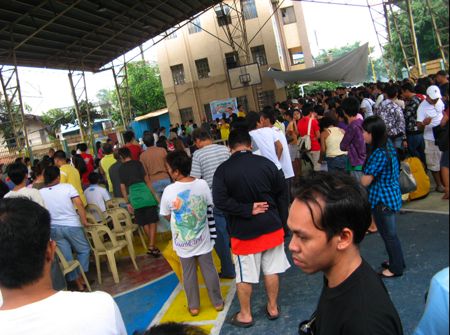 SECOND STEP: The applicant's identity and residence will be verified. (Bring a valid ID with photograph and signature.)
Reality is they won't accept any identification if your home address is not stated. The list of identification documents are here and shows that passport is acceptable. M brought her passport but since her home address was not stated there, they didn't accept it. Good thing this happened before the THIRD STEP. Her only other proof was her NBI Clearance so she went home to get it. The procedure should be more clear and state that your identification MUST contain your home address. I heard (from bloggers) that you can also get a barangay certification if you have no other proof of your home address but I didn't hear this from the COMELEC verification team.
The registration started at 8:00 PM.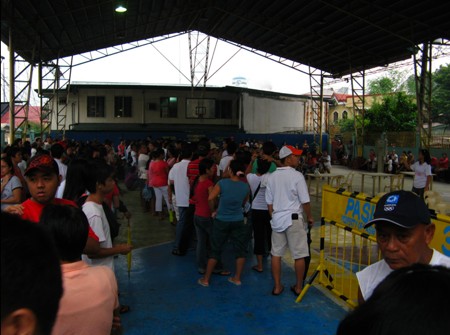 THIRD STEP– The applicant's status of registration will also be verified. (NOTE: Your registration status may also be verified here.)
I noticed that some people brought utility receipts to show proof of their residence because none of their ID's showed their residence. I appreciate the fact that COMELEC is strict with the home address data since we want to avoid the flying voters phenomena in past elections. I got verified by 9:00AM.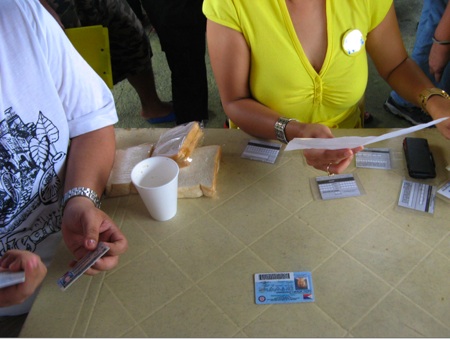 Fourth Step After a successful verification, the applicant shall be given an application form to fill up (in 3 copies). (download here and print 3 copies in legal sized bond paper) or download the forms after the entry below.
Reality is it took another two hours before we got our application form. There was only 1 computer to verify the identify of the registrant. No wonder it took forever to get the application form. The good news is that senior citizens, the 18 to 19 year olds and pregnant women were given special line so they didn't have to queue for hours.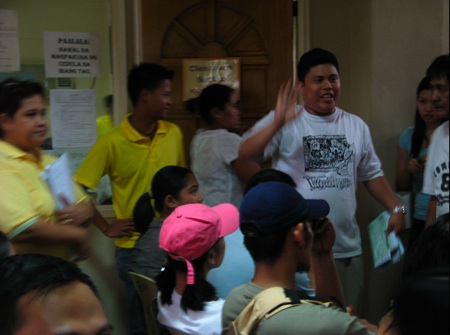 You will need your Tax Identification Number (TIN) in the application form. I had to call my husband to dictate it for me. I don't think this is a big deal since 18 year olds don't have their TIN yet but still bring your number with you. Our application form was complete by 11:00 AM but the computer for the biometrics suddenly suffered a "hanging" syndrome so they told us to get our lunch and come back at 1:00 PM.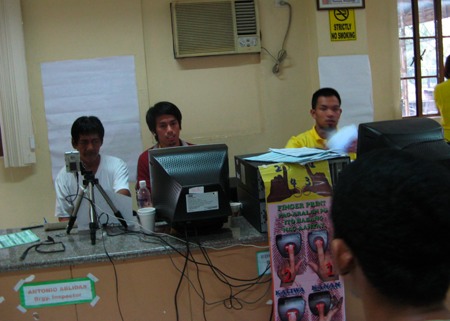 FIFTH STEP:The applicant's biometrics will then be digitally captured.
At 1:00 PM, I could feel "intensity 8" inside the room. I noticed that our names weren't called yet. I insisted that my daughter and I be processed because others ahead of me already got through. Oh yes, being assertive helps.
The biometrics guy whispered to me "Balita ko nagwala ka sa labas" ( I heard you went wild outside).
I stared back at him "Excuse me, I asserted my right to be next in line because many others ahead of me got in this room."
He kept quiet then took my digital photograph, fingerprints and signature using their COMELEC's Data Capture Machine (DCM).
SIXTH STEP: An Acknowledgment Receipt will be given to the applicant afterwards.
Finally I got my acknowledgment Receipt at 2:00 PM. It felt good to know that I am now a registered voter and so with M, even if it took 8 hours. It might not be the same in other barangays or cities. It's just our barangay is the largest in our city so don't get discouraged by my experience. I will have to bring Lauren some other time to the City Hall as she has more flexible working hours. There is still two months more to go but I believe this should be extended. The working population can only register during the weekends unless concerned companies allow their staff to take a whole day off to register.
It is worth it to register or re-enlist. I know it is a long shot to choose the best leader for our country but it is better than sitting down and doing nothing. This mother peers lovingly at her baby as if to say " This is for you". I will be patient.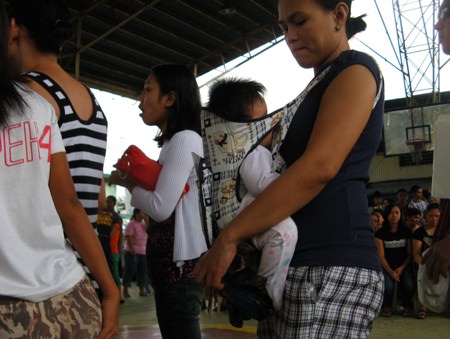 Are you registered?
How was your voter's registration experience?
Download COMELEC Registration for New Voters
If you are unable to download the COMELEC registration form, I have uploaded it below. To download, click on more , then save document. Print 3 copies in long (legal size) bond paper.