Here is another case of stupid toilet humor that occured in Silliman University Medical Center Foundation, Inc. (SUMCFI).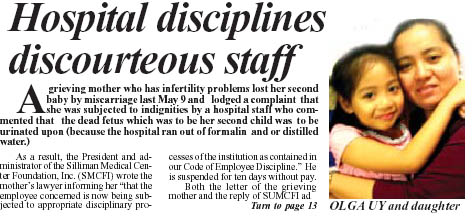 A grieving mother who has infertility problems lost her second baby by [tag]miscarriage[/tag] last May 9 and lodged a complaint that she was subjected to indignities by a hospital staff who commented that the dead fetus which was to be her second child was to be urinated upon (because the hospital ran out of formalin and or distilled water.)
Read complete news story From the Negros Chronicle in here and here.
Olga Lucia Uy emailed her story to me 3 days ago. Maia, her baby was only 5 to 6 weeks old at the time of her death.
I went to the (Silliman University) medical center that same morning with my little Maia for a biopsy. I handed the little cup to a medical technician, who said he would put formalin into it. I said to him, THANK YOU. Then, he handed the cup to another person, and in front of me, jokingly told him, ""O, ihi-i ni". (Here, you urinate in this.")

I was crushed. I was devastated. I was in pain and he trampled over my grief with his carefree callousness and unthinking disregard for my feelings. Mora ko ug samad nga gadugo. Ginudnuran ko niya ug asin. Gibu-buan ug asido.
How inconsiderate of the feelings for the bereaved mother! Even if Maia was only 5-6 weeks old, she was a human being worthy of respect. The medtech thinks that her baby was only ""specimen", a mass of dead ""tissue". It never occurred to him that ""specimen" was a manifestation of God's awesome power. Naturally, Olga did not take it sitting down. She delivered a speech at the Brotherhood of Christian Businessmen and Professionals (BCBP) (read speech) in Dumaguete City and even wrote a letter to Archbishop Angel N. Lagdameo. (Read letter.)
And that is why I am here now to tell you about my advocacy. I have issued a challenge to the leadership of Silliman University Medical Center, to acknowledge, even only among themselves, that a problem exists among their employees.

Their employees need to be reminded that the patients and their companions who come to them are HUMAN BEINGS. We are not simply ""cases" for them to attend to. We have feelings too. When we come to the hospitals, it is because we NEED to be there. We are troubled, anxious, scared, in pain. We have money troubles too. Hospitalization, doctors and medicine = LOTS OF MONEY. And that's something that not too many of us have in abundance.
A lot of sympathizers aired their rage over the incident and reactions from friends and the public were likewise printed in the Negros Chronicle's May 27 issue . So far, the action taken by the hospital was only to discipline the erring medtech and to write a carefully-worded letter of apology to Olga through her lawyer. But as to her advocacy for a Values Formation Program, there has been no action nor any word from them. Her next move now is to write directly to the Board of Trustees.
* * *
As I read her email, I thought of the time I was at the emergency room as my son was dying. The nurses and doctors didn't dare go near me or even touch me. They threw scared glances at me as if I would combust into thin air. To think I was not even hysterical at that time. I was in shock so how could I even cry? At that moment, I needed a touch from anyone or just someone to hold on to. I held on to the warm hand of the resort's waitress, the person who tried to resuscitate my son. She couldn't stay long. My family didn't arrive yet so I was ALONE. I needed to feel warmth. It was just recently that I asked Butch if anyone comforted him at the beach resort while I was at the ER. He said that only a Greek visitor held his hand. A high school classmate is the resort's doctor but she never visited me at the ER. Touch comforts. Emotions are overwhelming as one confronts the death of a loved one , especially if it's due to an accident. One is lucky if there are family members around to comfort. Hospital professionals need to be trained for care, compassion and courtesy to the sick, the dying, the dead and the bereaved as well.
I hope other hospitals carry on the advocacy for Values Formation Program that Olga Lucia Uy started. This advocacy should not end in Silliman University Medical Center Foundation, Inc.