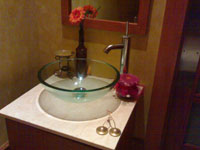 Friday and saturday were stressful days for us. Butch and I commemorated our son's 6th death anniversary by embarking on a new mission which will unfold in the days to come. After we had settled with our new mission, we thought of exercising at the gym and then having a massage together at a [tag]couple spa[/tag]. Romantic bonding moment. The couple spa is also a perfect retreat to replenish our body , mind and spirit. The kind manager offered us a complimentary milk bath after the massage.
The masseuse started with our session. Hmm, I loved the citrusy aromatic oils while the chirping bird music in the background lulled me. Butch seemed to be drowsy too. This is relaxing, so I thought. Then I heard a faint "meow" sound interpersed with the tweeting sounds. "GROAN" Stupid message ring tone (the actual meow of our Siamese cat). I forgot to turn the cellphone into silent mode. It "meowed" 4 more times. Never mind the text messages but the meowing sound stuck to my head. Almost throughout the massage session, I imagined a cat meow together with the bird's chirping noises. So much for relaxing. I forced myself to zone out of the "meow sound" and just let it be.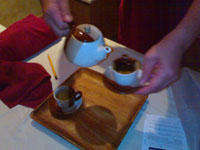 The massage invigorated our bodies but we didn't have enough time for a milk bath. The tub looked inviting. Maybe some other time, right? We sipped mint tea and just sat together to enjoy the ambience. I always make it a point to have couple time every week whether we're stressed out or not. It's not cheap but that's the price we pay for love.