The two girls arrived home last night due to the upcoming storm Reming but they were craving DOUGHNUTS. "Uh not now dears. It's late! " I promised to buy them [tag]Krispy Kreme Doughnuts[/tag] by waking up early for their Opening Day. Well, today is the Krispy Kreme Doughnuts Opening Day at the City Center, Global City. Bringing my mug of coffee to perk me up , I drove over to the City Center at 6:30 AM. There were like hundreds of people crazier than I am who dared to wake up early just to order the first batches of Krispy Kreme Doughnuts.
Krispy Kreme staff were gracious enough to hand out retro caps, raffle coupons and a brochure to lift our sagging spirits and knees. Music and a dance number entertained the tired and hungry. The police, police dogs, security guards , ambulance and the fire men were on their toes,hovering among the crowd of eager customers. Would someone be crazy enough to create a stampede? They promised to open the door by 8:30 am. US Ambassador Kristie Kelly and Congressman Alan Cayetano cut the ribbon which officially launched Krispy Kreme Doughnuts in the Philippines. I didn't catch the name of the lucky first customer who won a free supply of Krispy Kreme Doughnuts. It was my secret wish to win one of the raffle prizes but alas, it was not meant to be.
Finally, at 10:00 AM, I entered the Krispy Kreme Doughnut store. Since I already tasted the "Melt in your Mouth" original glazed doughnuts, I ordered two dozen Assorted Krispy Kreme Doughnuts (335 pesos for a dozen). I have no intention of going back in the next few weeks so might as well order all the doughnut varieties. With the hundreds of people in the city center, Krispy Kreme did a pretty good job of organizing the smooth flow of customers in and out of the shop. There were hundreds and hundreds of doughnuts to be sold. Even Go Nuts Donuts could not cope with the influx of orders when they first launched a few years ago.
After all that hassle and waking up early to be one of the first 500 customers, was it worth it? Not really. As consolation, I ended up with:

1. two free Original Glazed doughnuts (My silly husband ate one piece at home while I ate the other one while in the queue)
2. A free t-shirt that doesn't fit me
3. and three retro caps
and my favorite doughnut as of this very moment is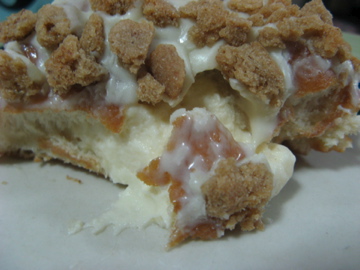 The Super fattening, really yummy New York Cheesecake!
View other Photos
Eating Krispy Kreme
Inside the Krispy Kreme Doughnut Shop
The first customers of Krispy Kreme Doughnuts during Opening Day