Seriously since you seem to have the energy and inclination for such endeavors, perhaps you can start a campaign to promote not only Filipino women, but also writers who will write in excellent Pilipino, or at least use impeccable English as a substitute.
That's part of a lengthy email from a FilipinaImages.com reader. Oh my. Seriously now, what a tall order for a mere blogger like me to start such an advocacy? Sorry, I am not the right person. I know my limitations. I have great ideas for blog topics but more often than not, I am often stumped on the opening hook for my entry. If I tortured myself about my imperfect English, I would not be pounding away on my keyboard and blogging for the past two years. In fact, that's one reason I only blogged in 2006. I felt insecure about my writing. If I let my insecurities interfere with my goals, there would be no advocacy on grief support in the Philippines and Reshaping the Filipina Image Online. It does not mean I don't want to hone my writing skills. The only way to improve on my writing skills is to write everyday and learn to be better.
Last Saturday, I got a text message from Tin of Read or Die ( they promote reading and literature in the Philippines.) that Butch Dalisay was giving a short talk on Creative Non-Fiction at the Trinoma PowerBooks, I grabbed this opportunity to be inspired by a great writer. Of course, you know Butch Dalisay is a Palanca Hall of Fame Awardee and owns a blog at Pinoy Penman.
My first encounter with Creative Non-fiction was writing about Luijoe's death for the Fallen Cradle. Frustrated with the slow progress of my writing, I showed the draft to my sister, Myrna who lovingly advised me to "show, not just tell my story". I had to involve my fives senses. The task seemed formidable. How does one write the stark contrast from a glorious, happy beach scene snatched away in minutes to a bleak, depressing moment of truth, the death of my son?
On that brilliant day in May, his laughter rang out in the salty air as he pressed his feet on the powder-white sands of the beach, leaving a trail of tiny footprints. That was the last time I saw him alive.
Somehow, that short exercise brought out an inner need to tell the world of my pain because I knew others like me probably can relate. I was hungry to learn more about creative non-fiction.
Just before Butch Dalisay's talk, I asked him "Is a blog, a form of creative non-fiction?"
His reply "I definitely think it is. Blogs are a form of literature. Anything that is written is literature. The quality varies. Some are good. Some are bad. Blogs fail as literature when there is barely any editing. Never mind the grammatical and mechanical mistakes. The organization, the material, the way it is approached, other things you could have brought in instead but didn't. In other words, it's not really thought out because maybe it wasn't designed that way. It is exciting because it empowers ordinary people to be authors and publishers. Over time, it's going to change how literature will look. There is this move from text to the internet and the hypertext moving back to print. It won't be far before there will be a compilation of "Best of Blogs".
Creative Non-Fiction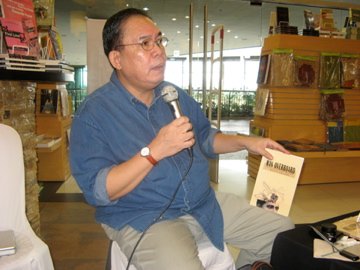 In creative non-fiction, Butch Dalisay elaborates that
1. When you write about yourself, it's never just yourself. It can't be. Who the hell are you anyway? Why should your life be so interesting to people? It could be interesting only up to a certain point. There's got to be a point when you are no longer talking about yourself. Or even when you are, there are points others can relate to . That's one of the pleasures of literature– the recognition. "She/he said it in ways that I possibly can't but not right now". And that's what appeals to us in good writing in others.
2. Conversely, even if you write about others (not yourself), there still has to be way by which what you are writing resonates with the reader … So that she /he can see herself in it so that it's not floating out there in outer space.
Butch advices to "Find the image that will capture the idea rather than express the idea itself. This is a technique from fiction you can bring in to non-fiction. Fictional devices that one can employ are use narrative, use of dialoque, use of concrete imagery, use of description to describe the scene and the scene will carry the idea."
While I may not be a qualified representative to campaign for better writers, it is possible to improve on our writing skills and spice up our blogs to make them more engaging, entertaining and with a distinct voice. Butch Dalisay graciously agreed to hold a short talk on Creative Non-Fiction for Bloggers (to be scheduled) through the Blog and Soul Movement. So watch out for that announcement in this blog.
All that talk is useless if I don't write and use the lessons of imagery. It is practice, practice, practice that will help me and with a little guidance prompt me to be a better writer. The question is do you think bloggers should take the next level and take creative writing workshops?