""You've got to dance like nobody's watching and love like it's never going to hurt."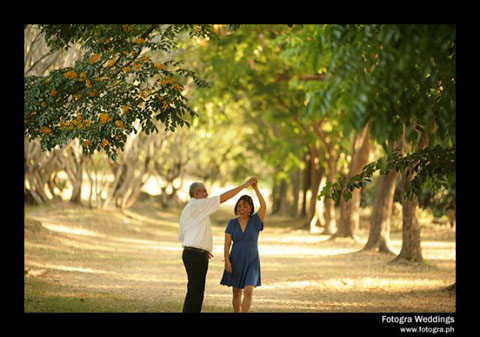 I guess nobody is perfect. My husband is handsome, cute, romantic, passionate (hot-headed too), smart, crazy, weird…and that's just some of the reasons I fell for him when he "drooled" all over me in 1978. When we were seated at the restaurant as the disco music played in the air, he'd sway his body left and right or shake his head. Wow, this guy can groove, I thought. When we were finally steadies, I brought him to "Birds of the Same Feather", a small disco place in Timog ( it was Ozone a few years later). As I dragged him to the dance floor, he sort of stood there, with his left feet stuck on the floor. With a sheepish grin, he confessed " I don't dance, eh. "
Surprised, I yelped "I thought you did!" and he sort of "yeah when sitting down".
I took it for granted that all guys knew how to dance. After all , it was the height of disco fever, the swing, John Travolta's movie "Saturday Night Fever" and the Beegees. My brothers knew all the latest dance steps. TV shows in Cebu were a week or two delayed from Manila TV stations so whenever I went home for vacation, I'd teach Ruben all the latest dance steps. My brother was the one of the most popular guys in high school because the girls all sought him to be his dancing partner. I grew up with a family that would sing, dance or play the piano even after dinner.
In time, I learned to dance with my heart and relegated dancing to the floor for my aerobic exercises after each pregnancy. Dancing gives me so much joy. I quite believe Hans Bos "While I dance I cannot judge, I cannot hate, I cannot separate myself from life. I can only be joyful and whole. That is why I dance." It was a disappointment that Butch didn't share my joy of dancing but I've learned to compromise…"let's just dance this slow song" as we held hands, hugged and swayed to the slow and romantic tempo.
The seventies-themed birthday party last night reminded me all too well that though Butch may not be dancing with his feet, he mastered dancing with the heart.