News Flash Media IN Focus hosted by Cheche Lazaro will discuss "Dela Paz and Blogging" on January 15, 2009, Thursday live at 6:00 to 7:00 p.m. at ANC Channel 27. T
For our episode on January 15, 2009, Thursday, our topic is about "Dela Paz and Blogging."
This blog post will be updated regularly for links to interesting blog posts and news
January 5– News update Pangandaman kin face child abuse, injury raps over golf 'brawl' and Pangandamans file countersuit over golf brawl.
Check out the Online Petition for Pangandamans' Resignation
(Update December 29- View the news video from GMA News as Bino, the 14 year-old cries on TV )

As soon as Caffeine Sparks plurked the GMAnews.tv report of DAR chief, mayor son accused of mauling golfers in Antipolo ( ABS-CBN has this news report), I read it immediately together with the blog post of Bambee de la Paz where she relates that
The world has gone crazy. Two politicians beat up a defenseless 56-year-old father and his 14-year-old son. At a golf course. I swear to God, I thought golfers were decent people. You would think politicians were decent people. I guess not. I guess they gang up on 56-year-old men and beat up pleading 14-year-old kids.
I don't have a father anymore and my son would have been around the age of the 14 year old boy so my heart just went out to both father and son as Bambee describes how they were beaten up. I mean, wouldn't you feel the same way if that was your father and brother or son? Yes, it could happen to you too.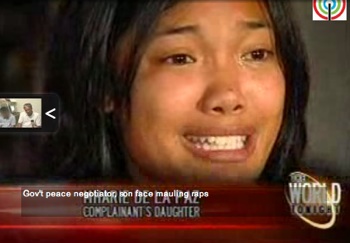 (Photo credit to abs-cbnnews.com video)
Basing it on Bambee's first person account, her 14 year old brother pleaded to Nasser Pangandaman Jr., mayor of Masiu in Lanao del Sur to please stop hitting his dad but what did the powerful Mayor do?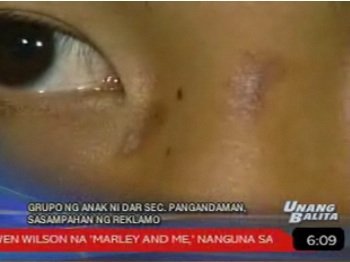 Photo screen cap taken from this GMA news video
The mayor looks at my brother, point to his face, and says, "Tatandaan kita!" And he tells me that my brother has a bad attitude and that I need to watch him. WHAT THE HELL?! So, my brother's bad for defending his father?!
The de la paz family left the golf court but the powerful mayor Pangandaman was not contented:
We leave. We walk to the clubhouse to file a complaint. My brother asks for a doctor. My dad could barely walk. Their group comes to the clubhouse, sees my brother. Once again my brother pleads, says sorry, and is crying. He was CRYING, for crissakes. But no. The relentless mayor still punches him in the face, and then sees my dad and goes after my dad again. Him and his friend pull my dad to the ground, pulls at his feet, and steps on him like he's dirt. I run to him and try to hold him back, holding him back by his shirt, while this other guy and this girl tries to stop me. She tells me to just stop it. I scream in her face "they're beating my father up and you want me to stop?!" I pull at his shirt–I don't let go. All I can see was my dad being trampled on. I didn't even see my brother getting beat up.
Oh and to add injustice to everything:
1. Security personnel of the Valley Golf and Country Club in Antipolo tells them "umuwi na kayo, napakalaking tao 'yan (just go home, you're messing with big personalities here)."
None of the security guards at the clubhouse even tried to stop the fight and that other personnel reportedly told refused to cooperate when they asked for the names of the Pangandamans' companions.
2. Though the DAR chief did not participate in the mauling, he just watched. He watched two of his sons, as we figured out, the other guy was his son, too, beat up my father and my 14-year-old brother. He didn't do anything to stop it. And this person is what now? A cabinet member. A politician.
3. Mayor Pangandaman filed with the Mayamot police station in Antipolo a counter-complaint of physical injuries and grave threats against the dela Paz father and son.
Imagine the nerve.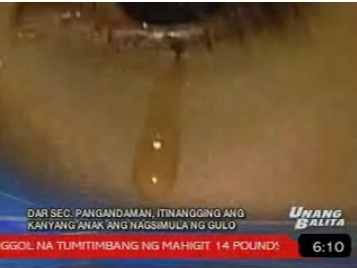 Watch video here of 14 year old Bino as he tearfully recounts his ordeal
Yes, I understand there are two sides of the story and I'd like to hear the mayor's side in explaining how he could beat up a kid and a much older guy not ONCE but TWICE. My husband confirmed the mauling incident through a member from the golf club. (update: Check the Incident Report from Valley Golf Club). Ade's sister is a friend of Bambee de la Paz. I want to hear the mayor's side and why his father (a Peacemaker appointee) looked the other way. I'd like to know why the mayor should not be charged for violating the RA 7610, the anti-child abuse law. I wonder if the Valley Golf club is also a party to the violation of the Anti-child Abuse law after they failed to give them further protection accorded to member's minor child. (Update : Their side reported from Inquirer's DAR chief readies suit vs son's accusers )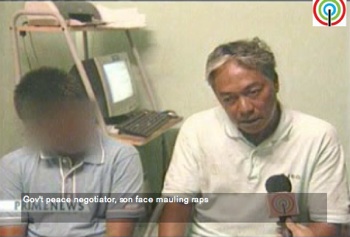 The father talks about the traumatic ordeal of his son in an interview with Philippine Star :
""Aside from the bruises, he has been traumatized. He does not want to go to a golf course anymore," De la Paz told The STAR in a phone interview.

""In his little way, my son has brought honor to our country in winning some medals and trophies in international tournaments," he said.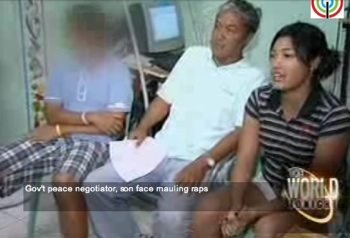 I understand Bambee's anger when she says "The world has gone crazy" and I fervently hope that justice be given not only to them but to all other farmers over land reform issues.
(Photo credit of the son Bino De La Paz, the father, Delfin De La Paz , Bambee De La Paz to abs-cbnnews.com video)
Bambee closes her entry with Please pray for my dad, my brother and for my whole family. Please pray that we get JUSTICE. Oh God, please, give these people what they deserve.
I know it might seem such a daunting task to tackle this issue alone but What can you do about it?. For now, let's keep it simple.
1. Blog an entry about this incident.
2. Please Digg This.
3. Email your friends about Bambee's entry, The World has Gone Crazy
Related Blog Entries (from oldest to current posts)
The World has Gone Crazy by Bambee de la Paz
Repost of Bambee's post at Filipino Voices
Impunity and Golf By Caffeine Sparks
The World has Always Been Crazy, We Just Don't Notice It: Mayor Beats Up 56 Year Old Man and 14 Year Old Boy by Ade
Golf, Guns, & Goons : Philippine Golf Horror Story by Joel Chua
Politicians Beat Up Defenseless Dad, 56, and Son, 14, Over Golf by Shari
Mayor of Lanao Del Sur Mauls Father and Son by Village Idiot Savant
DAR Secretary Nasser Pangandaman and Son maul 56-year-old Golfer and 14-year old Kid by Neil Es2pido
Irony to a Tee by Marck
With Great Power Comes Great IRresponsibility? by Jane
DAR Chief and Mayor of Masiu City Maul Helpless Dad and 14 yr old Son by Jepoy
These Bastards Have To Pay by Gerry Alanguilan
Politicians are the WORST. Stay away from them by Jen
Entitlement by Ia Lucero
A Dampener on the Season by Jonas Diego
crazy politicians by lalaine
Asshole Politicians Beat Up Father and Son Over Golf by Mad Cow Blues
Mayor Beats Up 56 Year Old Man and 14 Year Old Boy by BA Racoma
Mayor Nasser Pangandaman Jr. (son of DAR Chief) in Mauling Golfers in Antipolo by Dine Racoma
When A Family Golf Game Turns Ugly by Dementia
He Who Had Too Much Sense of Entitlement by Tess Termulo
Mayor, You've Been A Bad Boy! by Mark Bravo
You're not Getting Away with This by Marcelle
Mayor Pangandaman Beats Up 56 year old man and his 14 year old son by Karla Redor
Potpourri II: The widening gyre
Of Thuggery and Courtesy Resignations by Ding G. Gagelonia
Politicians Maul Father & Son Over Golf by Regnard Raquedan
Philippine Mayor Beats Up Helpless Old Man Over Golf by Flisha
just a couple of days ago, sabi ko gusto ko maging pulitiko someday.
We haven't really gone anywhere by Alex Maximo
Do Not Underestimate a Blogger: Bloggers Buzz Against the Injustice of a Mayor Nasser Pangandaman Jr. by cmaotaku
The "DVD" Side Of Philippine Politics by Dexie
Philippines: Uproar over mauling by mayor/son of Cabinet secretary by Global Voices
Ang Kapangahasan ng Isang Pulitiko by Fjordan
Mayor Nasser Pangandaman Jr. mauls golfers while father/Cabinet secretary just looks on by Tonyo Cruz
PANGANDAMNYOU: will GMA force Sec. Nasser Pangandaman to RESIGN? by Spanky
A Mindanaoan's point of view on The Valley Golf Antipolo Controversy by Yolynne
Bully Foolitician Nasser Pangandaman Jr. by Pedestrian Observer
The Golf Incident: The Trouble with Mirrors by Juned
Masui Mayor beats up 56-yr-old man and 14-yr-old boy – another reason to oppose term extensions, no elections and Cha-Cha by Jhay Rocas
Pamandangan de Barbarian by Pao
Mayor and Bodyguards beat up 56 year-old man and 14 year old boy over GOLF by the_bumper_car
Not a Videogame This Time Folks by Rocky
DAR chief, son accused of mauling golfers in Antipolo by Jay-R
Local politicians maul a 56-year-old man and a 14-year-old boy by Lyn
Golfing with the Pangandaman…can hurt…(Repost of Bambee's post) by lyn
Mayor and Bodyguards beat up 56 year-old man and 14 year old boy over GOLF by the_bumper_car
Impunity by Manolo Quezon
Mayor beats up 56-year-old man and 14-year-old boy… SHAME ON HIM. by Cheesy Chuckie
Of Golf, the Internet and Elites by Butch at Filipino Voices
Pangandaman and son display bad behavior by Arpee Lazaro
Nasser Pangandaman Jr.: The Warlord of Masiu by Carlos Conde of Pinoy Press
DAR chief's son, 5 bodyguards face charges for alleged mauling of 2 golfers from Cotabato City News
Reports on DAR's cheif son, Mayor Nasser Pangandaman's Assult on Father & Son at Valley Golf & Country Club Antipolo by Brian Ong
Blog entry take your time to read this. these politicos need a REFORM. by xkeldax
Coming Up for Air….and bored by Jester in Exile
A Mauling Mayor from Lanao del Sur by Politekon
A Good Round Spoiled by Dr. M Bautista
Arroyo's peace adviser merely watched his son's mauling spree by Ellen Tordesillas
Pangandamans Charge with Mauling Golver and his Teenage Son by Barako Brew
Public servant power by Mon Casiple
How NOT To Play 'Spin Doctor' on Blogs [The Pangandaman Golf-Mauling Incident] by Ely
Nasser Pangandaman Mauls a Father and His 14-year-old Son? by Pinoy Copywriter
UNLUCKY by the Professional Heckler
Comment: Nasser Pangandaman Jr.: The warlord of Masiu
Character and Abuse of Power by Congressman Ruffy Biazon
Arrogrance on Naked Display by the Unlawyer
Power and Humanity by Nick, Filipino Voices
Valley Golf Guards Report: Pangandaman Security Men Drew Guns on Dela Pazes– Incident Report from Valley Golf & Country Club
From Traditional Media
DAR chief's son, 5 bodyguards face charges for alleged mauling of 2 golfers from GMAnews.tv
DAR chief's son tagged in golf attack from Inquirer
DAR chief, son face complaints for allegedly mauling golfers from ABS CBN
Gov't peace negotiator, son face mauling raps from ABS CBN (with video)
Kalihim ni Arroyo inakusahang nanggulpi sa golf course sa Antipolo from Gmanews.tv
MAG-AMA BINUGBOG NG ANAK NG DAR CHIEF from Abante Tonite
DAR chief, mayor son tagged in beating by Philippine Star
'KAMI ANG SINUGOD AT SINAKTAN!' from Abante
DAR chief readies suit vs son's accusers from Inquirer
Charges readied vs DAR chief's son by Inquirer
Pangandamans accused of mauling; DAR Sec says "my son was attacked first" by Minda News
Golf club suspends DAR chief over brawl
DOJ told to probe DAR chief, son over golf course 'scuffle' by GMA
Cops frustrated over golf club's silence by Inquirer
Golf mauling sparks blog outrage by Inquirer
Mayor Pangandaman accused of mauling from The Mindanao Daily Mirror
Cabinet official, two sons rapped for mauling golfer from Manila Standard Today
Pangandamans to shed light on golf mauling from Manila Bulletin Online
Why GMA must fire DAR Sec. Nasser Pangandaman Sr. By William M. Esposo from Philippine Star
Barbarians on the green – an editorial of Philippine Daily Inquirer, December 29, 2008.
Dela Paz blog on brawl heats up Net from Philippine Daily Inquirer
""Hindi mo ba ko kilala?" by Ernesto Herrera
Second class citizens? Ramon Tulfo , Philippine Daily Inquirer, December 30, 2008
Valley Golf vows firm, fair action from Philippine Daily Inquirer, December 31
Abuse of power by Amando Doronilla, Opinion Column of Philippine Daily Inquirer, December 31
Farmers join quit call for DAR chief, Philippine Daily Inquirer, December 31
DoJ should have probe results fast By Belinda Olivares-Cunanan, Philippine Daily Inquirer, December 31
Pangandamans' 'sober image' soiled By Ryan Rosauro, Mindanao Bureau by Philippine Daily Inquirer
Farmers go online to oust DAR chief Philippine Daily Inquirer, January 2, 2009
Dela Paz's daughter asks NBI: Don't be swayed by influence , ABS CBN News, January 2, 2009
DAR chief: Don't condemn my family Philippine Daily Inquirer, January 2, 2009
Clawless opinion, Philippine Daily Inquirer, January 2
Criminal raps filed vs DAR chief's sons, bodyguards, GMA News, January 5
Pangandaman kin face child abuse, injury raps over golf 'brawl' ABS CBN, January 5
Is this guy for real? by Bong Austero, Manila Standard, January 5
A challenge to Bambee de la Paz and other bloggers, by Carlos Conde, GMA News Blog, January 5, 2009
Blog Power, by Amando Doronilla, Inquirer, January 7, 2009
Videos
Mayor Nasser Pangandaman Jr. and bodyguards mauls golfers while Cabinet secretary just looks on, ABS CBN TV Patrol, December 27, 2008
Youtube video of Mayor Nasser Pangandaman Jr. and bodyguards mauls golfers TV Patrol, December 28
Youtube video – TV Patrol, December 29
From Gma News (Video)
December 29 news video from GMA
DZMM Radio interview on the side of Mayor Pamandangan
MAYOR NASSER PANGANDAMAN JR. – HIS SIDE OF THE STORY, Radio Interview, January 2, 2009
Dela Paz family narrates golf club encounter with DAR chief's son ABS CBN News , January 2, 2009
De la Paz family traumatized by mauling incident involving DAR chief's son, GMA News TV, January 2, 2009
SECRETARY NASSER PANGANDAMAN SR. "NO BRAWL HAPPENED???" *APPEAL TO BLOGGERS* ABS CBN, January 3, 2009
Other Websites
Lanao Mayor and DAR Secretary beat up 56 year old man and 14 year son on golf course at Pinoy Exchange Forums
KIKO TO DAR SECRETARY – INHIBIT SELF FROM SONS' CASE, a Press Release
Second class citizens? (excerpt) by Ramon Tulfo
Online Petition for Pangandaman Resignation
From Pinoygolfer.com, a report from rge that he got facts from Valley Golf Fact Finding Committee Head, January 2, 2009
Foreign News
DAR chief's mayor-son accused of mauling father, son in golf course from Manila (English version) from Manila Shimbun

Mayor Under Investigation After Allegedly Beating up Two Golfers from Fox News
Philippines politician under investigation after allegedly beating up two golfers from Agence France-Presse
PBA09qq7q8qp