Our newly employed househelper wanted to visit her family for the weekend. Sure, I told her you can take your weekend off. I soon left for a movie date with my husband. The next morning, one of my helpers reported that she caught her sneaking out at night carrying a bag. Good thing one of my ex-househelper/Luijoe's yaya was around for a visit and corroborated my other helper. I took a look at the bag. What did I see?
Lipton Milk Tea
Yoghurt Milk
Instant Coffee mix
Disappointed more than angry, I asked her why she stole those items?
Her reply: "I pity my kids."
I didn't buy it. Her children are still small. Why would they need Lipton Milk Tea? or coffee mix? Now that the trust was broken, I could not retain her for employment. Petty stuff like this can lead to other bigger loot. She can also be a security risk for those theft syndicates that commonly invade households in Manila.
I never had to worry about security in my old residence. The village guards checked their bags at the gate and they couldn't leave the gate without our clearance. Quite a snobbish village. I hate checking their bags. I would like to believe that employers should trust their employees. But being nice does not get me anywhere. I lost my cellphone and camera once. Lauren's Birkenstock sandals too. And probably many other things.
After employing househelpers for years, I should have been an expert by now in sizing them up. Sure I have shared a few tips with you in the past. In fact, that entry on Tips for Household help or Yaya (nanny) caught the eye of the Baby Magazine writer that they featured it alongside an article for the July 2008 issue.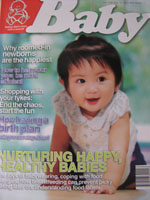 The blog entry that complemented their article, She Loves you, yaya- Are your kids more attached to the nanny than to you? may contain a few tips for household help but one thing I've never really figured out is why some of my househelpers steal.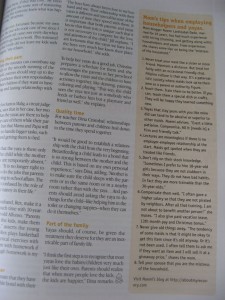 (Click to enlarge)
At first I thought it was poverty that drives some to steal until I recalled a few politicians that have questionable accumulated wealth. I've never really figured it out. I always tell my helpers that if they want something in the house to ask if they can have it especially items we have long discarded or stored in the cabinets. Sometimes I think they just want to covet. Sometimes I feel that "they won't miss it so I'll sneak an item or two".
Luijoe's yaya told me to lock the doors or assign just one person to clean upstairs but I don't want to live with a cloud of suspicion. Inspite of the few stolen items, I will be vigilant and store valuable items, away from temptation.
Speaking of the household help, I've long wanted to react to Lauren's Attack of the Class Guilt. When her Italian boyfriend lived with us last April, he couldn't help but barrage Lauren with questions on our household help. He was appalled that Lauren does not converse with them. Not that Lauren is a snob, she has difficulty talking in Tagalog. The helpers tell me that Lauren is so soft-spoken and very nice to them.
There were some more observations that her boyfriend raised such as:
Why do they not eat in the same table with us?
I understand where he was coming from. Raised in Italy, household help is only for the very wealthy families (I think).
However, I felt insulted when he started wearing pajama pants so he could be in the same level as our helpers as he cooked Italian food one night. It didn't help that his attitude ruined Lauren's mood that night. I didn't want to explain my household management style to him or else I will come out defensive. Fortunately, the boy is very nice and talked to me about his feelings and so with mine. He understood where I was coming from and vice-versa.
It's not as if I mistreat my helpers just because they don't sit with us at the dinner table. Oh, they do sit with us when we dine out at the restaurant (especially when the kids were little) but not at my home because that's just how I do things at home. Lauren seemed terribly upset and guilty why we had household helpers. I had to explain to her…that we train our helpers to have more skills so they can be financially independent one day.
"Remember your yaya Marilyn? She has her own little eatery with a menu based on recipes I taught her. She is forever grateful to us."
Then I added "What about Luijoe's yaya? Why does she visit us often? If we mistreated her, I don't think we would have retained our helpers for years. I don't think they'd want to visit us anymore".
Being a household helper is an honest job. I believe they can be taught skills other than just cleaning or washing chores. Through the years, they learn to love the children. That's why they come and visit us. I do not expect the more loyal helpers to stay with us permanently but if they do, I welcome them as members of the family. I actively support their continued education and life improvement so I truly understand if they need to move to greener pasture. The only favor I ask is that they give me enough notice to train another replacement.
So maybe I can be such an OCD but they know it's just a quirk in my personality. I told Lauren's boyfriend that if I mistreated my helpers, I would be experiencing a high turnover. I've never had househelp problems that I couldn't handle. In fact, the security guards use to bring job-seekers at my gate in the past. I often turned them down because I don't want to hire more than I needed.
Household help are a blessing to me since I can do more business-related work. I enjoy a clean and organized home that they help me provide. It's a mutually beneficial relationship. I am thankful of their help and I never forget to give them a year-end bonus.
What is your househelp management style?
New Media Events
African Sunrise Tea from The Coffee Bean and Tea Leaf to be launched on July 28
I had a taste preview of the African Sunrise Tea a few months ago. How I love the natural sweetness of this tea variety. click here
Miele Laundry Care
Discerning fashionistas who spend thousands and thousands of pesos on a fine, delicate piece of clothing that can't be handled by just any appliance should check out the Miele Laundry Care. They tested the washer with rosebuds and minutes later, the rosebuds were still intact.
Amazing. In youtube, I found a video of a Dog Washed in Miele Washing Machine. It's that gentle! It's quite pricey though but if you're the type who spend thousand of pesos, Miele Laundry Care is for you.
OSIM Health and Wellness Equipment
Health fitness equipment is not cheap. But I had fun testing out the space-age treadmills and other fun machines like the uSurf, a wave-action exerciser designed to stimulate the sensation of surfing to improve your balance. I like the fact the equipment is painted white not the dreary gray colored machines found in the gym. You can check out the other equipment at Osim Store at Powerplant Mall