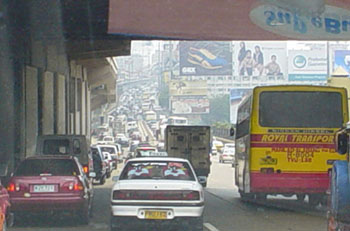 My Mom, the backseat driver entry brought about a lot of driving tips especially for Manila Traffic and female drivers. I 'd like to share the wonderful tips from my readers. The first six tips are mine.
Enjoy!
1. Don't cut corners.
2. Even if you have right of way, check if there is a speeding vehicle before proceeding to cross the intersection.
3. Don't stop to check your car when a motorist points to your tire. Go to the nearest gas station.
4. If a traffic enforcer stops you, find out your traffic violation. Ask for a ticket and make sure the traffic violation is as listed. Reckless driving fine is 1000 pesos and I nearly got that ticket just because I went through a red light. I questioned the violation and got a lesser offense of 500 pesos which was ""not stopping at red stop sign".
5. Stick to your lane even if the motorcyle hits your car. Swerving might make you hit an oncoming car or the car to the right.
6. Don't drive late at night.
7. Look left and right even if it's a green light in case someone wants to run a red light; and… don't drive in Cambodia. (From Toe)
8. Don't insist on your right of way and lock all your doors at all times. (from Ruth)
Huwag makipag-gitgitan sa mga jeep at bus. (Steer away from the jeepneys and buses)
check oil and water and tires before even rolling out of the driveway.
Put mom's number on speed-dial.
Don't drive in unfamiliar places without company.
Don't use your phone while driving.
Keep the music volume down
9. Know basic troubleshooting. For me, I think changing the tires a must. (From Dak)
10. Don't panic. Even if the cars behind you are honking loudly because your car died and you're keeping them from moving forward, don't mind them. They're gonna have to wait. Instead, focus on what you have to do, and start your car properly. You don't want your car to end up hitting something or dying again just coz you're panicking. (From Joni)
11. Don't get distracted. Don't text, answer phone calls, use a wireless ear piece. (from Issai)
12. Don't listen to mellow music while driving at night especially if she's alone. (from Glitch)
Other male drivers on the street tend to look to women drivers as stupid. Ahaha… I still remember the way they look at me when I was a newbie in driving. Ingat lang po kay Lauren, huwag po siya mataranta agad. Unahan lang ng sindak yan sa ibang male drivers.
13. Assume that every other driver on the road is stupid. Corollary to this is to assume that they will not follow the rules of the road. (from Luis Cruz)
Corollary to this is to assume that they will not follow the rules of the road. Offshoots of this idea:
Other drivers will not signal when switching lanes or turning at a corner, so always expect them to even if you don't see their blinkers.
Other drivers will try to beat red lights, so don't rush forward as soon as the light turns green.
Other drivers will stop or drastically slow down at the most inopportune times, so keep your distance from them.
Related to the previous point, always check your mirrors (even if you don't have plans to switch lanes) so you can switch lanes in an instant if you have to.
Also related, don't just watch the car directly ahead – watch those 2, 3, or even 4 cars ahead. That way you dont' get surprised if the car in front of you suddenly slams on the brakes
14. Speed kills so drive within the speed limit and don't go too slow either. (from Belle)
don't get too close to the next vehicle.maintain a safe distance
anticipate danger, be aware of what is going on ahead of you.
in case of blow out tire, don't stump on the brake. have control of the vehicle first and then apply brake.
Lastly, I received this forwarded email regarding Metropolitan Manila Development Authority (MMDA) traffic enforcers in Manila. I cannot vouch for the veracity of this email so just check it out .
TOOLS AGAINST MMDA OFFICERS
I just reached my limit last weekend, and decided to take action
against the abusive MMDA enforcers. I basically called up the MMDA
head office and inquired from the Personnel Officer, Antonio
Pagulayan, to clarify their policies. Here is what I got.
If any of these abuses seem familiar to you, Mr. Pagulayan has asked
that you call either the MMDA hotline (136) or call the METRO BASE at
0920 9389861 or 0920 9389875 and ask for an Inspectorate. They will
send inspectors to the place where these MMDA officers are
extorting, even while you are arguing out of your apprehension.
1. MMDA officers are not allowed to group together in order to
apprehend. They are not even allowed to stand together in groups of 2
or more. The only time they are allowed to work together is for
special operations (probably when they apprehend groups of buses for
smoke belching)
2. Swerving IS NOT a traffic violation. Moving one lane to the left
or right is not swerving, no matter where on the road you do it. And
it is even less of a violation when you do it with a signal. Swerving
is defined as shifting 2 or more lanes very quickly. So you can argue
your way out of this, and call the Metro Base for help.
3. Sadly, using the yellow lane is a traffic violation and will get
you a ticket. However, buses are really not allowed to go out of the
yellow lane, so if you see selective apprehension of private cars
only, you may complain.
4. MMDA has confirmed that your license MAY NOT BE CONFISCATED at a
traffic apprehension. The only time they can do so is if you are part
of an accident, or it is your third violation and you have not settled
your fines yet. They are only allowed to give you a ticket, which you
can contest. He recommends actually receiving the ticket in some
instances, so that you can report the officer who did it.
5. Also, you are free to ask any of these officers for their "mission
order", which is written by their supervisor. If they apprehend you
for a violation that is not in their mission order for the day, you
can report them and they will receive disciplinary action.
So go out and fight for your rights if and when the occasion arises!
TIP: Print and keep a copy of this email in your car for future reference