UPDATE: 'Desperate Housewives' apology over Philippines slur
[tag]Desperate Housewives[/tag]' latest episode (the first episode of the 4th season) had Teri Hatcher's character saying this: ""Okay, before going further, can I check these diplomas cause I would just like to make sure that they're not from some med school in the Philippines."

(This is the complete video of that scene)
I wonder if the writer meant it to be funny or what. Considering there are a large number of US-based doctors and nurses who are graduates of Philippine Medical Schools, then I think not. These Philippine Medical School graduates took up further training in the States. Before they can even practice in the US, our Filipino doctors called Foreign Medical Graduates have to take a USMLE (United States Medical Licensing Exams) which consist of 3 parts to get into residency:
Part 1- Basic Subjects (can be taken in Philippines)
Part 2 CK – Clinical Knowledge (can be taken in Philippines)
Part 2 CS – Clinical Skills (to be taken in the US)


A lot of Filipino doctors migrate to the US and pass the same USMLE that US-educated doctors take. The fact that our Philipine-trained doctors pass the same examinations which requires a higher percentage score from them as foreign medical graduates proves that medical schools in the Philippines are just as good as any other medical school in the US.
I know there is more than just a USMLE to actually practice in the US. My youngest brother left for the USA in 1999 to train on Epilepsy and Sleeping Disorders in Cleveland Clinic, Ohio. To be accepted in a fellowship program requires rigid interview and review of the doctor's qualification. My brother made it to the program complete with compensation and family relocation. After his training, my brother (due to immigration requirements) relocated to a suburb of Missouri because a neurologist had been unavailable for the past 3 years or so. So right now, my brother is the only neurologist serving 11 counties. The family practitioners there have been holding on to some patients that have not seen a neurologist for years. He is the same doctor who saved the life of another doctor who suffered a life-threatening stroke aboard a plane (take note, a US airline) two years ago— and diverted the plane to Okinawa.
Right…. America might have a lot of their own "qualified" medical graduates but where do they practice? In large cities where the practice is lucrative. Their own American Med graduates are reluctant to practice in this small town that my brother will practice for the next three years. And even if his contract expires, he will still choose to stay in a state where his medical services will be highly appreciated.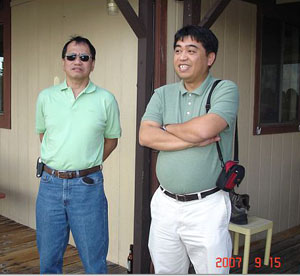 Left to right: My Fil-American cousin who studied in a Philippine Medical School now an Anesthesiologist and my brother, David, with a medical degree acquired also in the Philippines
So I don't get the point of the scriptwriter. Pray tell me, what is wrong with being a graduate of some Med school in the Philippines yet qualified for the USMLE?
Just ignorance, perhaps? or desperate to be witty?
View other Discussions and Blog Entries:
1. Desperate Housewives message boards and another discussion here
2. Anti-Filipino Slur on Desperate Housewives?
3. Who's Desperate? – written by a doctor who graduated from a med school in the Philippines but went to the US for internship, residency in Internal Medicine, fellowship in gastroenterology at the State University of New York, Brooklyn.
4. My Take on This Desperate Housewives Shenanigans and Desperate Housewives Shenanigans Part Deux by FeistyMomma
5. Filipino Americans demand for apology from ABC and Desperate Housewives Petition to ABC.
UPDATE: 'Desperate Housewives' apology over Philippines slur
ABC, owned by The Walt Disney Co., responded with a statement Wednesday. ABC said it was considering editing the episode.

"The producers of `Desperate Housewives' and ABC Studios offer our sincere apologies for any offense caused by the brief reference in the season premiere. There was no intent to disparage the integrity of any aspect of the medical community in the Philippines," the statement said.

"As leaders in broadcast diversity, we are committed to presenting sensitive and respectful images of all communities featured in our programs," it concluded.