The invite said
"Mrs. Tessa Prieto-Valdes
invites you to a wonderful afternoon
at her home with Globe Platinum!"
The first thought that entered my mind was I'd get to see her Christmas decors that I have been seeing in magazine spreads the past years. The sight of  festive Pinoy lanterns greeted me at the entrance. It's our very own Pinoy pop Christmas theme.  Beautiful! Her Pinoy theme decors show native lanterns which she sourced from Eastern Samar . It is her own way to help out the livelihood of women who lost their homes when Typhoon Yolanda struck their homes and livelihood.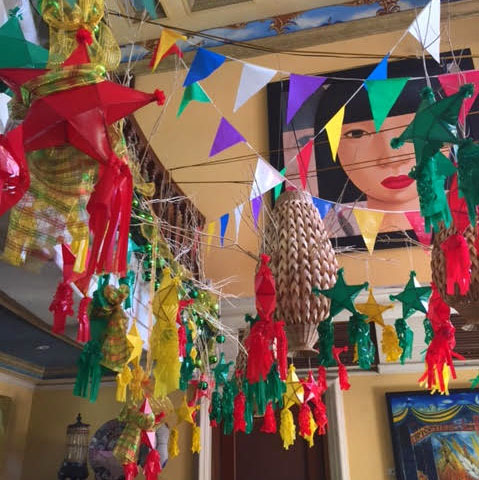 I have seen Tessa around in other blogger events as a host but this time, she was  the toast of the hour. Tessa is described as an interior designer, a triathelete, philanthropist, wife to business executive Dennis Valdes and mother to Bryan, Tyrone, Annika and Athena.
Tessa is the new face of Globe Telecom premium postpaid brand Globe Platinum. She draws inspiration from her family, career, and socio-civic endeavors.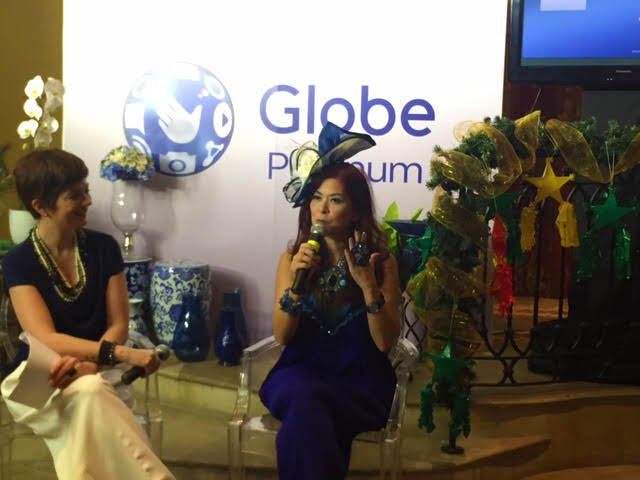 Like Tessa, digital technology keeps me connected to her family. With everyone's packed schedules- pursuing diverse interests whether in the country or out of it (Her son Bryon lives on his own now while Tyrone is currently studying abroad), the advent of technology and the smartphone has proven to be a boon for the Valdes Family.
My two girls don't live with me and digital technology keeps me connected with them through Facebook messenger or iMessage. Much as I want to be with the the good old-fashioned way of spending time together, I recognize that this can get difficult at times. We continue to stay close to each other through technology. Tessa maximize the use of messaging apps like Viber or Whatsapp and social media channels like Instagram and Snapchat. She has weekly chats with Tyrone and Bryan. Thank God for digital connections, right?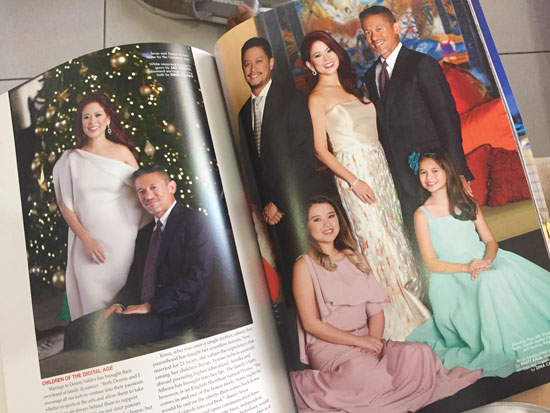 Other than connecting with family, she is grateful for these advancements in terms of her work.  Aside from working on various interior design projects, she writes a regular column for a daily broadsheet, connects with readers through her own blog www.tessaprietovaldes.com and hosts Philippine Realty TV and online show Battle of the Pans at tv4me. I am sure many  moms can relate to this digital lifestyle. She also has charity events like the Red Charity Ball with Kaye Tinga.
You can read more of her inspiring Platinum lifestyle at the latest December issue of Lifestyle Asia. She is on the cover.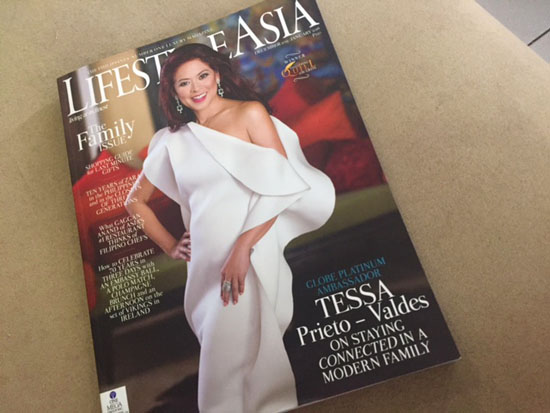 Globe Platinum Lifestyle Plans
Tessa says Globe Platinum is a key partner in enabling her to accomplsh what she sets out to do on a daily basis. For instance , the Platinum Lifestyle plan provides her with everything to stay connected to her passions and the things that inspire her to enjoy the life that she worked hard for.  The Platinum lifestyle plan includes the following:
Access to the newest devices
Unlimited all network calls and texts (A first in the market)
Rich mobile data allocation
Built-in roaming services that can automatically subscribe customers to unlimited data roaming services or
The option to enjoy a consumable roaming allocation wherever they travel,
Complimentary access to a choice of NBA, HOOQ, Spotify Premium and more of the best applications as they are launched in the market
A huge plus is the Platinum Relationship Managers (see photo below) who take the time to really get to know customers, delivering seamless, delightful and personalized service that go beyond what you need and include what you actually love.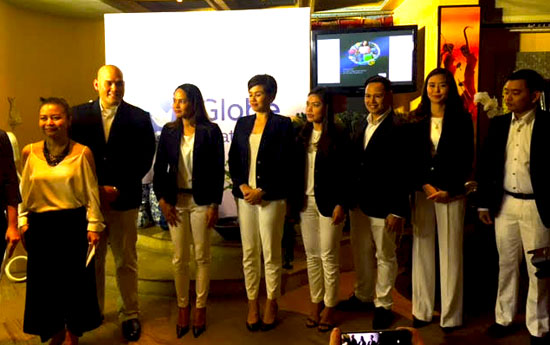 I am not on the Globe Platinum lifestyle plan though I am a Globe mobile subscriber since 1998 and a DSL subscriber since 2007. I plan to get the Platinum broadband plan as soon as the fiber-fast connectivity reaches my village. There are Platinum Broadband plans with speeds of up to 50 Mbps for P2499 per month all the way to 1 Gbps for P9499 per month available in over 80 sites.
The good news in yesterday's Globe Platinum launch of their new ambassador are two tickets to Madonna's Rebel Heart Tour. It's my lucky day.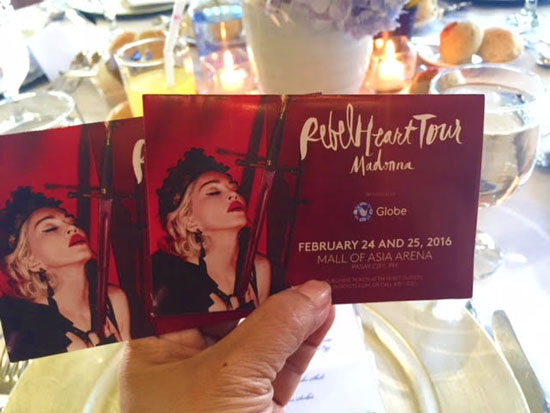 The one thing we have in common is that we both use the Globe network to connect with our families.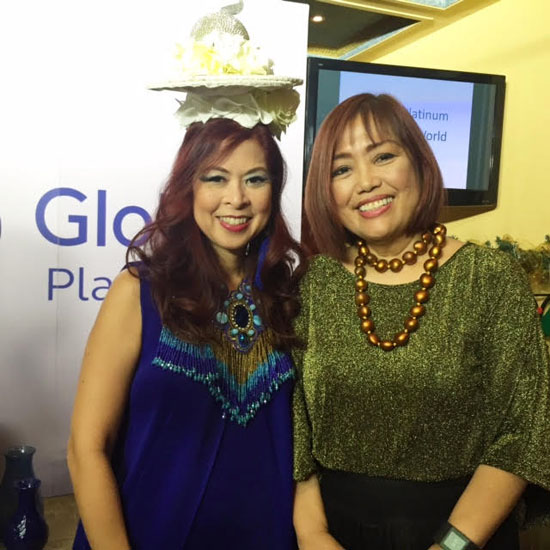 Thanks to Tessa for preparing this bag of goodies that she personally chose for the media gathered at the launch. The bag is made from Eastern Samar . She is helping them out by buying their woven bags, just like the lanterns that adorn her Pinoy Pop Christmas themed home.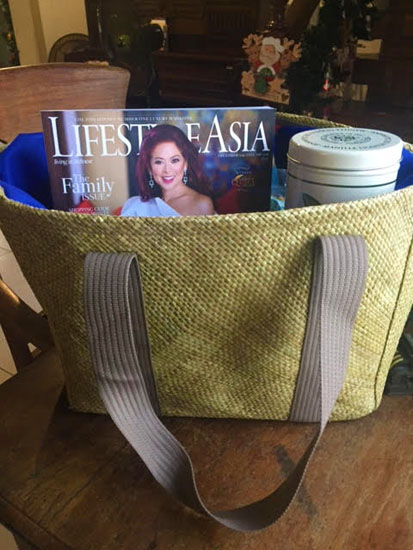 When asked how she feels about being an inspiration and role model to people, Tessa points out, "Here's the thing, we live in such exciting times right now , and inspiration can be found everywhere. It's mainly what you do with it that matters. It's the spark that lights creativity and innovation, where great things begin. But it's on yu to follow that through."