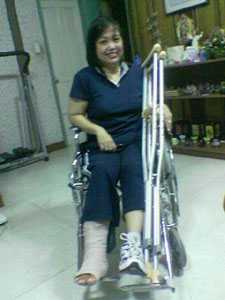 If I narrate the whole story on how I fractured my leg, perhaps "Maalala mo kaya?" (weekly TV drama series in ABS CBN) might get hold of my story. Hah, as if. A few close friends and family know the bittersweet story of how I fractured my leg. During those days, my life was like a series of sappy TV soap drama. Anyway, ten months ago on July 2005, I fractured my right leg (the tibia) and dislocated my ankle. I tripped in a pavement which curved irregularly. I slipped and then heard my ankle crackle (literally sounded like firecrackers) and broke my fall on my hand. My foot dangled like it was a separate appendage from my leg. The ankle protruded. The first thought that entered my mind was "there goes my exercise". I held on to my leg with excruciating pain and tried to align my dislocated leg to my ankle. Although I had a car, it was useless for me to drive. Alone, I brought myself to the ER of Medical City. How naive I was! I thought a cast up to my thighs would fix the fracture in no time. That freaking cast was so heavy that I had to lift it in order to move around. In so much pain. Two days later, I was whisked to the emergency room because an operation was needed immediately.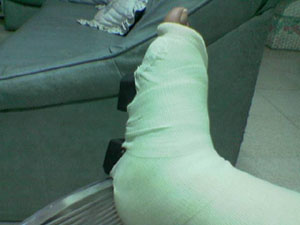 I seriously thought I would die. Being diabetic and with a heart condition, the operation was delayed until I was cleared for operation. Around 8 screws were nailed into my ankle and tibia. It felt so much better although I was still in pain. Do you know how hard it is walk with one foot? I wasn't allowed to put weight on the right foot for 6 weeks. I had to learn how to use the crutches before leaving the hospital. We bought a wheelchair and built some ramps around the house. Taking a bath involved 2 monobloc chairs: one for my casted foot and the other for me to sit and bathe myself. Fortunately , my husband is the type of person who knows how to take care of the sick. He doted on me like a sick baby, not complaining if I had to wake him in the dead of the night to get the bedpan.
I was in my neon-green fibercast with heels for 8 weeks but I managed to entertain myself by going to the malls or restaurants. Most of our malls are disable-friendly and of course, I got a special parking place. I frequented Shoemart Makati because the 7th floor parking area of Park Square leads straight to the Ladies Section. Supermarkets like Metro Supermarket in Market! Market! even had wheelchair cart. Moving around in a wheelchair wasn't that bad at all so long as there is a caregiver and driver to bring you around. People threw sorry glances but it didn't bother me. I knew my disability was temporary. Whenever I visited Medical City's Rehab Center , I notice a lot of patients who suffered serious nerve damage such as stroke victims. I knew I was going to get well so I focused on my physical therapy.
By November 2005, I was using only one crutch. The scar on my right leg looks unsightly but it is a reminder of God's divine intervention. Today, I have a slight difficult in going down the stairs but I can walk for longer distance now. Looking back at my disability, it was an opportunity for me to take care of myself. Even if I could not walk without crutches, I continued my stationary cycling for cardio exercise. I lifted weights to strengthen my arms. I followed a healthy diet. I worked on a new online business that gave me income opportunities. Meditation kept me in a serene mode. I turned stumbling blocks to stepping stones in improving myself . It was during this period of my life that positive changes in our family life evolved.
Sometimes pain can enlighten us. This pain leads and guides us into better choices for our future.