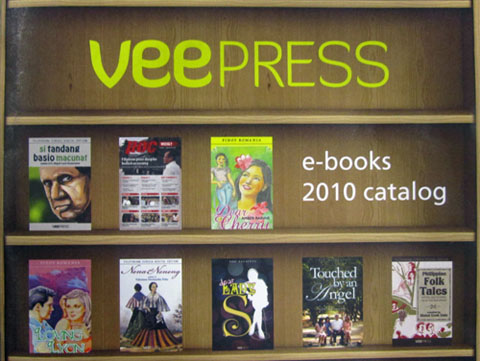 It has been ten years since my beloved Luijoe was taken away too soon. The positive resolution of my grief reached its peak just this year as we established closure with our past, never forgetting the love and memories of our son. The pain will always be a part of me because grief is the price we pay for love.
It surprised me one day when Vee Press , the digital publishing division of Vibal Foundation approached me if they could convert the grief category of my blog in to an ebook. I agreed only because this is not just about my story. It is a story of love, hope and the courage to let life go on. It was not easy re-writing the blog entries and the past events. Vibal Foundation hired Triccie Cantero, a free-lance editor to check on my entries. I was appalled at all the grammatical errors in the first two years of my blog. It discouraged me to continue on but I thought this was my way of giving back the blessings in my life. I am full of gratitude. It was the thought of giving hope to those who have lost someone that encouraged me to finish it on time before the launch. It was also difficult because tears would fall as I recalled some incidents in the past. (oh yes tears, a proof of love and that love lives on.)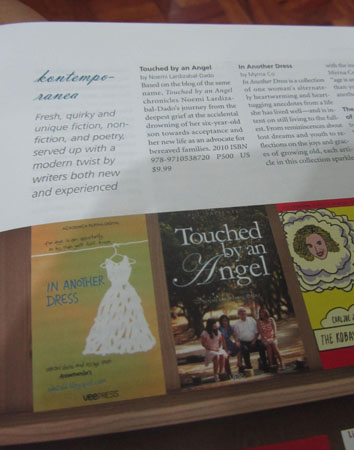 So, my dear readers…I am inviting you to the ebook launch of "Touched by an Angel" :
When: Friday, September 17
Time: 4:00 PM
Where : Vibal Booth, 31st Manila International Book Fair, SMX Convention Center, beside SM Mall of Asia
The short launch programme will only last for up to 30-45 minutes. I know most of you will want to visit the Book Fair so I hope you can drop by at this time too.
Aside from my e-book, Vee Press will be introducing over a hundred e-book titles including the Foundation's own publications, landmark Filipiniana, contemporary literature and Tagalog romance novels. Veepress is the first ebook publisher in the Philippines. Among those that will be launched at the event are Feodor Jagor's Travels in the Philippines; Pedro Paterno's Ninay, Cornélis de Witt Willcox's Head Hunters of Northern Luzon, Faustino Aguilar's Busabos ng Palad, and around a hundred more well-loved Filipino classics. Check the e-books catalog below.
The e-books, being in multiple formats, will be accessible on a wide variety of digital readers and mobile Internet devices such as the iPad, Kindle and Sony E-Reader.
The ebooks are available at Apple iBookstore, Amazon Kindle Store and other e-book retailers. You can also order print editions of the e-books by sending an email to [email protected]
Proceeds of my blog's ebook will go to the information and expansion campaign of The Compassionate Friends Philippines ( a support group for bereaved parents, siblings and grandparents ).
Launch Dates to remember
September 16 ebook launch of Carl Joe Javier, Adam David
September 17- ebook launch of blogs from Touched by an Angel, In another Dress of Anna Manila and Lady S
September 18- Veepress Launch at 4:00 PM
Check the Vee Press e-books catalog