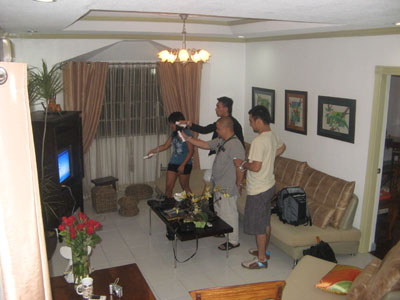 If I didn't know what the Nintendo Wii Games Console was all about, I'd think Jayvee, AJ, Juned including my daughter are loonies waving their "wands" about in front of my TV set. Jayvee brought along his Nintendo Wii and lots of party games to amuse the bloggers. The gathering was intended to be a podcast event which included the guys behind The Man Blog. The Man bloggers took forever to arrive so the interactive Wii games filled the gap.
I thought of heading off to bed early and leave the young ones without an oldie like me around. To my consternation, I got locked out of my bedroom. Hubby was asleep since 6:00 PM because of a long drive from Baguio the other night. I couldn't wake him up to open the door so I ended up watching these bloggers as they waved their Wii remote in the air. If I were a kid in today's day and age, I'd really want to buy one of my own. It was until I saw the interactivity of the Wii sports that I seriously considered getting my own Wii games console. Just watching them play the Wii Sports shows that it is all about getting you off the couch, onto your feet and moving about even if it's mostly arm and upper body movement. Once can work up quite a sweat easily.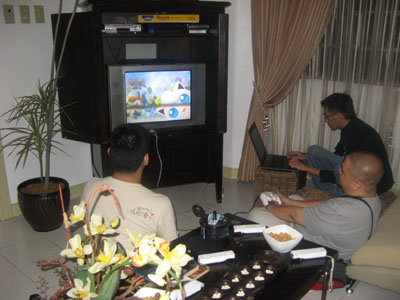 Any exercise is actually good for me, and a daily 30-minute routine at the gym or walking around the village is likely to yield similar results. I like the idea that video gaming, traditionally viewed by its critics as a slothful, character-weakening and addicting activity, can have the opposite effect.
What's really amazing about the Wii games console is the fun part. Shortly after Lauren's college friends and the Man bloggers arrived, the podcast was shelved aside in favor of a boxing, tennis and Mario Wii game match. Amidst the peals of laughter, I ended up nodding off for a 2 hour nap only to wake up again and discover that they were still at the Wii.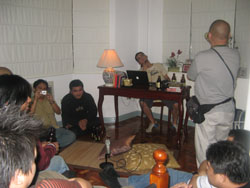 Oh the podcast taping finally materialized at 12 midnight. For the first time in a long time, I slept at 4:00 am and woke up at noon today. I feel like being brought back in time during my Not-so-wild-young days.
But who says I can't have fun watching my daughter's friends (who are also my friends) have fun?