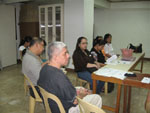 The poetry therapy at the Compassionate Friends meeting yesterday made Butch and everyone else in a jovial mood. (see pics here) In our meetings, we laugh and cry as we share our stories. But yesterday, laughter rang out more often the tears. Our facilitator, Victor Emmanuel Carmelo D. Nadera Jr. is a brillant poet and therapist. This poet had such a great sense of humor. He was able to draw out the hidden poet in all of us. Everyone agreed it was one of our most enjoyable meetings. The session probably helped ease the depression of most of the bereaved fathers in the room because right after the meeting, Butch celebrated his cheerful disposition by having dinner out. Normally special occasions like [tag]Father's day[/tag] bring out twinges of sadness in him . Fortunately the 2 girls joined us at the meeting but were late for the actual session.
We had dinner at Jun Jun's Cebu Lechon Restaurant at The Fort. The famous Cebu Lechon Inasal (Roasted Pig) , Cebu Pochero (Filipino Beef stew) and Cebu Paella (Spanish Rice dish) was our main course. If you're a Cebuano, you usually don't dip your lechon meat with lechon sauce. That's what I told the girls but probably they are so used to dipping sauces. The lechon meat is already flavorful right to the bones that the sauce just mask the unique taste of our Cebu Lechon. It was a great meal fit for an advanced Father's Day celebration. Today, we are busy packing up as the girls move out to their dorms tonight.
Even if my daddy old boy is not around, I know he is always watching over me . Daddy taught me to be strong , loving and committed to God and family. HAPPY FATHER'S DAY , daddy. You will always be a daddy in my heart.
I MISS YOU, DADDY!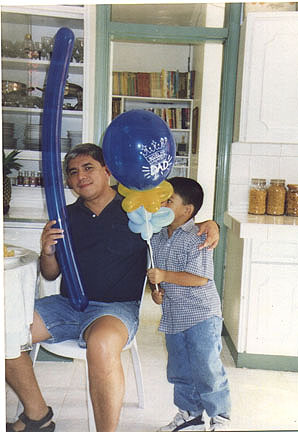 This photo was taken in 1999, the last Father's day that my husband celebrated with his son.