Are you curious about the lifestyle of 7 to 14 year old Filipino children? Sure, we know they have the inherent ability to assimilate new technology and adapt to change at such phenomenal rates but how much? Today, I attended the presentation of Cartoon Networks' New Generations Philippines results of the first fully-localized study dedicated to Filipino kids with previous studies done in 2003 and 2005. Cartoon Network believes that such study is an integral part of its on-going quest to learn about kids, their lifestyle , opinions and behavior. The approach in conducting the study was based on face-to-face interviews with 1,000 child and parent pairs, surveying Filipino kids aged 7-14 years and their parents from socio-economics classes A to D in three metropolitan areas of Cebu, Davao and Manila in September and October 2007. Synovate Philippines was commissioned to conduct the survey.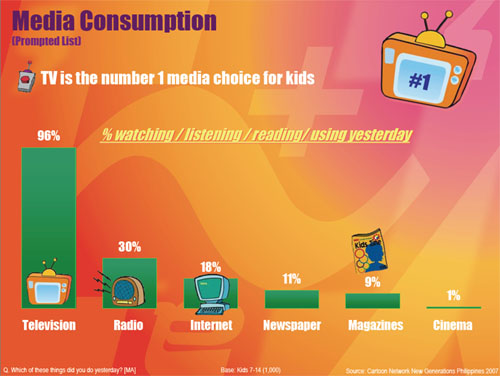 The results are quite disappointing. TV is the number one choice for kids among various forms of media consumption.
46% are internet users of which three quarters have their own homepage.
More than 75% go to malls with their parents at least once a month.
They've got PHP 37 billion to spend annually.

The survey does not give a clear picture on frequency of TV use and correlation to school performance. I am dismayed that there is such high use of TV consumption. Though activities like sports and reading were mentioned, what is the proportion of these activities over media consumption? The summary of key findings show:
1. Technology is within reach
There is a rapid growth of kids' access to technology at home since 2005. Hand-held video game system increased by 90% while internet access was up by 53%. There is also a strong growth in items that kids personally own or have in their rooms. 26% have their own mobile phone compared to 14% in 2005 or an increased of over 60%. Then there are 30% who have a TV set in their bedrooms, an increase of 30%.
2. Television is still number 1
TV appears to be the most heavily-used medium in kids' lives. TV remains as the kids' favorite leisure activity with 96% of kids watched TV "yesterday". Reading books and playing toys only ranked second and third behind TV. I find it sad that kids tune in to TV than reading books. Among the cable channels, Cartoon Network is the most watched channel with 64% watching it three or four times a week.
My daughters were nine or ten years old at the time Cartoon Networks was first shown in Philippine TV Cable. If I were to recall my kids at that age, TV was never their number 1 choice. Reading was their first choice. Even my four year old Luijoe balanced his TV, reading and other physical activities. I set the NO-TV rule on school days and they never complained. I wonder how many hours these kids stay tuned to TV.
3. Caught in the Web
Naturally, the new generation kids are very net-savvy. Internet usage by kids is much more widespread in 2007 with almost half (46%) of kids now using it compared with just 26% using the internet in 2005. Kids are quick to embrace the web 2.0 applications such as video (72% of internet users aged 7 to 14 watched video online) and multiplayer games (68%). Of course 76% of these internet users created their own homepage while 31% of the total kids claim to have made an online friend whom they have not yet met in real life. The kids rely on the Internet as a communications tool, with 43% of users sending/receiving e-mail at least weekly while 35% use instant messenger weekly.
It's a fun activity but I hope the parents monitor their online activities. A friend once told me that in a party she hosted at her home, she caught her 7 year old daughter and her friend googling for "Zac Efron Naked" (The High School Musical star). My friend was so appalled. The 7 year old friend knew how to spell "naked". Apparently, the mother of the friend is quite liberal and didn't find anything wrong with it.
4. They are a potential Powerhouse Consumer
Imagine the allowance and gift money our kids receive make them a big market for capitalists. Combining pocket money and gift money, and scaling it up to the 3.7 million kids represented by the survey (Metro Manila + Central Visayas + South Mindanao) gives kids a staggering 37 billion Pesos to spend. Kids receive an average of 169 Pesos in pocket money per week, and kids in Manila receive around a quarter more than their counterparts in Cebu and Davao. Around 99% of parents claim to visit shopping malls with their kids, and over a quarter (27%) do so at least weekly. For both boys and girls, cartoon characters and shows are the next most talked about craze/trend after toys (equal 2nd with clothing/shoes among girls)
I would like to believe that the pocket money we give our kids go to their food allowance NOT for toys or gaming activities. I believe that kids shouldn't be given big amounts of money and if ever, the value of money management needs to be instilled early on.
5. Heroes and Heroines
Angel Locsin is the favorite celebrity amongst girls (27%) and Richard Gutierrez for boys (11%)> When asked to choose between Lebron James and James Yap, 58% of kids chose local basketball celebrity James Yap over the NBA's Lebron James as their MVP. Seriously, there should be better heroes and heroines or role models for our kids.
7. They know what's going on
Despite their fascination with the latest crazes and trends, kids can see the bigger picture as they demonstrated when asked about environmental issues. Three quarters (76%) of parents and two thirds (68%) of kids agree with the statement ""Global warming is something that concerns me". On an even more positive note, the vast majority of parents and kids have indicated an openness to doing something about it, with 95% of kids affirming that they ""prefer parents to buy environmentally friendly products", and 80% of parents agreeing that they are ""willing to pay more for something if it's environmentally safe".
With these results, I hope our TV stations, aside from Cartoon Network provide relevant and more educational yet entertaining content to our kids. True, the tweenies – kids 7-14 years old are true digital natives, consuming media for entertainment and social networking, and are in the know about trends and issues – including computer and video games, and concern for global warming. But, I wish our kids through their parents balance reading, TV, sports and other activities as too much of one activity is unhealthy.
If you want to see the presentation , download the Pinoy kids and their lifestyle, New Generations Philippines 2007 Summary (12.8 MB)
or check this document