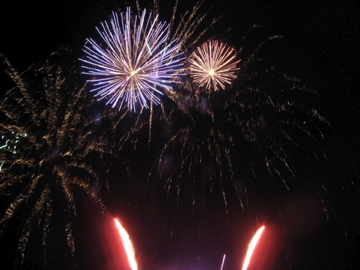 After having an early dinner, Butch dragged all of us to the SM Mall of Asia. Knowing there are [tag]fireworks display[/tag] at 7:00 PM every fridays and saturdays, the idea of sipping coffee and watching the outdoors fireworks display sounded like a swell idea. Just as we sat down on our chairs in the UCC Vienna Cafe, the crowd of mall shoppers started to swell. Fumbling with my camera's navigation buttons, I failed to see the video option. Fireworks' images don't say much of the dazzling display . It's the video that captures the splash of colors and the sounds of the crowd's gasp of oooooh and ahhhs. Too bad I didn't get to take a video of the 5 minute fireworks' display. It's my first time to see a huge fireworks display amidst a wide area of black space of Manila Bay. It's really pretty.
Just as we went back to the coffee shop, Steven Tan, the general manager of SM Mall of Asia called out my husband's name. What a delight to see Steven! He invited us to their New Year Eve's [tag]fireworks[/tag] display at 12 midnight. According to Steven, the pyrotechnics cost 1.8 million pesos. What a hefty sum to blow off for just a few minutes. Perhaps the fireworks play a purpose to drive away the evil spirits and bring in good luck and harmony for the new year. I don't know if we are going to watch the fireworks display. It's always been our New Year's Eve tradition to create loud noises ,toot the horns, light up a few sparklers and fireworks and then eat our noche buena. Safety is an important consideration . I get paranoid of stray bullets and careless people who just throw off fireworks to passing cars. We'll see if a change of scenery might be worth it.
These are a few Photos of the Fireworks display that I took tonight.



Click here to get possible free tickets to the [tag]World Pyro Olympics[/tag] 2007. You never know. I am trying my luck .
*EDIT- Here is a video of the Finale from the UK during the last [tag]2007 World Pyro Olympics[/tag]
and Germany"