Rising skills signal tech transformation in industries in the Philippines: LinkedIn studyMy good friend asked me what I should tell her son who is interested to pursue digital marketing. I have already written on Emerging jobs in the Philippines reveal growing demand for talent with hybrid skills. One must understand what skills to look for instead of job titles. Digital competence,  is composed of a blend of hard and soft skills. There are many possible ways to develop skills on digital competency. I shared the current report of LinkedIN' s Future of Skills 2019 Report, which identifies the top 10 rising skills of LinkedIn members in the region over the last 5 years. LinkedIN looked at the skills listed by members with the highest month-on-month growth. As part of the report, LinkedIn also conducted a deep dive into employees' readiness to tackle the future workforce and how L&D professionals are responding to the skills transformation.
Remember, World Economic Forum reveals 65% percent of children entering primary school will end up in jobs that don't yet exist. So if you have kids wondering what skills to pursue, let them be aware of the future of work and the skills required in traditional industries. ?
Anticipating rising skills to ensure businesses stay competitive
As traditional industries adopt new technology and ride the wave of digital transformation to improve operations and introduce new products and services, it is unsurprising that the top rising skills in APAC are dominated by technology-related skills.
These rising skills can be used as a signpost for organisations to determine how the industry is innovating and transforming, and help their employees cope with the pace of change through upskilling.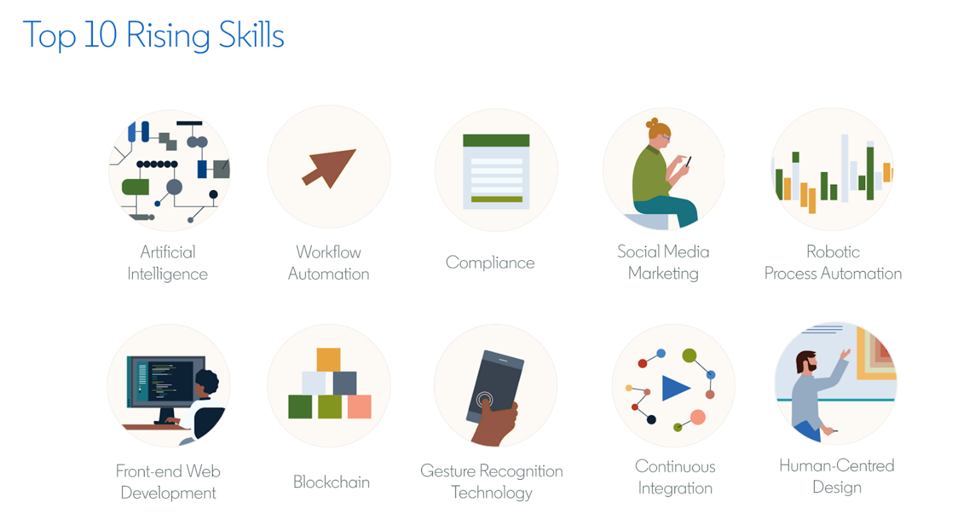 The report also studied the top three rising skill categories in each country that are more prevalent compared to the APAC average. These are the skills that have a higher prominence in the Philippines compared to the region:
| | | |
| --- | --- | --- |
| Rising skill | What do professionals with these skills do? | Examples of occupations with these skills |
| Social media marketing | Promoting products and/ or services through social media platforms to achieve business goals | • Digital Marketing Specialist • Marketing Manager • Social Media Marketing Specialist |
| Frontend Web Development | Converting data to?a graphical interface to build websites?or web apps | • Frontend Developer • Full Stack Engineer • Web Developer |
| Human-Centred Design | Developing solutions to problems with a deep focus of understanding the human perspective in all steps of the process | • Graphics Designer? • Product Designer? • User Experience Designer |
Feon Ang, Vice President for Talent and Learning Solutions, Asia Pacific, LinkedIn shares: "As digitalisation continues to transform the workforce at a rapid speed, certain skills are becoming less in-demand simply because different skill sets are required to navigate such transformation. It is therefore important for organisations to have a deep understanding of their current talent pool, and how to evolve it for their long-term business goals. Helping current talent to upskill or reskill early can help organisations ensure that their future talent needs are met."
"While we encourage organisations to tap on real-time data and insights to help inform them about trends in the talent marketplace, we also believe that embracing a culture of learning is just as important for organisations to remain resilient amidst a rapidly changing workforce," said Ang."At the same time, employees need to be empowered and motivated to learn on their own terms, given difficulties in finding time and accessing opportunities."
Encourage our children to develop hard and soft skills even outside their education. The future of work won't be about degrees says Stephane Kasriel, Upwork CEO . "More and more, it'll be about skills. And no one school, whether it be Harvard, General Assembly or Udacity, can ever insulate us from the unpredictability of technological progression and disruption."