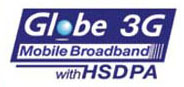 As an anniversary present to ourselves, we availed of the latest 3 G capable phone promo from Globe Handyphones. This promo started May 5 and ends on May 12. So why not? GLOBE has to make their 3G capable phones affordable so that it available to as big a market as possible. Anyway, the Nokia N70 can be bought by upgrading to a 2500 peso plan or a zero interest plan for 6, 12 or 18 months using your credit card. Of course we opted for the cheaper method which was the 18 month plan. The cost of the unit with VAT included is 21,992.04 pesos ($431) or 1221.78 pesos month for the next 18 months. The video call cost the same as the regular voice call rates. I don't know if that same rate will continue on. The rates are valid till May 30, 2006. Aww. So far, 3 G calls are just Globe to Globe subscribers. We haven't tested the video call yet because it takes 3 days for 3 G services to be activated.
It looks like GLOBE outsmarted SMART in the 3G technology.The saleslady babbled all the latest things we could do with our new toy:
1. Video streaming
2. Video roaming – seven (7) countries: Hong Kong, Singapore, Hungary, Netherlands, Denmark, Luxembourg, Austria.
3. High-Speed Internet over 3G or HSDPA
4. Video IDD- Video IDD calls to ten (10) destinations will be charged US$0.40 per Video IDD minute during the period of April 30 – May 30, 2006. These destinations are: Singapore, Hong Kong, Taiwan, Austria, Belgium, Croatia, Finland, Hungary, Luxembourg, Poland.
5. Video Calls- Regular Globe-to-Globe per-minute voice call rates will apply.
I can watch the latest news in real-time, surf at broadband speeds, download content anywhere in Manila. I will probably do this only when I am bored like waiting for my turn at the doctor. It also depends on the actual rates after the promo period. But while it's still affordable, I will just play around with it. I hope Butch doesn't video call me in my most unglamorous moment.
———
Tip for Gmail settings for Nokia N70
These settings worked for my N70 using Globe Telecoms connection
Mailbox Settings:
Mailbox name: gmail.com
My e-mail address: @gmail.com
UserName: @gmail.com
Password:
Incoming: pop.googlemail.com (note: default is pop.gmail.com) *
Outgoing: smtp.gmail.com
Mailbox type: POP3
Security(ports): On (993/995)
APOP Secure login: Off
Access Point in Use: myGlobe Internet (myGlobe GPRS wouldn't connect)
*The above settings will bypass the annoying the Google certificate warnings.
Login to your gmail account and enable pop:
1. Go to Settings.
2. Forwarding and pop.
3. Select Enable POP only for mail that arrives from now on.