Who does not want peace? Even in my own household, I hate it when conflict is not resolved peacefully. Oh yes, problems crop up now and then causing arguments among family members . Peace is always the answer. Pride has to take a backseat. In our own country, peace is a reality if the whole country enjoys it. For many years, Mindanao continue to struggle through conflicts that have created for the island a reputation of fear and distrust.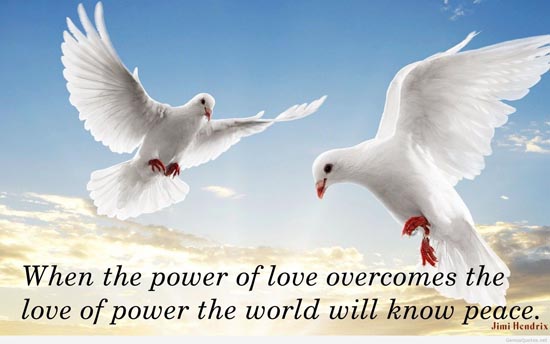 "Peace is possible", shares Nameeta Dargani, Chapter Coordinator for Art of Living Foundation (AOLF). She adds that "regardless of where we are in the nation or the world, everyone has the ability to contribute to it through nurturing our internal peace". Peace starts within us,
Benefits of Yoga
Some tools to unify the body and mind, creating peace and inner well-being is through yoga, meditation and breathing techniques. "Awareness on the rhythm of one's breath and on the movement of the air coming in and out of the body can make a big difference." adds Ruth Owen, AOLF's Breath and Sound Therapy (BeST) instructor. Indeed, it's something we can do anywhere and it helps us relax and find our center.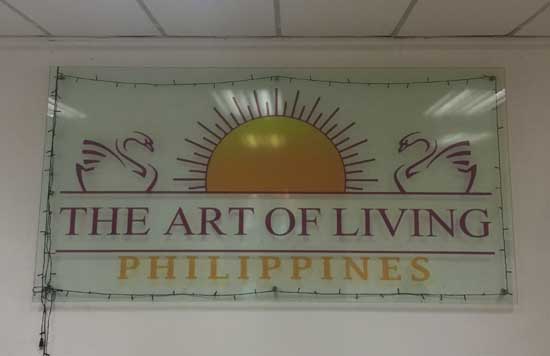 There are so much benefits of yoga as a medium towards achieving and spreading peace among people of all ages and from all walks of life.
June 21 is International Day of Yoga
No wonder there is now a special day for Yoga. On December 11, 2014, the United Nations declared June 21 as the International Day of Yoga, supported by 175 countries around the world.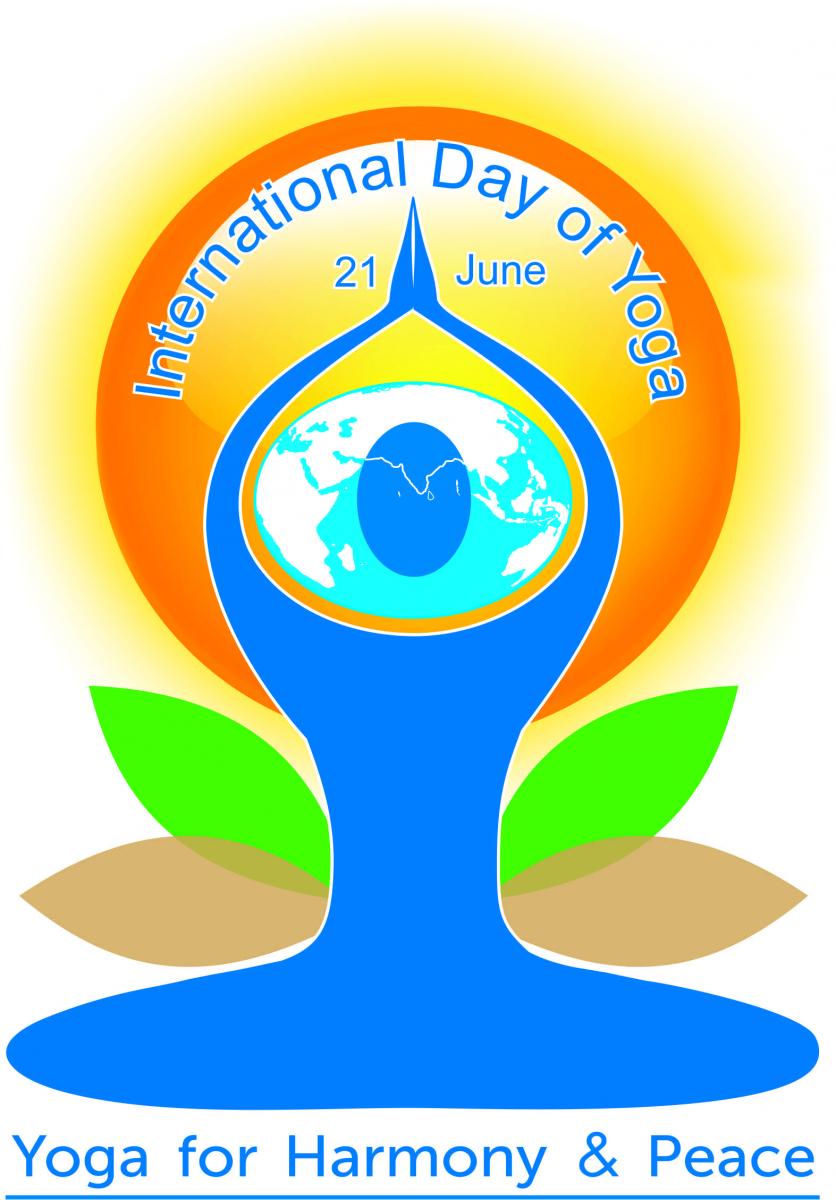 Addressing the UN General Assembly on 27 September 2014, the Prime Minister of India Mr. Narendra Modi had said: "Yoga is an invaluable gift of India's ancient tradition. It embodies unity of mind and body; thought and action; restraint and fulfilment; harmony between man and nature; a holistic approach to health and well-being. It is not about exercise but to discover the sense of oneness with yourself, the world and the nature. By changing our lifestyle and creating consciousness, it can help us deal with climate change. Let us work towards adopting an International Yoga Day."
For me, peace is about connecting with the quiet, calm nature within and that feeling of being at home. Love is such a positive emotion. Having an International Day of Yoga will bring awareness that yoga is a tool to to discover inner peace.
Wave of Peace from Manila to Mindanao and Mindanao to Manila
Right here in Philippines, the  Art of Living will use Yoga as a platform to spread peace in a simultaneous yoga and meditation event at their center in Salcedo Village , Makati and at the Limketkai Mall, Cagayan de Oro City. These events are free and open to the public.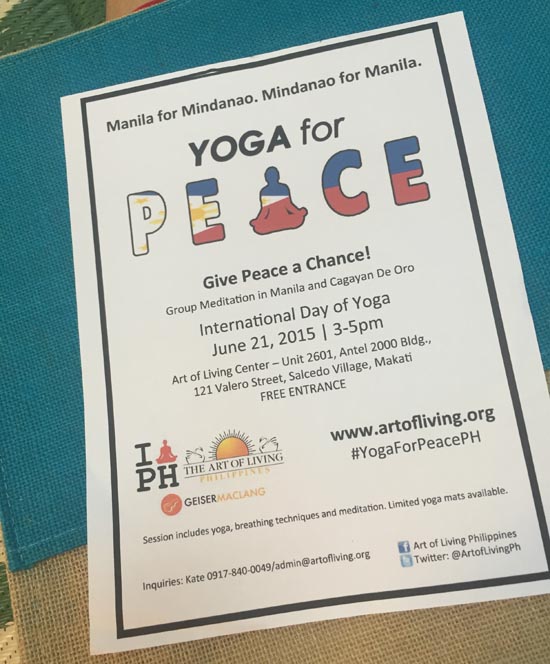 AOLF interest in Mindanao started when Sendong hit parts of Cagayan de Oro and Iligan in 2011 because they were among those who set up trauma relief workshops at evacuation and relocation centers. The workshops taught simple breathing and meditation execises to adults and children to relieve the trauma from the disaster and help the survivors to move on with their lives.  The youth of Mindanao also benefited from meditation and breathing techniques through the Philippine Marines' Football for Peace Program. Owen who spearheaded the program with the Marines shared , " Like all our other events, we simply want Yoga for Peace event on June 21 to inspire change and positivity.  Session include yoga, breathing techniques and meditation. The collective energies from the session can work to create waves of peace that will spread from one person to another. Together , we can meditate as one for Mindanao" .
The Art of Living Foundation is an international, non-profit, educational charitable and humanitarian organization dedicated to serving society by strengthening the individual. Learn more about the event and their other activities by visiting their website at http://www.artofliving.org  or contact 09178400049 or 02-6222-566 or 09175275466