(Read my Review of Globe Broadband, PLDT Mydsl, Smart Bro and Smart 3g)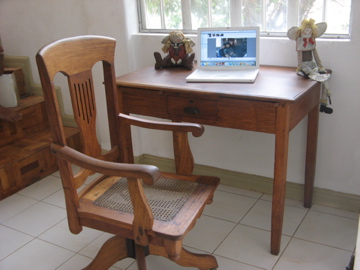 The house is clean and sanitized, the air smells of paint, the pocket garden looks refreshing as I am sitting here beside my antique writing table, trying to catch up with my backlog in work . Thanks to the [tag]Philippines Cable Internet Providers[/tag], installation was fast . I always imagined that installation would take months. I remember moving in to Pasig in 1980 and I got my landline in 1984. But take a look at this. If you move to a new home (well at least in Pasig City where I am moving), you can have an internet connection the following day after payment. This is my experience.
1. Smart Bro– I paid 999 pesos for a 384 kpbs connection on March 2. An hour later, they called me to schedule the installation the following day. That's pretty quick, huh? Smart Bro has this ongoing promotion where you get free installation for new applications if you apply within the month of March. It didn't make sense to continue with my existing contract because I would have to pay 1600 pesos for the transfer. Might as well get locked in for a one year period. Besides, my cousins in my new neighborhood swear that Smart Bro connection is pretty reliable.
2. Globelines Broadband Budget Bundles – I called Globelines to send me an application form to my house. Since I wasn't there yet, she dropped it with the caretaker. After I signed the form , the agent came back and processed my application form. A week later, I got my phone line and my 1 MBPS internet connection which came with a prolink modem and wi-fi bundle. So here I am enjoying a 1 MBPS wifi connection goodness. This budget bundle costs only 1450 pesos a month. I don't know how long the free landline use lasts.
3. PLDT MyDSL– Knowing PLDT was going to take longer, I applied for a telephone line and DSL on February 19. Three weeks later, I got a call that I needed to pay something at the PLDT office . Take note: Globelines and Smart Bro were already in place at my new home. I have yet to go to the PLDT office and have my application processed but I already got my new landline number. I applied for their 784 kbps bundle. The only promo they have is 100 pesos off the landline and DSL monthly fee or a savings of 200 pesos. I will end up paying 1520 pesos a month, I think?
So there, I have three internet service providers . Why three?
I need redundancy in my internet connection for my business. I will miss my 8 year old ISP, Destiny Cable. I remember I was one of the first Makati City residents to enjoy 1.6 Mbps cable broadband in 1999 for 1,988.00 pesos (it went down to 1,688 three years ago) which included a TV cable connection. Unfortunately, they do not provide internet cable facilities in my area. I hope these newer internet cable providers can emulate the same service I received from Destiny Cable. Take for example, Globelines Broadband … they had some server problems. I know problems can never be avoided. Three days later, I still couldn't reach their main trunkline 9198888. I was able to reach them yesterday after waiting on the phone patiently for 30 minutes.
They could have some text support like Destiny Cable so their staff can call back when their lines are free. I remember SMART Bro's service when it was still new and crappy. They have improved a lot since then after getting so much flak from irate SMART Bro subscribers.
Oh well…I 'm just happy everything is in place now as I move in tomorrow.
May 24, 2008 – updated review
September 30, 2007– Added a Review of Globelines Broadband Budget Bundles, Smart Bro and PLDT MyDSL
December 13, 2007– added a Speed test of Globe Broadband, Smart 3g, Smart Bro and PLDT My dsl