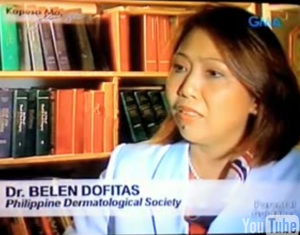 My sister, Dr. Belen Lardizabal-Dofitas appeared in Jessica Soho last night as the resource person in behalf of the Philippine Dermatological Society (PDS) for the "Glutathione Supplements for Whitening". My sister, a dermatologist by profession wrote the PDS position paper on glutathione supplements. There is also the recent controversial withdrawal of the license of 3 glutathione brands in the market which the public should take note. I've been meaning to blog about this because I see billboards everywhere on Supplements for Whitening. The most important message my sister wanted to convey is that there is still a lack of good quality scientific evidence on the efficacy and safety of glutathione supplements and injectable glutathione for lightening skin color.

(Above is the Youtube video of the Glutathione segment in the Jessica Soho show)
I cannot blame people for wanting to change their skin color. The colonial mentality that "fair skin" is more beautiful has been ingrained by our ancestors. These western standards of beauty can be detrimental as safety of glutathione is not established yet.
As a child, I was often mocked by my mother's relatives as "negra". My mom had very fair skin while my dad was very brown (Kayumanggi). My skin color is in between my mom and dad's color. For a long time, I always thought I was ugly. Inspite of the negative comments, I've never thought of taking whitening supplements to correct an imperfection in the eyes of my colonial-minded relatives. Of course much later in life, I discovered I am a beautiful person , well , according to my loving husband. He loves my morena (olive) complexion so he says.
Accepting imperfection goes beyond skin deep.
The question to ask when one uses glutathione or something to our body… "Why do I do this to myself?" I'm not talking strictly about changing skin color; I'm talking about life. Why go through thinking that one is inferior because of skin color while believing others are perfect, whether in relationships, or a specific task? Whether we're judging ourselves or others, it's two sides of the same coin—perfection. Neither expectation is valid. It is a far more accurate and beneficial to tell ourselves that who we are is okay and what we are doing is good enough. That doesn't mean we won't make mistakes that need correcting. It doesn't mean we won't get off track from time to time. It doesn't mean we can't improve. With all our mistakes and wandering, we're basically on course. Encouraging and approving ourselves is how we help ourselves stay on track.
Today I will tell myself that what I'm doing is good enough and I will let myself enjoy that feeling.
How do you love and encourage yourselves?