Dolphy's critical condition suddenly brought me back to memory lane when John and Marsha aired weekly on RPN Channel 9 in 1973. In the early seventies, there were not many TV channels and interesting shows. Nothing much to distract a 15 year old teener. The cast always have me in stitches with their antics and funny quips.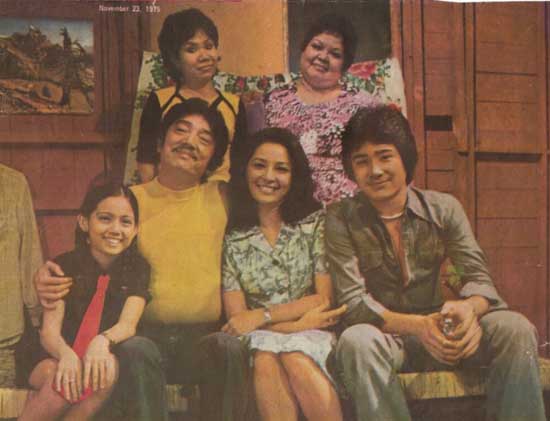 Puruntong-Jones family(clockwise from top left Matutina, Doña Delilah G. Jones, Rolly J. Puruntong, Marsha J. Puruntong,John H. Puruntong and Shirley J. Puruntong. Photo via wikia.com)
John and Marsha TV show "starred Dolphy,Nida Blanca, Dely Atay-Atayan and Maricel Soriano with a cast of include John Purúntong (Dolphy), his wife Marsha (Nida Blanca), their children Rolly (Rolly Quizon), Shirley (Maricel Soriano). Later episodes show John-John, and the nagging mother-in-law Doña Delilah (Dely Atay-atayan). It ran every week for 17 years until 1990. "
Growing up with Puruntong-Jones family until I had my own babies is quite a long time.
So what makes it so funny? For those who have never seen the series, wikipedia gives this short description.
Marsha Jones marries the impoverished John Purúntong much to the dismay of her wealthy mother, Doña Delilah. Although her daughter married the unemployed John, Doña Delilah often paid a visit to their house along with her maid, Matutína. When money was required, she would tell her maid Matutína to go sweep peso bills off the floor. Despite this, John rejects all the financial help Doña Delilah offers his family, the result of which is a hilarious exchange of insults between the two. The show ends with Doña Delilah's loud catchphrase "Kayà ikáw, John, magsumíkap ka!" ("Therefore you, John, have to work hard!") to insult John's capability as the father of the household. They end up making amends, giving each other abrupt hugs with Doña Delilah exclaiming, "Peace man!" to proclaim peace. (Source: wikipedia)
In my teens, I could not imagine marrying someone who had no job. I found the whole show quite shallow but still fun to watch. I guess it was meant to be a satire type of entertainment. Lessons learned back then was that marriage is not simply just loving each other. One needed a stable source of income to meet daily needs of a family. Another lesson learned is laughing can be quite a stress reliever.
There are now calls to bestow Dolphy with the National Artist Award considering his outstanding contribution in the entertainment industry for decades. Dolphy played other memorable roles outside of John and Marsha.
Dolphy deserves this award. Millions of us appreciated his work for many years. Growing up with the Puruntong-Jones family was very much a part of our lives. Though technical reasons will prevent the National Commission on the Culture and Arts from giving him the award this year, things can still be fast-tracked.
""we should give it to the man who made us laugh for decades."