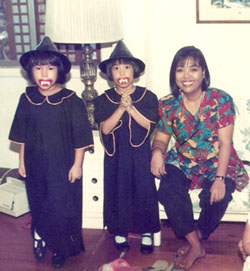 Halloween Trick or Treat is a tradition that my husband started in our family. As a kid, I never grew up in the Halloween tradition of the Western world but hubby did. Halloween Celebration through the years is a memory that my kids treasure because of the yummy treats and magical costumes. [tag]Halloween[/tag] in the early nineties didn't reek of commercialized gimmicks from the shopping malls. The kids actually wore scary Halloween costumes. We, the parents contributed to the trick-or-treat-ing activities in our neighborhood.
Yes, happy childhood memories next to Christmas and birthday celebrations. I am not about to stop this tradition just because they are now over twenty years old. The spooky Halloween orange/black decors are up. The pumpkin baskets are displayed on the table. Everything bright and orange-y abounds the house now. And yesterday, I bought a bunch of Halloween candy treats.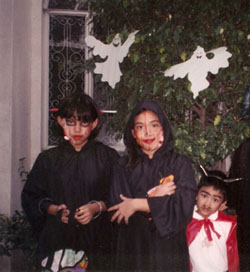 On Halloween day, Lauren is hosting an intimate sleep-over party with her college friends. I can imagine their delight as they gobble up Chocolaty Coated Soft Caramel Filled Eyeballs, Fudge Filled Cats & Rat, Gummy Creeps, Marshmallow decorated witches, pumpkins and Monster and creepy gummy body parts. The cute witches' costume which I designed no longer exist. The girls have outgrown the costumes but the ghost story telling never dies. Shrieks will most likely pierce through the early November 1 morning as my hubby and I huddle in our bedcovers. I don't think I need to bring out spine-tingling music to scare them out of their wits. I don't have to don the witch' hat and spook them out. I don't need to line the garage with eerie candle-lit lighting. No need for the masked monster by the rocking chair. They can entertain themselves now.
As all the creepy fun fare is going on, I will amuse myself by my coffee table nook and read up on my latest online purchase, Teaching Sells. Or perhaps reminisce the good old party days when the kids were much younger and depended on their mommy for fun.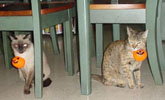 or perhaps I will also play with the girls' pet kitties and trick my hubby to treat me out for late night out somewhere in Eastwood. But wherever I'll be on Halloween's [tag]Trick or Treat[/tag] night, the smiles, the laughter, the shrieks of the kids stay forever in my heart. Happy happy times.
Even if they don't say it, I know they will remember me for giving them wonderful party memories. They are now the host of their own parties.
If you celebrate Halloween, what are your tricks or treats?