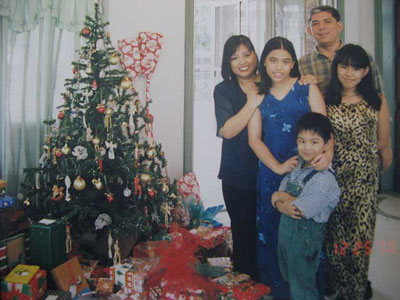 For many years, my family greeted the Christmas season with great joy and heavy despair. Every Christmas without my son, I sensed my husband saying "I'm not ready yet…."I'm not ready for the annual flood of memories without Luijoe. " Butch dreaded the sight of the cheerful Christmas decorations especially Santa Claus. I wasn't ready either but I had two surviving children who wanted to celebrate Christmas. They experienced many magical Christmas memories so my daughter once wrote in a Christmas greeting card. How could I take that away from them? I tried to figure out how to handle the holidays I'm never going to be ready for in places I may never be settled in. I thought…as long as we have the stockings up and Christmas tree and cookies ready, then let the holidays come!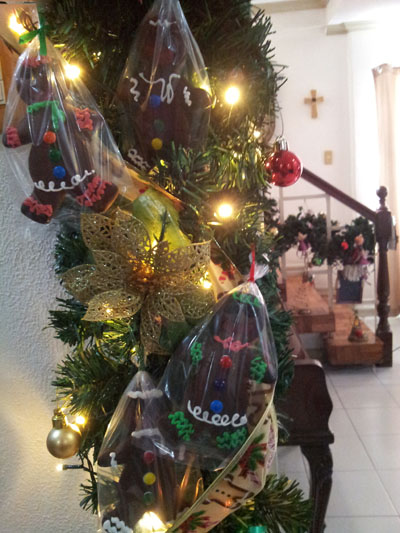 I decorated our new home (our new normal?) with the treasures that speak of our Christmas history, finding joy in the memories they sparked. As I caressed Luijoe's stockings on my cheeks , the flood of memories spill out. It was even more stressful during the first Christmas without my son. I wasn't ready for the clutch of pain that wrapped my heart in grief as I placed the ornaments on our tree. Oh yes, I have learned through the years. I brought some of the old, added a few pieces of new and practiced the art of blending yesterday with today in hopes of creating another memory for tomorrow. That's how the "Christmas Angels theme" evolved in our home, in honor of our own angel, Luijoe.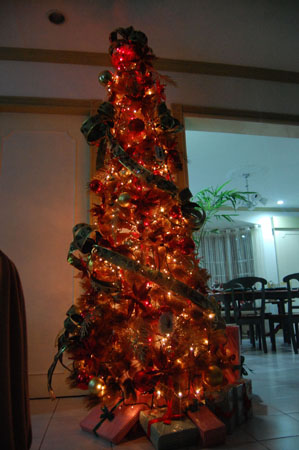 I created two color themes for our Christmas decors, the traditional red and green for the informal family den and burgundy, purple and silver theme in the formal living area. Maybe I just wanted to be creative and innovated for the sake of my new normal , my new life without my son. I never got the chance to be in total despair because I baked Christmas goodies like sugar cookies , food for the gods, fruit cake and the Gingerbread man cookies. I started the Christmas Angel themes as a symbol that Luijoe is not far from home, that he lives with us. Joyful activities like baking and decorating proved therapeutic as it evoked feelings of love for my children. I continued to survive because of that love. The spicy aroma of cinnamon, nutmeg and mace that wafted our house brought warm childhood memories. Blending this old tradition with new tradition helped me cope with grief during the holidays.
I notice the difference in my husband's grief during the holidays. Butch is more cheerful. There are less tears yet I know the pain is still there. The heart never forgets, even when the world does. It looks like we're getting better, improving either with time and patience. Or maybe because it is simply becoming a thread in the continuing fabric of our new normal. The fact that Butch bought Christmas Lanterns is a huge step in the grief journey during the dreaded holidays.
The change in mood happened six years ago. It came as a surprise when my husband wanted to go to Divisoria. I asked "what will we do there?"
His reply "buy ribbons". I raised my eyebrows. We have never been to Divisoria together in the longest time. . Then he added "I noticed you are running out of red and green ribbons" . Wow, he noticed these minute details when in the past he was oblivious to anything that glittered in the household. I believe I learned to be more creative because of the artistic streak from my husband. He wanted me to have my usual supply of beautiful, color-coordinated ribbons to adorn our Christmas presents and cookie baskets. (Remember I have two sets of Christmas color themes?)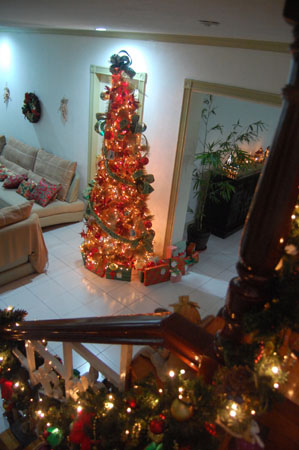 I look forward to the holiday season more than ever. I smile and sigh that finally my husband is able to handle the holidays a little bit better. I gather in my blessings and count them all. I count the blessings of the most important people in my life and I find the peace that comes with counting a holiday of joy remembered and love shared. Love never dies, and the light always shines in our hearts and home.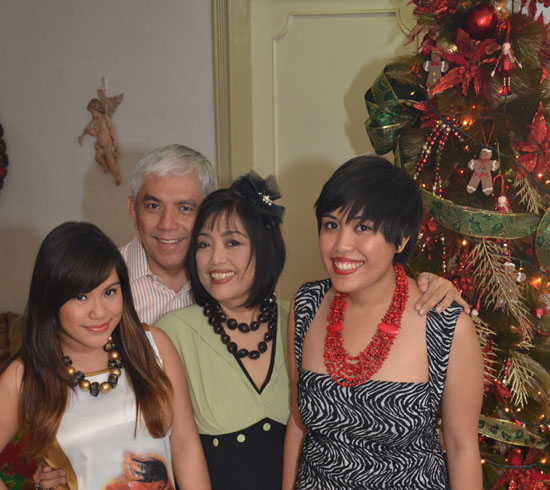 Other Articles on Coping with Grief during the Holidays
Handling the Holidays
How To Help Yourself Through The Holidays
Do I Celebrate the Holidays or Not?