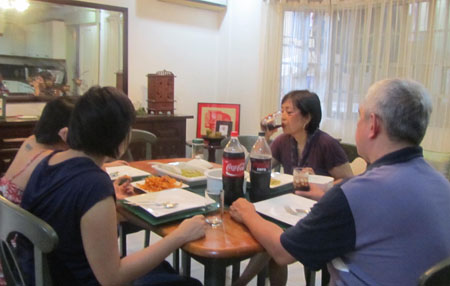 Don't we just love family meals together? It's the perfect time and place to reconnect and to show my girls that they are our priority. Sitting across the table is where and when I find out more about my children's likes, dislikes, and daily life. Now that they are adults, it is the place where I discover their career plans or frustrations at work. It is actually the family conversations that are important — they are one of the few times parents can find out what their children are up to (and vice versa). As my daughters' social lives get even busier, it becomes a challenge to get the family to sit down. During these special meals, I make it a point that I dish up something new on the dinner table.
Happy family meals together are long-time tradition that is timeless.
A psychologist reported that ""eating together as a family is an important psychological ritual that echoes the hunt/kill/eat rituals of our ancestors. Although food is now in constant supply, it's useful to maintain a ritual that was created when it was rare, as the feeling of celebration and team-work can have a therapeutic and bonding effect on the family unit."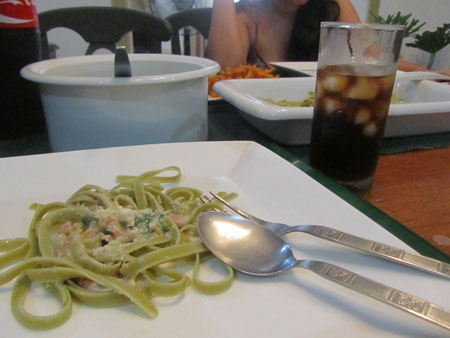 For meals to be a fun celebration of family togetherness, I believe in balance. Indulging treats and setting limits is creating balance. When the kids were much younger, junk food was limited to Friday nights when school was over. It was also the time to watch TV. Junk food night as I called it.
These days, they don't watch TV so the junk food habit died. One other treat is our favorite Coke that we often pair with pasta or pizza. Happy moments are when I work at the kitchen, cooking their favorite dishes and getting rave reviews. Sometimes it could be their dad cooking. There are occasions that my daughters experiment on a new pasta recipe. Their favorite pasta dishes are Carbonara, Putanesca, or Tuna spaghetti. We add green salads as our side dish to complement the meals. Balance is all we need in our family meals so I dub these pasta days as Happy Kainan Monday. Seeing my family smile after a hearty meal is worth all the tender loving care placed on the food preparation. There is nothing like happiness in family meals.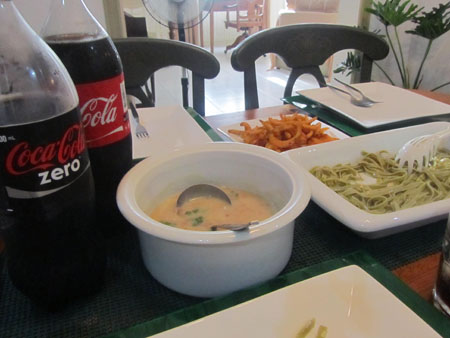 In honor of family bonding moments through everyday kainan happiness, I want one of my readers to enjoy a family dinner at Chef Laudico Bistro Filipino worth 10,000 pesos!
I am holding a blog contest today, September 13, up to September 27, in cooperation with Coca-Cola. Joining is simple! All you need to do is write in the comments section and answer this question, ""What kind of food or favorite meal do your family enjoy drinking with a bottle of Coke?" The lucky winner will be determined by Coca-Cola.
You might also want to submit your photos through the creative banner at:
http://www.pep.ph/index.html
http://www.pep.ph/cokehappiness/index.php