I finally met [tag]Christine Gambito[/tag] aka Happy Slip. Not only that, I won a huge Happy Slip Teddy Bear at today's Happy Slip's Meet and Greet organized by Mag:net and Yehey.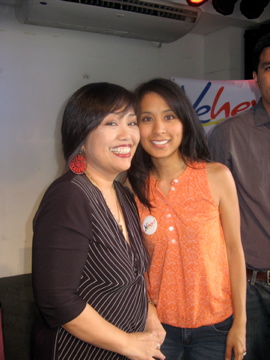 If you missed the [tag]Happy Slip[/tag] Meet and Greet today, there's another event tomorrow, Friday, February 8. Read details over Happy Slip Fans Day. Remember that's on February 8.
Happy Slip Fans' Day
February 8, 2008, Friday
Mag:net Café, Bonifacio High Street
1:00PM – 4:00PM
Open to the Public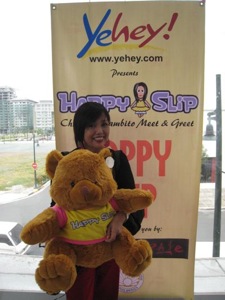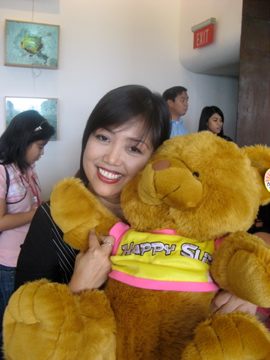 Christine Gambito gave a small talk before the Question and Answer. Here is her message.

Happy Slip is a project of the heart. From her talk, one can feel her spirituality. I would like people to be inspired to go out with their creativity. She talks about how God has specific gift in each one of us. Find that unique thing in you. Don't be driven by external things. What a nice and down to earth person. Her joy is infectious that truly warms the heart of each and everyone watching her whether live or through the You Tube videos. Not all of us might be great writers but we have unique experiences that others can relate. Share that. That's the essence of Christine's message in the Meet and Greet.
While I am grateful to Yehey for organizing the Meet and Greet, I wonder why they devoted an hour for media interview while the Q & A for the bloggers took only 10 minutes. I thought this was mainly a bloggers' event since the press already had an interview with her a week or so ago. Christine's bubbly and sincere personality made up for these minor glitches. Never mind if I only got to talk to her for 10 seconds. Yehey's CEO, Donald Lim, made our day too by taking a photo of Dine, Jane and myself. What more can I ask for? It was a great day.
It was a happy day to be with my blogger friends, to see Happy Slip and watch her fans giggling with joy.