Virtual reality (VR) reports surfaced in my newsfeed after lockdowns took place around the world. Bloomberg's April 21 article, "Zoom parties are so five weeks ago: Hello virtual reality," grabbed my attention. Oh yes, whatever happened to my Oculus Go? This standalone VR headset, which I purchased in 2018, gathered dust already because reality kept me away. As community quarantine is now the new normal, I explored video conferencing apps, including social virtual reality, to cope with this work from home situation. After inviting my sisters over to my Oculus Room, I found out Facebook removed this interactive space for friends to hangout. I missed the Oculus Rooms, because it was my home in virtual reality. In this space, I invited Facebook friends, customized my room with photos, watched movies, played games like riding the rollercoaster together, or listening to music and so much more. Horizon would replace Oculus Rooms, but there is no set date for its release.
In my quest for social VR alternatives, I explored AltSpace VR and vTime XR. The
vTime XR
provided amazing destinations and better-looking avatars. My sisters and I unpacked our dusty Oculus Go headsets and traveled to many locations. In virtual space, the avatar representation with the audio gave the impression of having my sisters right beside and in front of me. Each destination could only seat four and since we are four sisters, we could chat virtually at unique places together — sunset at the beach, zen garden, under the sea, space station, TV studio or the edge of a mountain — not for agoraphobes, believe me!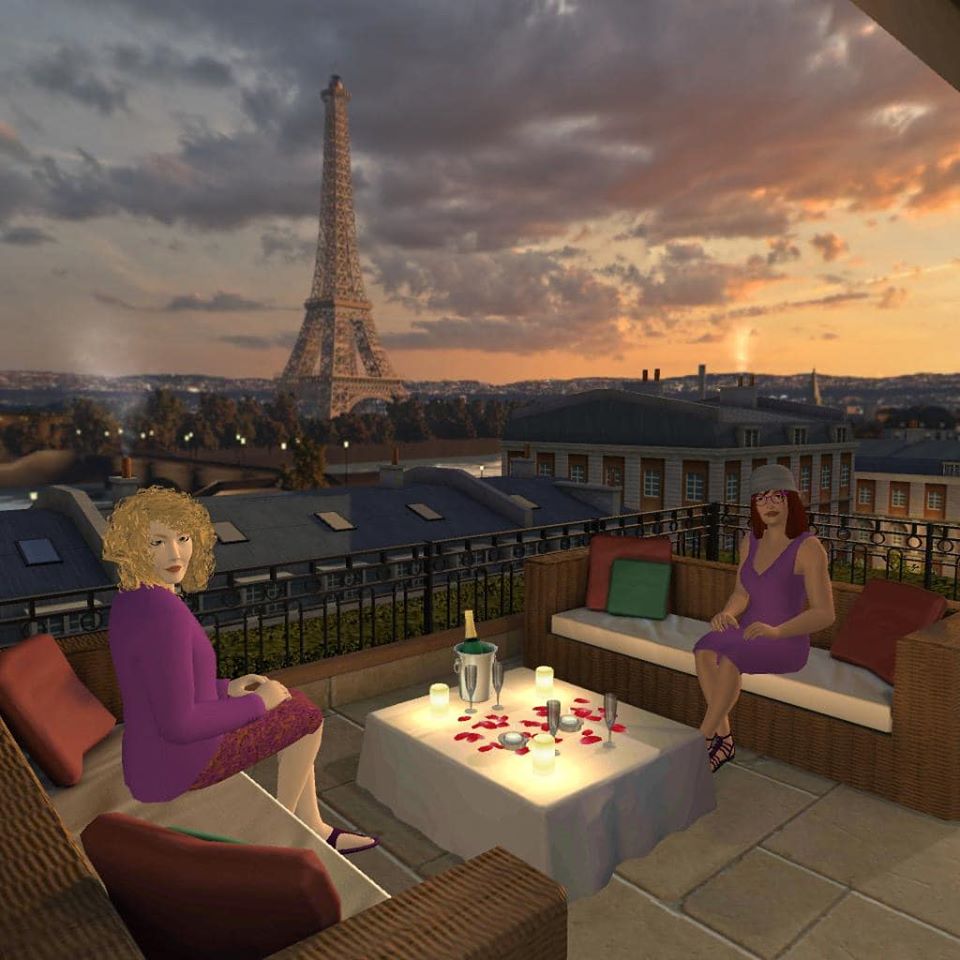 At the terrace of a Parisian apartment overlooking the Eiffel Tower, we chuckled at each other's fashion statement. We promised each other that every time we meet, we would diversify our fashion choices. The vTime likes to think of itself as a "sociable" network, rather than a social network. Users without a VR headset could join sessions via "Magic Window" mode on Android and iOS phones. As a cross platform, all user avatars support audio lip syncing and avatar eye tracking. One could use the network's library of virtual emojis "vMotes" allowing users to express themselves. Not enough time to get addicted with Oculus Go because the headset defaults into shutting down after two hours. A friend who only used her headset after getting it as a present a year ago, squealed with delight as she discovered emotional escape not only in social VR, but in a VR immersive fishing game. "It's nice for after work and I just want to chill out," she explained. Nature trips and travel to countries around the world in VR is compelling in a time when this unprecedented period of community quarantine deprives us of the outside world. VR cannot replace the outdoors, but it could ferry us away briefly from the boredom of a lockdown. Frontiers in Psychology published a paper on Jan. 15, 2020 and posed the question:
"Could simulated nature support mental health?"
The study concluded that "nature exposure in virtual reality could provide emotional well-being benefits for people who cannot access the outdoors. Six minutes of nature exposure in mobile VR headsets produced similar effects as six minutes of outdoor nature exposure." Both conditions were superior to sitting indoors with no exposure to nature. It is interesting to note that "short and isolated exposure to a 360-degree video of nature may provide an emotionally beneficial alternative to visits to outdoor nature in healthy student populations who might not otherwise access restorative outdoor environments." No wonder I felt great after a session. Even if you don't have a VR headset, that shouldn't stop you from a virtual experience. Though my VR experience is only with the Oculus Go and the Oculus Rift, the former is affordable and easier to use. VR headsets fit under one of three categories: mobile, tethered or standalone. Standalone headsets other than my Oculus Go are the Oculus Quest, Lenovo Mirage Solo with Daydream, HTC Vive Focus and Vive Focus Plus. Google Daydream, Nintendo Labo VR Kit and the Qualcomm-compatible XR viewers are some of the mobile headsets. Tethered headsets like Oculus Rift S, HTC Vive and Vive Cosmos, Sony PlayStation VR, Windows Mixed Reality and Valve Index present the most immersive experience but could be pricey and clunky. The easiest way to watch VR is with a smartphone like I mentioned with the vTime social VR. One could still enjoy a VR Light experience by checking out selections of 360 and VR180 videos on YouTube or even Facebook 360 videos. Entry level Google Cardboard puts virtual reality on your Android and iPhone. Download the app and get a Google Cardboard viewer on Lazada or Shopee. VR as the platform of tomorrow is still a niche market, but this global pandemic might just push its widespread use.
First published in Hello, Virtual Reality at Sunday Business & IT, May 17, 2020