"I bet in high school, everybody made somebody's life hell."
Romy and Michele's High School Reunion (1997) – Michele Weinberger (Lisa Kudrow)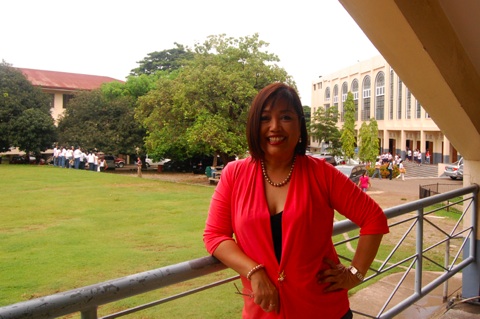 View of St. Theresa's College (STC) Cebu grounds
Is there life after high school? Truth is, I hated high school and because I hated it so much, I made sure that I would turn my life around and be a better and confident person in college. I exuded negativity. Oh my gosh, I was ecstatic when the high school graduation ceremony ended. I jumped up with joy. I couldn't wait to fly and spread my wings. In high school, I was painfully shy and a mediocre student with average grades ( as in 83 to 85). I felt intimidated by the mestizas and the smart and outspoken girls. You know how it is in high school, you find the popular clique and the invisible clique. I was basically invisible. Thanks to my best friend Teresa, Patsy, Linell and a few others, I think I belonged somehow to a group. Without them, high school would have been one hell of an experience. Thanks buddies.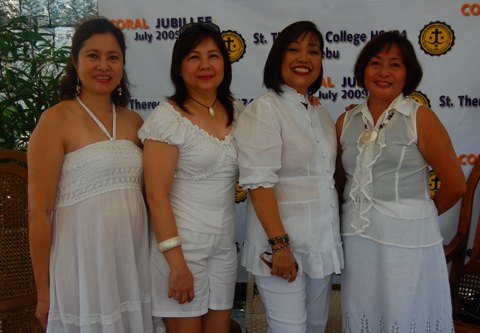 Hugs to my bestest of friends in High School who took me in their clique: Patsy, Linell, me, Teresa
Now, I am not blaming the popular clique just because they were confident , pretty and smart girls. I was not a confident person and it took me years to grow out of my shell. I blossomed in UP Diliman. While in high school, I got 3 votes as a class officer much to my disappointment, but in my UP College of Home Economics, I garnered majority votes and ended up in the First UP Student Council after martial law. It baffled me why my high school peers never saw my potential through my timid shell. I guess I was already labeled as such and the popular girls were always looked up to. Of course, they didn't know that because they were living in their own world like I did.
So do people ever recover from that intense high school social experience? Some don't, they spend the rest of their lives trying to justify what they were, or were not, in high school. This is why high school reunions are so emotional, especially the first one. I refused to attend the 25th High School reunion because I was not ready to face that dreaded high school experience once again. Coupled with five deaths in Cebu, I felt Cebu was just bad news for me and going home was not an option at that point.
Then the 35th Coral Reunion was announced. As usual, I shrugged with indifference. But hey, I reflected. What is there to gain by not attending? I am more confident now. I smile more. I feel beautiful inside and out. I am in control of my attitude. I feel like I am on top of the world. Go,go, my conscience egged on. Sure, I have no control over the past, people's quirks and the place (Cebu).. I looked forward to seeing my old buddies and the popular girls and hearing their life stories.
I went and I have no regrets. I finally understood that it was not high school that made it a sad experience for me. It was just me, my attitude. I didn't realize my potential in high school. My time came in my late forties. Yes, a late bloomer.
There I was with my high school classmates who I have avoided for years. Not feeling like an outcast anymore. I was no longer invisible. That is because I believed in myself. It is the first time that I saw some classmates after 35 years. From all the antics and fun fare of hugging everybody, to all the endless beso-beso, the non stop posing for all the photo-ops, squeals of laughter and merry making, and mirth, to the loud and raucous laughter of classmates, I felt glad to be there and embrace this momentous affair. My gosh, I let my hair down. I danced to the tune of Dancing Queen, sashaying to the macarena beat, wearing plunging necklines or simply being game with all the wackiness and antics thrown here and there.
My classmates gave the most memorable reunion activities. Kudos to them all. Take note of the wacky and creative ideas that we enjoyed. Allow me to borrow some of the words of Tess as she describes the people behind the success of the reunion.
1. To our congresswoman classmate, Neri Soon-Ruiz for the for the first night accommodation and dinner, the yummy bibingka, suman, and masi, and the crazy beauty pageant complete with a "surprise number".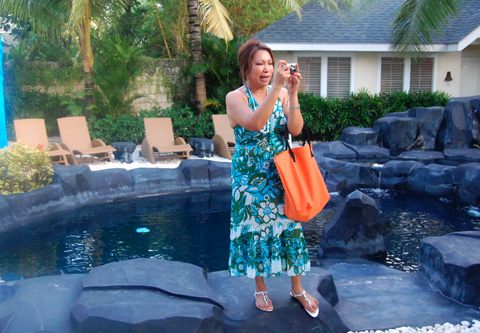 2. To Rose for sponsoring the Shabu-Way lunch.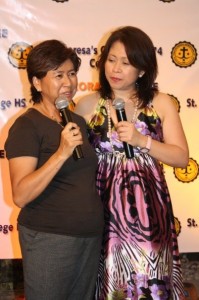 Photo Credits to Marget Fernan-Villarica
3. Ada, our dear classy fashionista with such pizzazz and like magic (at such short notice) presented us the tote bag to GLOAT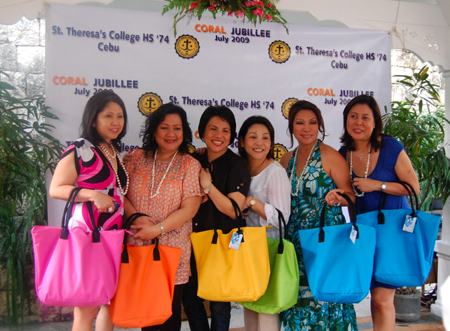 4. Paz, the knighted Chief of Staff, with the cute betty boop lips, magically made it possible to let us live out our one biggest fantasy even just for a few hours with our femme fatale body in bikini t-shirts;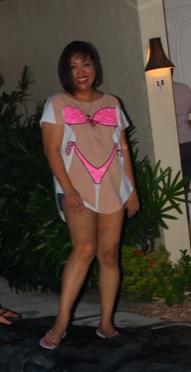 See, I will never ever have this body but the illusion helps
5. ENA MARQUEZ for the "WE HAVE ARRIVED" look and body flattering (meaning natago and mga bilbil) drape cardigan with the free classy brooch to match and a 185 song compilation of 70's music in a CD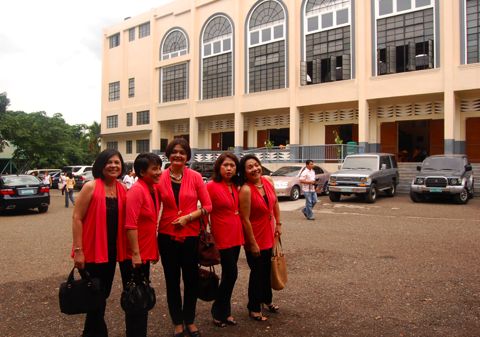 6. Tess, our Class President then Ada and Marget for Ways and Means. They were very busy running here and there.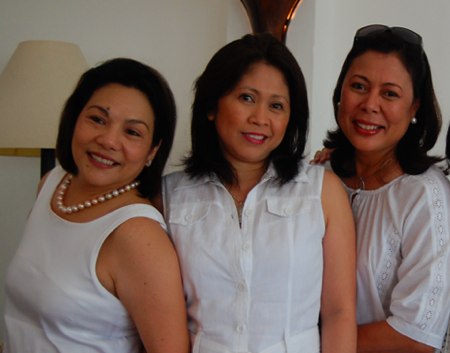 7. Dorothy (Dodo) for the song composition which I used for the Video Compilation of Photos
Dodo composed the "Saying Goodbye" song for our 1974 High School graduation . Her brother (Ray An Fuentes) liked it so much and converted it to a jazz version which became a hit in the mid-seventies. Imagine that.

She even composed a follow-up song for this reunion "Song of Friendship".
8. Sorry, I am sure I missed out a lot so I am just going to give my thanks to all . Thank you to my dear classmates for making each lunch or dinner celebration possible. My heart is full of treasured memories to look back and future reunions to look forward to.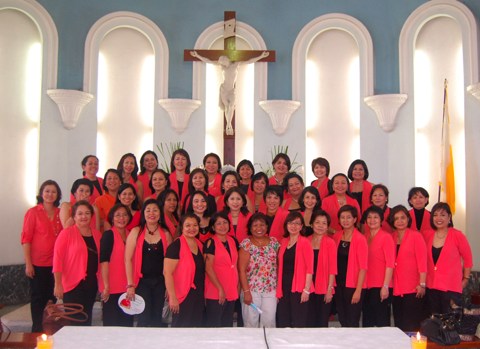 The four-day weekend whirl of fun activities just made me so giddy that I have been dancing every night since then with my hubby to the tune of the seventies music. I feel exhilarated .. high, happy, in tune.
Yes, I have let go of any pain from my past especially the high school experience. My past was neither an accident nor a mistake. I have been where I needed to be, with the necessary people. I embrace my history, its pain, its imperfections, its mistakes and even its tragedies. It is uniquely mine and intended for me.
I changed because I made it happen. What I think about and THANK about is what I bring about. I'm so happy and grateful now that I have made peace with my past. The secret of our gorgeous class president, a single mother is basically simple "Whatever is going on in your mind is what you are attracting".
The Book, "The Secret" would ask "Are your thoughts worthy of you? If not – NOW is the time to change them. You can begin right were you are right now. Nothing matters but this moment and what you are focusing your attention on."
Happy feelings towards the Coral Reunion indeed attracted a happy experience.