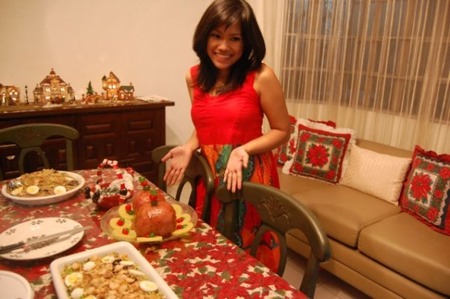 Holiday parties are everywhere the past few days. I was supposed to attend a Blog and Soul party yesterday but I felt stressed out at the last minute. I just decided to stick it out with the the ManBlog party held at our home last night. More of Lauren's friends, of course. Our home is always open to parties and Lauren surely knows how to take advantage of this opportunity.
Parties are so much fun. Even if I am not actively involved in their party, I enjoy hearing Lauren and her friends laugh and cheer which is so reminiscent of my teenage parties at our home in Cebu. Have some fun, right?
This year, I limited the parties that I attend, not because I am anti-social. Driving to and fro the venue can be a pain in the neck. A party is supposed to be fun so I make sure I am in tip-top shape to celebrate. I allow my thoughts to think "Have some fun".
This holiday season, make sure you also have some fun.
1. Replace heaviness and weariness of spirit with joy.
2. Surround yourself with people and things that bring lightness of spirit.
3. Loosen up a bit. Break a few rules.
4. Do not always be so concerned about what others will think or say. What they think and say are their issues not ours.
As holiday parties shift to family reunions in the coming days, the same thoughts will run through my head. Nothing needs to be that perfect. I will let myself have some fun with my family. I will loosen up a bit, knowing I won't crack and break.
How are you all feeling today? Hope you are all ready for the upcoming family parties and reunions.