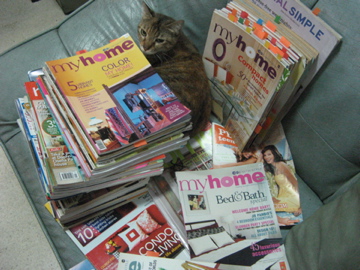 In 26 days, we are moving to our new home. It's quite exciting as we plan to replace 50 to 80% of our [tag]furniture[/tag] and furnishings. For the past year or so, my husband judiciously read up on home magazines, carefully marking the ones that he liked. My hubby is the artist in our family so I just let him do his homework. Hiring an interior decorator that charges 1,000 pesos per square meter is out of the question. With a limited budget, we will try to furnish our simple abode in the following months. My husband and I agreed on clean , simple and contemporary lines like the Ikea furnitures.
Now he insists on two awful furniture pieces which totally ruins my idea of clean and simple lines. Take a look at this 8 seater dinner table. I agree that antique furniture is wonderful to have if it's beautiful and functional.
But lion carvings at the foot of the table?!?!?!


It's just damn ugly.
This dinner table has been in their family for 40 years but I never realized that there was a lion carving underneath. Butch insists that it's functional because he can rub or massage his tired feet at the "lion's face" as he eats. But I object "the table is just too big for the dining room". Our dining area is quite spacious actually but I want more room. Besides we are a family of four. Guests can sit at the kitchen bar if there are not enough seats.
He just sort of whined when I insisted that we use our simple dining set from Malaysia.
And the next furniture that I don't like anymore is our four poster bed .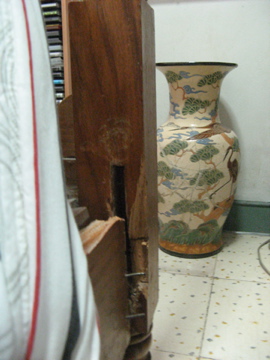 It was a gift from his mother. I am not too fond of carved furniture . The carpenter who executed this bed is really stupid. It falls down in that embarassing thud whenever we're at it. Talk about disruption! Two corners of the bed are now broken , supported only by a piece of wood. Yes, he plans to fix it when we move to our new home, he promises. I think the main reason he insists on the bed is because this was the family bed that our beloved son slept during his last few years. Luijoe often ran his hands on the wooden carvings before he slept with us.
I can probably live with that four poster bed. If the carpenter can't fix it, then there is no way I am going to lie down on that bed. Imagine thinking all night "what if it falls?" . Then the children will hear the thud. No way.
On my future plans,
1. Add two accent furniture pieces from Cebu. Since my hometown is in Cebu, I wanted some piece that reminded me of home. Hopefully I can attend the Cebu Exhibition on February 27 to March 1 at Waterfront Hotel.
2. Borrow Connie's carpenter after he is done with her kitchen cabinets. I plan to build some book cases and shelves similar to simple Ikea's bookshelves.
3. Reupholster our 2 three seater and one two seater couches to a more neutral color.
4. Scrounge around Evangelista Street in Makati City or Swap meets for second hand furniture pieces which can be refurbished.