I woke up to the sunlight streaming down my face. A bit dazed, I thought "Where am I?" As the bay window shape loomed in front of me, I smiled and realized I was back home. Oh home sweet home, back to the arms of my sweet husband despite the sore right shoulder. I felt I never left home. The vacation in America felt like a brief respite from the humdrum of my daily grind in Manila.
The day after Lauren arrived in San Francisco, she wanted to spend her time with her good ole mama at the MoMA (Museum of Modern Art) instead of the malls. I yelled "let's shop at the Sephora!" but she refused. This good ole mama just had to agree with her daughter. But the MoMA was closed on wednesday.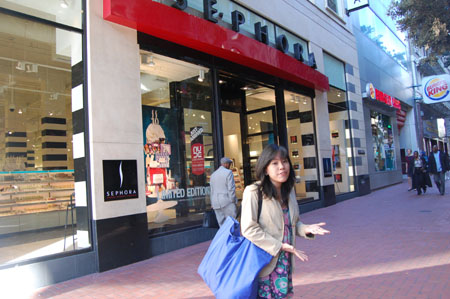 The Golden Gate Park was a better plan because it was a few blocks away from her friend's pad. I just knew there was something for young and old alike from the green oasis of gardens, museums, and over 1000 acres of flower beds, meadows, lakes, playing fields, hills and forests.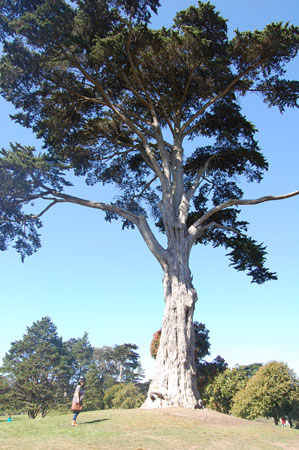 But then again, the horribly jet-lagged Lauren could only muster a few steps. She ended up lying on my black trenchcoat, using my lap as a pillow.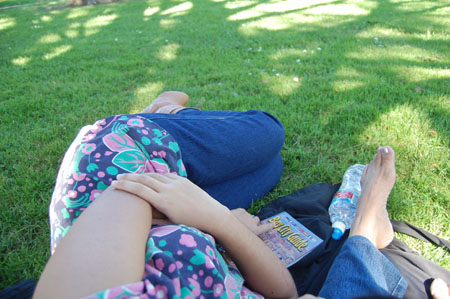 As I run through my fingers on Lauren's hair, I gazed at the beauty of the majestic trees. The cool breeze hovered around us despite it being a sunny day. What a lovely day. I held this wonderful moment in my hands. It is not often I have Lauren with me. *sniff* As kids get older, they spend little time with their parents. They have their own idea of fun not that their parents are boring. Kids just grew up! But at that point in time, I was right where I needed to be, with my daughter.
Today, I am right here where I am needed to be.
I am home.
How is everyone?