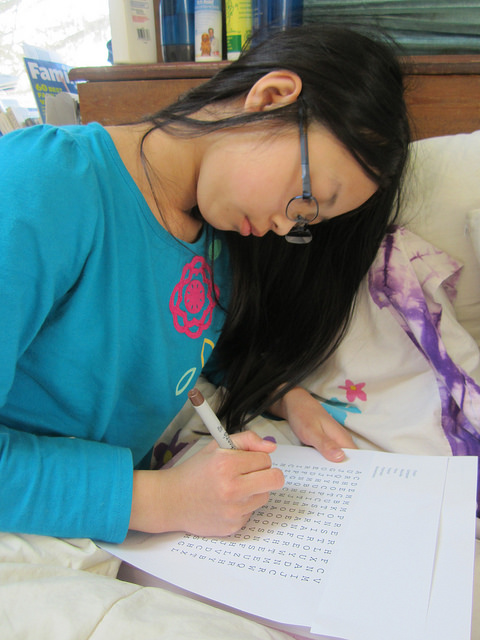 Our eldest daughter just turned three last March but she was already showing signs of interest for school as early as age 2. Her grandmother's house is right in front of a public school and our own neighborhood is near three schools so it is understandable that her excitement builds up every time the academic year starts as uniformed youngsters dragging along their bags and lunch boxes are fetched by school buses.
But a lot of things are making my husband and me think twice about taking the traditional route to learning. Money-wise, a good pre-school demands tuition fees as high as universities so I started kidding about saving up for college by home schooling our kids now. What started as a joke took a serious turn when a friend bewailed about the stress her son went through as they scouted for a pre-school.
At the age of 4, he was already expected to know how to identify the alphabets and colors, count one to ten, read simple words and write his name. My friend was confident her son would breeze through all the pre-acceptance tests with all the home-training she did with the yaya and he almost did. There were practices that scared the wits out of the little boy. One school made him enter an empty room without proper orientation so when the time came for a teacher to appraise his skills, he made an excuse to see his mother. He said he pooped and had to go to the toilet but actually, all he wanted was to run to the comfort of his mom and convince her to go home. Another school did not like the child's confidence and branded him disobedient. He was told to count one to ten but he proudly insisted on counting one to twenty. My friend was asked to bring her son back for debriefing to teach him to follow rules. Something is amiss here. A child's learning has endless possibilities. Why clip his wings before he could even learn to fly?
There goes the dilemma. How do I explain to my excited tyke that school will be home and not in a big building just like where the rest of the kids go? Will we deprive her of the excitement of trudging with her backpack and lunch bag in tow? How will she develop social skills if we take her away from the classroom set-up?
But then again, we see that our daughter is smart for her age (modesty aside) and has great potential for advanced learning. What if conventional school does not meet her needs and limits her enthusiasm to explore? Think with me as the search begins.
PREPARATIONS FOR HOME SCHOOLING
Requirements for the parent. The ideal set-up is for one parent to work for sustenance while the other focuses on the tutelage. It could be more challenging for single parents or couples who are employed since she or he has to juggle work with the child's education. The key is focus and dedication. There are even academies that assist Overseas Filipino Workers to home school their children on line. Dedicating two to three hours of quality time daily is a good start. It becomes easier if the child learns to self-study as she/he grows older.
The Department of Education requires home schooling parents to be college graduates. If the parent feels ill-equipped, guidance for teaching difficult subjects could be drawn from parent support groups, teachers and academic consultants of schools that offer home schooling. In fact, many parents who do not have teaching experiences successfully home school their kids.
HOW DOES IT WORK?
Check out learning institutions that offer home school programs accredited by the Department of Education and study their approaches and curriculum to see if it fits your family. Enrolment dates may vary for every school. Before the child is enrolled in the home school program, parents are required to attend the orientation to prepare them for the task.
Home schooling may start when the child reaches 3 ½ years old. For the first grade, the child should be at least 6 years old. Initially the child is assessed by the home schooling academy to enter the Grade 1+ level.
Upon assessment of the child, an academic consultant recommends an appropriate curriculum for the year which will be used as basis for buying materials. Parents may provide another option subject to approval of the academic consultant.
The curriculum will then be furnished by the school. The schedule and place of teaching and creativity in handling the lessons is up to the parent. Preacher Bro. Bo Sanchez capitalized on his son's passion for horses. From there, lessons on anatomy, arts, culture and even business sprang.
WHAT IF WE DECIDE TO TRANSFER TO A REGULAR / CONVENTIONAL SCHOOL?
Children are tested annually through a standardized achievement test which serves as a basis on how the kids are faring compared to their peers. The test could also be used as diagnostic tool for the child's next level. The achievement test measures the child's proficiency in language, arts, science, math and social studies. Aside from this, there is the regular portfolio review with the academic consultant to monitor their progress.
Dep Ed requires records from Preparatory School to High School. These are usually honoured in conventional academies and universities before accepting the home-schooled child provided he/she passes the entrance examination.
WHAT ARE THE DISADVANTAGES?
Most of the apprehensions about home schooling are based on the fear that children will be deprived of opportunities for socialization. This is a fallacy. The best socialization happens at home where the child builds his self-confidence on the feeling of security around his family. Home schooling academies also offer opportunities to relate with their contemporaries through weekly meet-ups, summer camps, retreats, field trips, clubs and on-line organizations.
WHAT ARE THE BENEFITS OF HOME SCHOOLING?
Less Expense. Although parents who decide to teach their kids at home have to spend for curriculum materials, field trips and out-of-town excursions, the expense for home schooling is way lower than the tuition fees, miscellaneous fees, transportation and daily allowances.
More peace of mind. With all the headlines on crimes committed against children and bullying occurring in schools, we could not help but be more wary and protective of our little girls. Home schooling seems a better option to shield them from the exploitations of the world and unnecessary bad experiences that may scar them for life.
More time for building relationships. My chum Tess confesses that home schooling her two boys could really be so physically taxing especially now that she is pregnant with their third child but the joy of deepening bonds with her sons is definitely priceless.
More edge. Studies show that home schooled children excel more since their learning is designed one-on-one and the parent adjusts to the readiness of the child to learn.
Some of the home schooled children are scientist Albert Einstein, most of the US presidents including Abraham Lincoln and George Washington, British Prime Minister Winston Churchill, writer Mark Twain, nurse Florence Nightingale and the list goes on. Who knows? Your child may just be the next in the long line of achievers and shakers.
Photo: "Olivia working on homeschooling" by Ann, c/o Flickr. Some Rights Reserved
by Jasmine Barrios